Ten-Mile Gallery (Shili Hualang)
Sauntering down a country road makes you feel like you are travelling in a painting. This is true of the Ten-Mile Gallery in Yangshuo County, a fairyland on earth. As the name implies, Ten-Mile Gallery is a picturesque road stretching from the Yangshuo town area to Moon Hill, endowed with rolling hills, endless fields, idyllic villages and clear rivers on both sides. The peaks form natural sculptures in various shapes against the blue sky and beautiful flowers adorn the road. Birds chirping all the way make the atmosphere merry. As the road is not too long and in good condition, most visitors choose to travel by bike so that they can stop every now and then to enjoy the roadside landscape and take photos.
| | |
| --- | --- |
| Yulong River | Direction Board of Ten-Mile Gallery |
Totem Ancient Path
After getting out of the town, head forward along Kangzhan Road. Before long, you will see the Totem Ancient Path in Ten-Mile Gallery. It reproduces the scenes of daily life of Zengpi People in ancient Guilin. Stone and pottery wares, totem columns, bows and arrows are exhibited. The natives still use the primitive utensils made of stones, bones, and clam shells. Wearing colorful furs and skins, they sing songs composed for fishing and hunting to the beat of drums. As they are unable to speak modern languages, it is not easy to communicate with them. You can try to make yourself understood by using gestures.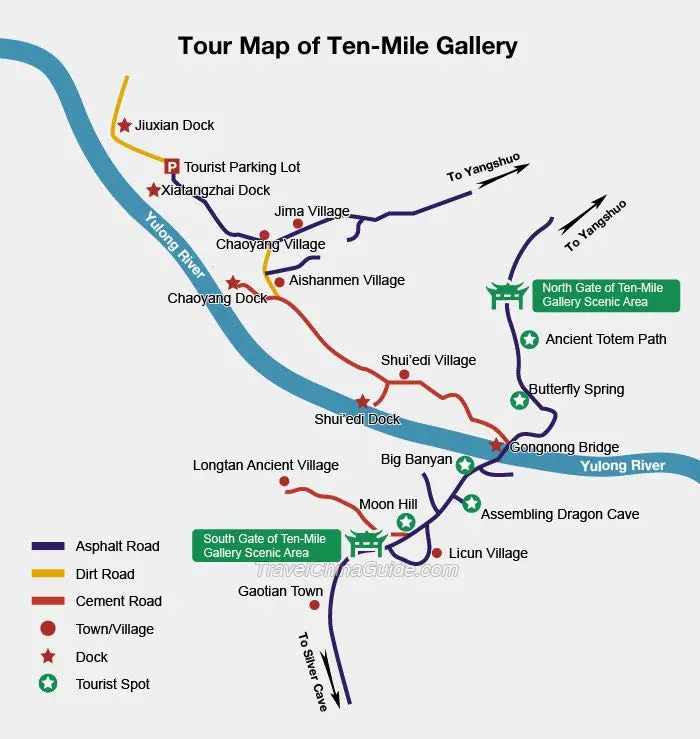 Guide Map of Ten-Mile Gallery
| | |
| --- | --- |
| Moon Hill | Big Banyan Scenic Area |
As the journey of Ten-Mile Gallery goes on, you will encounter a Big Banyan Tree, which is more than 1,400 years old. This time-honored tree, resembling a huge green umbrella from a distance, has a circumference of over seven meters (23 feet) and a height of nearly 17 meters (56 feet). The reputation of the tree is partially attributed to a legendary figure of Zhuang Ethnic Group, Sanjie Liu, who is believed to be the Queen of Folk Songs. In 1960, the world-famous film Sanjie Liu was produced. In the film, the banyan tree is a witness to the everlasting love between Sanjie Liu and her lover. From then on, the tree is also called the Tree of Love. People in relationships often come here to make wishes for their future.

Next, you will reach the Assembling Dragon Cave, which gives an impression of a dragon's palace. The cave is nestled in lush woods near rivers, very much like the entrance of Dragon Palace in fairy tales. The numerous lifelike stalactites inside the cave, taking the shapes of lying dragons, coiling dragons, dancing dragons, swimming dragons, dragons playing the water, the dragon king and the dragon queen, offer stunning natural beauty.

The last stop on your trip of Ten-Mile Gallery is Moon Hill. On the top of this hill, there is a precipice, which is pierced with a great round hole. Watching from a distance, it looks like a moon hanging on the sky, hence the name. Walking around the hill, you can see the waxes and wanes of the moon, like full moon, crescent, and lunar eclipse. The best place to view Moon Hill is Licun Village facing the hill, also known as Moon Village. Behind the village, there is the Golden Water Cave. Owing to the advantageous landform and underground water source, a mud pool has emerged. You can take a bath in it, which is humorously called a natural ablution.
How to get to Ten-Mile Gallery of Yangshuo

The Ten-Mile Gallery scenic area has been under traffic control between 07:00 and 19:00 every day since September 15, 2017. Visitors can only enter and travel inside the area by foot, bicycle, or special tour bus.
1. After arriving at Yangshuo, you can rent a bike for CNY 10-20 per day and ride to enjoy the scenery of Ten-Mile Gallery. Generally speaking, you need to deposit CNY 100 on a bike.
2. Take the special tour bus through the Ten-Mile Gallery, and visitors can take it unlimited times a day. Bus fare is CNY 60.
| | |
| --- | --- |
| Biking in the Picturesque Yangshuo | Golden Rice Fields |
There is no admission fee to walk or ride along the Ten-Mile Gallery, however, there are fees to enter the scenic areas along it.
| Scenic Spot | Admission Fee | Opening Hours | Recommended Time |
| --- | --- | --- | --- |
| Totem Ancient Path | CNY 45 | 8:00-17:30 | 1 to 1.5 hours |
| Butterfly Spring Park | CNY 50 | 8:30-18:00 | 1 hour |
| Big Banyan Tree | CNY 19 | 8:00-17:30 | 0.5 to 1 hour |
| Moon Hill | CNY 14 | 8:00-17:30 | 2 hours |
| Assembling Dragon Cave | CNY 85 | 8:00-16:30 | 2 hours |
| Golden Water Cave | CNY 80 | 8:30-18:00 | 45 minutes for visiting caves, 30 minutes for the mud bath, and 30 minutes for the hot spring bath |

Read More:
Top 10 Things to Do in Yangshuo
- Last updated on Apr. 15, 2021 -
Questions & Answers on Ten-Mile Gallery
Asked by maryanne from SPAIN | Sep. 01, 2019 11:07

Reply
how long does the it take by bike to tour around Ten-Mile Gallery?
Answers (1)
Answered by Orin from CANADA | Sep. 03, 2019 20:47

0

0

Reply
Around 2-3 hours.
Asked by Alexey from ISRAEL | Aug. 03, 2019 11:14

Reply
Is it possible to rent electric bike in Yangshuo?
And how to get to the bike rental point from the Yangshuo train station?

Thanks for help.
Answers (1)
Answered by Jocelyn from USA | Aug. 06, 2019 19:46

0

0

Reply
I think you can find many Mobike or sharing bike on the street. You are suggested to consult the staff when you arriving at the railway station.
Asked by LEE from REPUBLIC OF KOREA | Sep. 10, 2018 00:58

Reply
Is it possible to get to the hotel by Taxi from West street?
Hi, my reserved hotel located near the BIG BANYAN TREE (JI YUN, AURORA RESORT) maybe around ten- mile gallery.
I would like to know how to get there. thank you~
(actually, I asked to the hotel by email several times, but I didn't received the answer yet.)
Answers (2)
Answered by James from BELGIUM | Sep. 11, 2018 23:01

0

0

Reply
You can take Bus Line 602/ 801 to Ten-Mile Gallery and then walk about 5 minutes to get there. Taking a taxi is available and the fare is about CNY40.
Answered by LEE from REPUBLIC OF KOREA | Sep. 12, 2018 17:06

0

0

Reply
Thanks a lot James,
So great help, I appreciate
Asked by Den from INDONESIA | Jun. 05, 2018 10:51

Reply
One day itinerary guide for ten-mile gallery
Hi,
Can someone post me a one day itinerary guide to enjoy these scenic area such as butterfly spring, moon hill and big banyan tree?
I am in a group of 8 (2 families) and we prefer to go by either walking or bus. We stay at Amari Yangshuo and I am afraid I cannot enjoy all the scenic activities in one day by walking. Any suggestions? And can provide me some recommendations for the meal there?

Thank you
Answers (3)
Answered by Karen from CANADA | Jun. 07, 2018 21:54

0

0

Reply
You can take a bus to Moon Hill and walk backwards. After visiting attractions along the way, you can stop at butterfly spring and take a bus back to city.

I didn't find any good restaurant there and I just buy some snacks. Maybe you can choose carefully in advance.
Answered by Den from INDONESIA | Jun. 08, 2018 08:14

0

0

Reply
Thanks for the guide.

What are the buses to go to Moon Hill? And where do I take these buses?

And what are the buses at butterfly spring?
Answered by Karen from CANADA | Jun. 10, 2018 21:18

0

0

Reply
You can take bus line 801 in YS North Bus Station which is near West Street. Also bus line 801 can take you back to YS. Hiring a private car is available.