Yangdi Village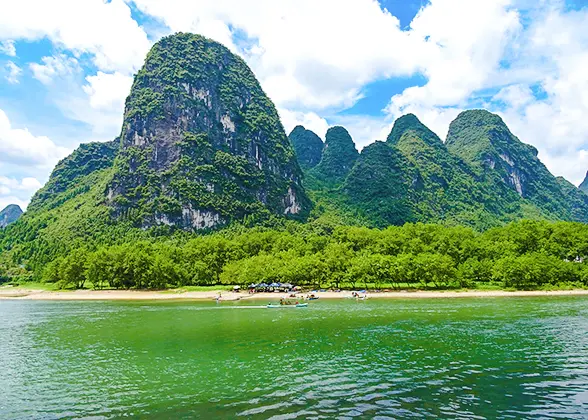 Yangdi Village, Yangshuo
Yangdi Village is located on the west bank of the Li River, about 50km (31 miles) from Guilin, and 40km (25 miles) north of Yangshuo County. Behind the village lies a hill consisting of twin peaks, which look like two sheep hoofs hanging upside down. Hence the village gets its name Yangdi, which has a harmonic tone with 'Yangti', the Chinese expression for 'sheep hoofs'.

The scenery on the way from Yangdi to Xingping Town is the highlight of the Li River cruise and you will come across Wave-stone View, Xialong Village, Mural Hill, and Yellow Cloth Shoal. It is fair to say that if Li River were a piece of long poem, then the trip from Guilin to Ox Village is the prelude at best. Whereas, the trip starting from Yangdi Village is the theme part with appealing scenery and typical karst landscapes. Therefore, if time is limited, we suggest that you restrict your Li River trip to this section.


Lots of eye-catching attractions can be discovered around Yangdi Village. On the way from upriver Half-Side Ferry to the village, you will meet Mandarin Duck Shoal. On the west of the shore stand two stalactites which look like a couple of Mandarin ducks leaning upon each other. Near the Yangdi Village is a small hill and on its top stands a huge stone like a round millstone. Beside it is another three-yard tilting stone like a man pushing the millstone, therefore, the whole is called 'The Man Pushes the Millstone'.

About 1km (0.6 miles) downriver from Yangdi Village is the splendid Wave-Stone View of white spray slapping at stones in the river, which is different from the calm and peaceful water you have seen along the Li River. Drifting downriver you will encounter another attraction A Boy Worships the Buddha. A peak like a Buddha sits quietly, and in front of it stands a smaller peak resembling a boy who is worshipping the Buddha on bended knees. Those imaginations are fantastic, aren't they? But what is more incredible is the nature that endows those peaks with various shapes.

The elegant mountains, the winding waterways, delicate shores, striking waterfalls, dense green bamboos and dotted villages form a beautiful landscape painting. Yangdi village is an ideal place to enjoy the Li River in misty rain, which seems to be a wonderland that is quiet, peaceful and mysterious. November to March is the low-flow period of Li River, and Yangdi Village sometimes becomes the starting point of the Li River cruise, when water is extremely scarce. Visitors are suggested to visit the Li River during the high period from April to October when water is deeper and greener.
Bamboo Raft Drifting from Yangdi to Xingping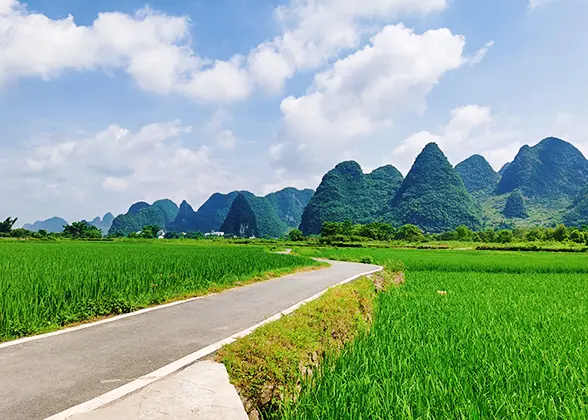 Riding on a raft
Independent visitors can take a bamboo raft to fully enjoy the scenery. Unlike taking cruises, taking a raft is more adventurous and interesting. One can ask to stop at representative attractions and take as many pictures as he or she wants. Remember that the bamboo raft is only available during 8:30 -10:30 and 12:00-15:30.

Drifting from Yangdi Village to Xingping Town costs CNY 216 for an adult and CNY 40 for a child below 1.3m (4.3 feet). Or you can drift to Mural Hill, which costs CNY 118 for an adult and CNY 40 for a child. There is a slight difference between price of tickets sold at the entrance and those sold by local raft drivers. You are suggested to buy tickets at the official ticket office at the entrance, which are usually cheaper.

Don't throw your ticket away because you can use it to take an electric power car for a free ride, from either Mural Hill or Xingping Dock, to Xingping Coach Station. Spend an hour wandering in Xingping Ancient Town and then you can take a bus to Yangshuo and start another amazing trip.
Hiking Tips
Hiking from Yangdi Village to Xingping was once in vogue, but is now impracticable for the sake of visitors' safety. Fortunately, hiking is still allowed between Mural Hill and Xingping Town, so you might want to drift downstream from Yangdi Village to Mural Hill, and then hike to Xingping Town. The whole walk would take about 1 - 1.5 hours.

See more about Li River Hiking Adventure.
How to get to Yangdi Village
1. From Guilin, visitors can take direct buses to Yangdi at Guilin Main Bus Station, which is located next to Guilin Railway Station. It costs CNY 22 and the whole journey takes about an hour. Make sure that the bus is bound for Yangdi Dock, NOT Yangdi Lukou.
2. From Yangshuo County, visitors can take buses from Yangshuo North Bus Station to Yangdi Dock, which takes about an hour.
| | |
| --- | --- |
| Entrance Fee | Yangdi Village is free of charge, but you need to pay for taking bamboo rafts, which are CNY 118 per person to Mural Hill and CNY 216 per person to Xingping Town. |

Next: Mural Hill

- Last modified on Mar. 29, 2019 -
Questions & Answers on Yangdi Village
Asked by Yuen Chee from AUSTRALIA | Mar. 26, 2019 17:41

Reply
Coming from Yangdi, where is Xialong village? I can't seem to find it on the map. Thank you.
Answers (1)
Answered by David from HUNGARY | Mar. 29, 2019 01:02

0

0

Reply
The village is near the Mural Hill and there is no obvious signs. You are suggested to ask the local people for specific location.
Asked by Celia from BELGIUM | Jan. 19, 2019 02:47

Reply
Is the Yangdi to xingping section raft still opened?
I have read that due to government restrictions, the bamboo raft between Yangdi to Xingping is not available anymore since april 2018. According to that same site, other raft routes are still available on the Li river but not the famous Yangdi to Xingping section. However i'm having a hard time verifying that information. Is it something you can confirm or deny?

Thanks
Answers (1)
Answered by Chava from USA | Jan. 22, 2019 23:16

0

0

Reply
No, according to the new government rule, the rafe only operates from Yangdi to Nine-horse painting Hill (Jiuma Huashan).
Asked by giulia from ITALY | Dec. 18, 2018 12:41

Reply
is it possible to go from Xinping to Yangdi with the boat or they only go the other way around?
Thank you!!
Answers (1)
Answered by Reagan from UNITED KINGDOM | Dec. 18, 2018 23:54

0

0

Reply
No, you can only take the boat from Yangdi to Xingping.
Asked by stacey from USA | Nov. 26, 2018 08:05

Reply
Guilin to Xingping bamboo rafting (or other water transportation methods)
To this day, is there no way to take bamboo rafting or other water transportation methods to go Xingping from Guilin? Or do I must really start from Yangdi village to go to Xingping?

I plan to take this route (gulin -> xingping -> yangshuo -> gulin)

I'm traveling on a budget, so I'm not looking for luxury experiences or expensive cruises type (but feel free to share for other readers).

thank you!
Answers (3)
Answered by Buddy from USA | Nov. 26, 2018 18:52

0

0

Reply
Yes, you have to take the bus from Guilin Bus Station to Yangdi and then take the bamboo rafting from Yangdi to Xingping. There are direct buses from Xingping Bus Station to Yangshuo. Also, you can take the bus at Yangshuo Bus Station back to Guilin.
Answered by Stacey from USA | Nov. 28, 2018 17:12

0

0

Reply
great, thank you! is it possible to bring the luggage in that boat? or bamboo rafting? Do you, or anyone, knows if it will be an extra charge if it is allowed to bring the luggages?
Answered by Buddy | Nov. 28, 2018 17:40

0

0

Reply
Yes, you can put your luggage on the boat or bamboo rafting and in general, it won't charge.
Asked by william from NEW ZEALAND | Nov. 13, 2018 18:23

Reply
Bamboo Rafting Yangdi to Xingping
Hey I was wondering when do the tickets actually start and stop selling in the morning and in the afternoon? Otherwebsites have different times.
Answers (1)
Answered by Coco from CANADA | Nov. 13, 2018 22:24

0

0

Reply
From 07:40 to 08:15 in the morning and from 12:20 to 15:40 in the afternoon.