Guilin Attractions - Things to Do
Embraced by lofty hills with the winding Li River flowing through, Guilin boasts magnificent natural beauty and many precious cultural relics, most famously the Elephant Trunk Hill, Reed Flute Cave, Seven-Star Park, Folded Brocade Hill…
Top Attractions

Li River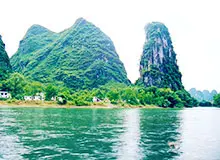 One of China's top tourist destinations, the Li River is honored to be the largest and most beautiful karst gallery of the world, making it a must see during your Guilin vacation.
As it sparkles in the sunlight, the river meanders through lush mountains like a liquid jade belt. The essence of the Li River is well represented in the section from Guilin to Yangshuo. A cruise between the two places offers you the best way to appreciate the scenery and is one of the best things to do in Guilin.

Yangshuo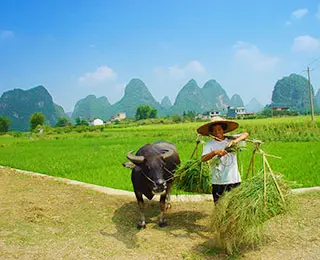 Located 65 kilometers (40 miles) away from Guilin, the passing-by Li River releases all her glamour in this town.
Besides drifting on a bamboo raft, you can also rent a bike and ride along the Ten-Mile Gallery to view the scenes. As one of the most beautiful counties of China, Yangshuo presents peaceful rural scenery with distinctive log cabins dotted among wide fields and terraces.

Elephant Trunk Hill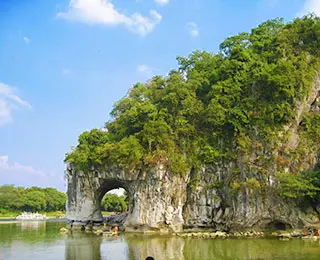 At the confluence of the Taohua River and the Li River, Elephant Trunk Hill is the landmark in downtown Guilin and also a highlight of the Li River. It is like a giant elephant drinking water from the river.
The semicircle cave between its legs and trunk is called Water Moon Cave. Together with its reflection, it looks like a round moon on the river.

Reed Flute Cave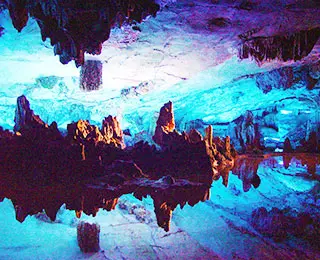 It is one of the most beautiful karst caves in the northwest suburb. Stalactites there are of various shapes, like lions, pagodas, forests and waterfalls.
With clever use of the lights, the cave looks even more gorgeous. Walking through the stalactites makes you feel like you are inside of a magnificent crystal palace.

Seven-Star Park
Seven-Star Park is located on the east bank of Li River, opposite Elephant Trunk Hill.
The park got its name because its seven peaks form the shape of the Big Dipper. This park is well known for its oddly-shaped peaks, stunning caves, clear water, and exquisite natural landscapes.

Longji Rice Terraces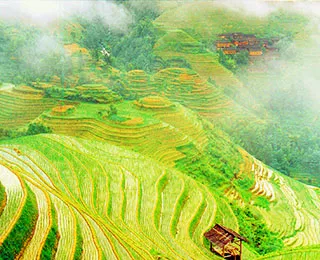 The large-scale terraces of this scenic area reveal the original rural scenery of
Longsheng
, 90 kilometers (56 miles) away from Guilin. It is inside a village, which gathers ethnic groups of Zhuang and Yao. Local people still plant crops in the field for a living. Not only can you view the splendid natural scenes, but also have a glimpse of genuine folk life and culture of the two minorities.

See more about Top 10 Things to Do in Guilin
More Attractions
(alphabetical order)



Bajiaozhai Scenic spot is on the border of Guangxi Zhuang Autonomous Region and Hunan Province and famous for its Danxia landscapes.



Mao'er Mountain (Cat Mountain), 81 kilometers (50 miles) from Guilin, got its name because its peak looks like a crouching cat.



Chuanshan Park features splendid Cockfighting Hills (made up of Chuanshan Hill and Pheasant Hill), Pagoda Hill and Chuanshan Hill Cave.



Crown Cave is an underground karst cave along the Li River with a subterranean river flowing through it. You can either take a raft or a sightseeing train to view the scene.



Daxu Ancient Town, on the route of Li River cruise, features well-preserved quaint workshops and flagstone road.



Flying Tigers Heritage Park is built in memory of those American volunteers of the famed Flying Tigers. It's also a place for descendants and friends of those volunteers to mourn for the history and their predecessors.



Folded Brocade Hill, also called Diecai Hill, is on the west bank of the Li River in downtown Guilin and is famous for its peculiar stones and stone carvings. You can have a bird's-eye-view of the city on top of the hill.



Ginkgo Forest of Haiyang Town, 40 km (25 miles) to the north of Guilin, provides over one million ginkgoes, attracting thousands of shutterbugs every autumn.



Gudong Waterfall, 25 kilometers (16 miles) away from the city, include several cascades, looking like a stairway among the lush forest.



Guilin Zoo, located inside the Seven Stars Park, is the home to over 100 species of animals such as giant pandas, golden monkeys, gibbons, red-crowned cranes and Presbeytis francoisi.



Lingqu Canal in Xing'an County, with its ancient origin in the Qin Dynasty (221 - 207BC), is one of the oldest and most well-preserved canals in the world.



Merryland Resort is a large-scale amusement park, featuring seven themed districts and many entertainment facilities.



Silver Cave is one of the most typical karst landforms. It earns its name for the silver-like stalactites shining under the light.



Solitary Beauty Peak and Jingjiang Prince City: the towering peak is known as the Sky-Supporting Pillar in Southern China. The old prince city of the Ming Dynasty (1368 – 1644) is at its foot.



Two Rivers and Four Lakes Scenic Spot is a round-the-city water system, including Li River (the part within the city), Taohua River, Mulong Lake, Guihu Lake, Ronghu Lake and Shanhu Lake.



Wave-Subduing Hill, also called Fubo Hill, is well-known for its hills, water, caves, stones, and cultural relics.



Yao Mountain is the highest mountain in the city. Cable car and slideway will offer you a different visiting experience. The Mausoleums of Jingjiang Princes of the Ming Dynasty is located at its foot, commemorating over 300 royal family members.

Tickets & Activities
- Last modified on Jul. 29, 2020 -
Questions & Answers on Guilin Attractions
Asked by Ansar Ahmed from PAKISTAN | Jul. 18, 2018 12:14

Reply
is there any subway system in guilin?
In your transportatio details , no subway line discussed so can you please mention the availbility of subway ?
Answers (1)
Answered by Fanny from FRANCE | Jul. 18, 2018 22:33

0

0

Reply
There is no subway available at present and they are still being built.
Asked by Yeo from MALAYSIA | Jun. 23, 2016 09:03

Reply
How long would it take if we are travelling form central of Guilin to Yao Mountain?
Estimated how long does it take to compete the mountains if we were to take the cable car up and the slide on our way down. thanks!
Answers (1)
Answered by Juliet from USA | Jun. 24, 2016 02:26

0

0

Reply
1. It is about 7 miles (11km) from downtown area. You can taxi there for about CNY 30, and the trip takes about 20 minutes.
2. Generally speaking, it may take about 4 hours.
Asked by Song from KOREA | Dec. 06, 2015 07:39

Reply
do you know about Baijiayan?
I would like to join 百家宴, but I cannot find the detail information. Where and when do they make this?
Answers (1)
Answered by Li Ming from CHINA | Dec. 06, 2015 19:21

0

0

Reply
As I know, the Baijiayan is held in Diling Dong Village, Lejiang Township, Longsheng Ge Minority Autonomous County on the 24th of the sixth lunar month every year. The Dong people who are dressed in traditional clothes treat the guests very cordially. Apart from having the feast, tourists can watch various performances, and dance happily with locals, which is very delightful and interesting.

Asked by Nattariya from THAILAND | Oct. 08, 2015 02:32

Reply
I would like to visit Guilin and Yangshuo a few day.
I plan to visit 2 cities from 19-22 Oct. On 19 Oct, I will take the high speed train from Guangzhou to GL and 22 Oct will back to Guangzhou (I would like to arrive Guangzhou approx. 15:00). I have many questions : 1.Which station is more convenient in GL? North or South?
2.Interested place for 2.5 days?
3.How about transportation around GL and Yangshou?
4.Which area or road is popular for tourist and easy for walking or transport in the city tour?

Thanks
Answers (1)
Answered by Ben from UNITED KINGDOM | Oct. 10, 2015 22:32

0

0

Reply
1. Both of these two stations can be reached by public transport easily. If you are going to take the bullet train to GL, the train will only stop at North Railway Station.
2. Elephant Trunk Hill, Reed Flute Cave, Li River Cruise, Yangshuo countryside
3. Around GL, the public bus and long-distance bus are the main mode to reach scenic spots. In Yangshuo, taxis and boat are major modes. Well, if you have specific routes, you can send it to me. I can help you to choose the best transportation solutions.
4. Well, Zhengyang pedestrian Street is a good destination for shopping, entertainment and dining. Considering the transportation, the area around north railway station is also a good choice.