Guilin Nightlife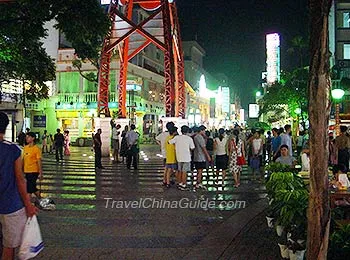 Night Scene of Guilin City
Nightlife in Guilin is as attractive as its natural beauty. From modern nightclubs, romantic night cruise to folk customs center on the Li River, travelers can enjoy or relax themselves thoroughly.
Highlights
The Li River Yinzuo Ferry is located at No.2 Dock, Binjiang Road on the west bank of Li River. This luxury ferry integrates ballroom, bar and Karaoke together. Travelers can admire the fantastic scenery on both banks and enjoy the modern entertainment.
Li River Ethnic Night is made up of Li River Night Cruise and Dancing in the Water Pavilion. The water pavilion is located at No.2 Dock, Binjiang Road on the west bank of Li River, next to the Li River Yinzuo Ferry. Travelers can watch the ethnic performance and then enjoy a cruise along the Li River.
Li River Folk Customs Center is located where Li River meets the Xiaodong River. Travelers will appreciate the ethnic customs, arts, cuisines and architecture. Enjoying the singing, dancing performance and ethnic costume show as well, travelers are sure to find tasting the ethnic delicacies a memorable experience.
Entrance Fee: for the Li River Folk Customs Center is approximately CNY45 during the day and CNY60 at night.
Visiting Hours from 08:30 to 21:30
Transport: Use Public Bus No. 58 to go to the Center free of charge.
Guides at the Center speak Chinese, Cantonese, English and Japanese.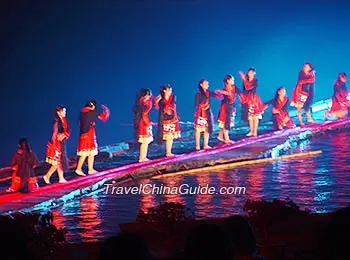 Impression Sanjie Liu
Impression Sanjie Liu
is a major performance, which is set in the natural landscape of Yangshuo, and is directed by the famous Chinese director, Zhang Yimo. The stage for the performance is composed of a two-kilometer-long water area with twelve mountains as the background. It is the largest natural theater in the world. The whole performance lasts for about 60 minutes with a cast of some 600 performers, all of whom are local fishermen. Tickets for the performance range from CNY188 to 680 per person. The site of the great performance is about one kilometer away from the West Street. You can walk there in 10 to 15 minutes.
Shows
Guishan Zhi Xiu (the Beauty of Guishan)
Location: Minghua Palace, Guishan Hotel, No.1 Chuanshan Road
The performance features Guangxi customs and ethnic color, such as Zhuang, Miao, Dong and Yao ethnics. The themes cover Yao wedding dance, ethnic costume show and harvest dance. This elegant and passionate performance will refresh travelers from different cultural backgrounds.
Huayuan Zhi Ye (Garden Night)
Location: Guilin Royal Garden Hotel, No.186-1 Linjiang Road
This is the largest dome architecture of organic glass in Asia. Performance of as many as 12 ethnics is put on here nightly.
Haohua Zhi Ye (Luxury Night)
Location: Art Museum at junction of Jiefang Xi Road and Rong Yin Road
Travelers can taste unique delicacies of Lingnan Mountain styles and enjoy the folk acrobatics and performance.


Nightclubs
Guilin Plaza Hotel Karaoke Bar
Location: No.20 Lijiang Road
Guilin Bravo Hotel Reed Flute Cowboy Bar
Location: No.14 Ronghu Nan Road
The decoration here is original-walls, floors, chairs and tables are all made of wood, adorned with ox skull, horns, etc. Travelers can relax drinking wine and playing darts.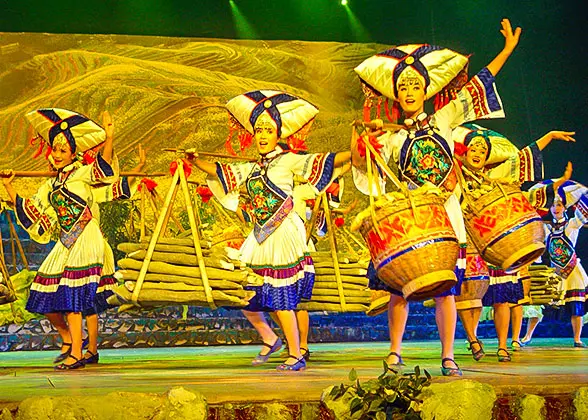 Li River Theater
Guilin Bravo Hotel VIP Nightclub
Location: No. 14 Ronghu Nan Road
Karaok, small dance floor, wines and snacks are provided here.
Mengbi Karaoke Nightclub
Location: Zhengyang Road
This club is very popular due to its good location, elegant surroundings, quality performance and management. To dance or to watch show, travelers can surely find something interesting!
Jiulong Nightclub
Location: Underground No.1 Building, Nanmenqiao
Professional discotheque, performance room, billiards, sauna, massage, etc, can cater to different demands.
Shi Guang Dao Liu (Somewhere in Time)
Location: Fl.8th and 9th, Bagui Building, Zhongshan Zhong Road
Weilong Nightclub
Location: Sanduo Road
The vehement atmosphere with the strong tempo will excite everyone deeply. For peace and relaxation, bars above provide Karaok and coffee.
Yixing Bar (Grotesque Bar)
Location: Renmin Road
Decorations and hangings here are all grotesque. Don't be frightened. A big surprise is waiting for you!
- Last modified on Apr. 16, 2019 -
Questions & Answers on Nightlife in Guilin
Asked by Tatiana from USA | Nov. 08, 2016 09:30

Reply
Please let me know what month are the light shows in guilin for 2017?
Answers (1)
Answered by George from USA | Nov. 09, 2016 03:25

0

0

Reply
There is no news of the time of 2017 light show. But the 2016 Light Show was held from May 18 to June 27 at West Hill Park and Zengpiyan Cave. Let's look forward to the latest news!
Asked by Gar from UK | Nov. 04, 2016 23:24

Reply
I will stay in Guilin for New Year Eve (31 Dec.) , any place you can recommend me for count down?
Answers (1)
Answered by Lydia from NEW ZEALAND | Nov. 07, 2016 00:26

1

0

Reply
You are advised to go to Central Square at the crossroad of Middle Zhongshan Road and Yiren Road. You can count down there, together with many others. Have fun! :)
Asked by ANDREY2016 | Jul. 29, 2016 03:11

Reply
How to get to Guishan Zhi Xiu (the Beauty of Guishan) from Golden Oriole Hotel in Guilin?
Thanks!
Answers (1)
Answered by Nadia from ICELAND | Jul. 30, 2016 22:44

1

0

Reply
It is about 2.5 miles between these two places. I suggest you take a taxi, and the fare is about CNY15.
Asked by christine from BELGIUM | Mar. 19, 2013 22:43

Reply
"Impression Sanjie Liu "-show= near Guilin or near Yangshuo?? Need to book tickets in advance????
Answers (1)
Answered by Helen from EGYPT | Mar. 19, 2013 22:48

2

2

Reply
Hi, it is at Yangshuo. Generally, you can buy the ticket on the spot.
Asked by tony zucco from UNITED STATES | May. 15, 2011 22:46

Reply
As an American , do I need a visa for Hong Kong, Gui Lin and Guang Dong?
Answers (1)
Answered by Mr.David from CHINA | May. 16, 2011 01:23

4

3

Reply
You do no need a visa to visit Hong Kong in 90 days, but you need to get a Chinese visa to visit Guilin and Guangdong.