Guilin Travel Tips
Area: 27,809 square kilometers (10,737 square miles)
Population: 4,951,100
Ethnic Minorities: Han and over ten minorities of Zhuang, Yao, Dong, Miao, Hui
Language: Mandarin is recognized widely in cities and major tourism regions.
Area Code: 0773
Post Code: 541002



As of May 28th 2015, tourist groups from ASEAN countries (including Malaysia, Thailand, Indonesia, Vietnam, Cambodia, Laos, Singapore, Brunei, Myanmar, and the Philippines) can enjoy a 6-day visa-free stay within the city. Read information about 6-Day Visa-Free Policy.



Since July 28 2014, the city implements the 72-Hour Visa-Free Policy to facilitate passport holders of 51 countries and regions to enjoy a visa-free stay up to 72 hours when taking an international transfer via Liangjiang Airport. Read details about 72-Hour Visa-Free Transit.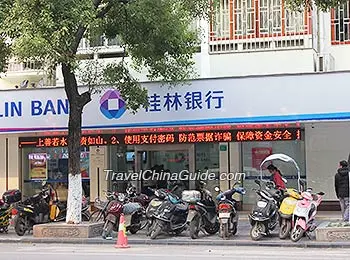 A Local Bank

Useful Telephone Numbers:
Fire: 119
Police: 110
Ambulance: 120
Tourism Complaint: 0773-2800315
Guilin Tourism Information Service Center: 0773-12301
Weather Forecast: 121
Consumers' Complaint: 12315

Post Offices:
Zhongzhong branch: No.55, Zhongshan Road (Middle)
Zhongbei branch: No.100, Zhongshan Road (North)
Zhongnan branch: 43-4, Zhongshan Road (South)
Yangqiao branch: No.97, Zhongshan Road (Middle)
Guanyinge branch: No.57, Zhongshan Road (North)
Lijun branch: No.5, Lijun Road
Lijiang branch: No.9, Lijiang Road
Qixing branch: No.7, Chuanshan Road (East)
Ludi branch: No.41, Ludi Road
Pingshan branch: No.18, Wayao Road
Donghuanlu branch: 61-2, Putuo Road

Money:
Money exchange is offered in any one of the exchange counters of local branches of Bank of China.
Guilin branch: No.5 Shanhu Road (North), Xiufeng District
Pingshan branch: No.16, Wayao Road, Shixia District
Zhongshanbeilu branch: No.390, Zhongshan Road (North), Shixia District
Jiedong branch: No.130, Jiefang Road (East), Xiufeng District
Sanlidian branch: No.6, Lijiang Road, Qixing District

Religion:
Guilin Christian Church
Mass Time: 19:30 on Saturday, 12:30 on Sunday
Address: No.456, Zhongshan Raod (Middle)
Islamic Mosque
Address: No.28, Minzu Raod

Toilet:
Local Toilets are worth mentioning since they are free, unlike those in most cities in China. All the toilets are beautifully decorated with advanced equipments.

Hospitals:
The People's Hospital
Located in the city center, this hospital has gained high fame for international service. It is the appointed hospital of International SOS Pte Ltd in the city.
Clinic Hours: 08:00-12:00; 15:00-18:00 (summer); 14:30-17:30 (winter)
Address: No.12, Wenming Road
The Second People's Hospital
Clinic Hours: 08:00-12:00; 14:30-17:30
Address: No.2, Diecai Road
The Fourth People's Hospital (Bo'ai Humanity Hospital)
Addres: No.20, Fengbei Road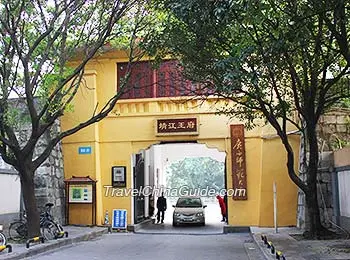 Guangxi Normal University

Universities:
Guilin University of Technology
International Exchange Dept.
Address: No. 12, Jiang'an Road
Zip Code: 541004
Tel: (+86) 0773-5896079
Tax: (+86) 0773-5892796

Guilin University of Electronic Technology
College of International Exchange
Address: No.1, Jinji Road
Zip Code: 541004
Telephone: (+86) 0773-5601372

Guangxi Normal University
Office of International Exchanges
Address: No. 15, Yucai Road



Festivals:
Local festivals are multifarious, as so many ethnic groups inhabit the city. Like any other place in China, common traditional holidays like Lunar New Year (The day falls between 22 January and 19 February, varying every year), Lantern Festival (15th day of 1st moon), Dragon Boat Festival (5th day of lunar 5th moon), Mid-Autumn Festival (15th of lunar 8th moon) are celebrated most ardently but the true highlights are undoubtedly the ethic holidays.

Third of March (lunar) is celebrated by the Zhuang ethnic group as the Song Festival. Man and woman, young and old will gather together and sing songs ranging from lyrics, old songs and love songs, etc. This holiday has developed into the Art Festival of Guangxi Zhuang Autonomous Region.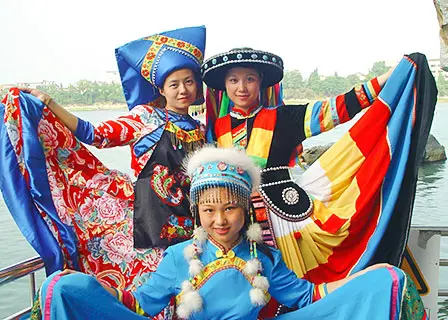 Local Minority Costume
Miao's New Year falls in October (lunar), the specific day varying according to different places. This is a time for courtship when young people are free to choose their sweethearts. Young men will play reed flutes while girls will dress up in their best costumes.

Fireworks Festival is the Dong peoples' holiday. The specific day varies according to place, ranging from January to October (lunar). Three fireworks will be lighted for the population's prosperity, for good fortune and for a good harvest respectively.

Guilin Mountain and Water Tourism Festival falls in October to December, which is the off-season of the city. The government designed this festival to attract more tourists.

Getting to know more tips for travel in China, please visit China Travel Advice.



Top 10 Things to Do in Guilin
- Last updated on Sep. 26, 2018 -
Questions & Answers on Guilin Travel Tips
Asked by AHAMMED KUTTY KAPPAKKUNNAN from INDIA | Sep. 18, 2018 21:54

Reply
Arrive the Shenzhen city now, how can I go to Guilin from here for easy way by bus or by train?
Answers (1)
Answered by Vida from USA | Sep. 20, 2018 20:41

0

0

Reply
Hi, you can take the high speed trains and you can book the ticket on this website.
There are about 6 trains operated between the two cities every day. Their departing time is 07:21, 11:45, 12:28, 13:05, 14:26 and 14:50. The schedule is just for reference and you can search the current timetable. The duration is about 3 hours and the ticket fare of a second class seat is CNY239.5 per person in a single trip. Hope to be helpful.

Asked by hoor alyn from MALAYSIA | Nov. 08, 2014 18:44

Reply
best month to visit guilin
I really want travel there, but which month most suitable to visit??
Answers (1)
Answered by Rebecca from UKRAINE | Nov. 08, 2014 21:08

1

0

Reply
The best months would be April, May, September and October. The weather in these months will be pleasant.
Asked by Alan from USA | Mar. 07, 2014 16:30

Reply
Mosquitoes in Guilin
Hi: i will be in GL and Yangsho for 4 days - april 5-9 and would like to know if there are mosquito's if there are mosquito's and if so is there a Malaria risk, Many Thanks. Alan
Answers (1)
Answered by Sam from NEW ZEALAND | Mar. 07, 2014 20:11

0

0

Reply
As I know, there will a few mosquitoes in the two places at that time. If you are allergic to that, take some medicine or spray! However, the mosquitoes there won't cause Malaria at all. Don't worry!
Asked by harbans from MALAYSIA | May. 01, 2013 05:05

Reply
is there any worries about being robbed or snatched thefts in guilin?
Answers (2)
Answered by Alan from SINGAPORE | May. 02, 2013 02:34

1

0

Reply
Don't worry about that! Generally, it is safe enough.
Answered by Paul from CANADA | Sep. 05, 2013 19:15

1

1

Reply
Keep your valuables in zippered pockets at ALL times. I had my new iPhone 5 stolen out of my jacket pocket because I did not zip it up. I tried to report it to the police but they just laughed and said hundreds of phones are stolen each day. Be careful with small digital cameras and your wallet too. I had all of my contact info to meet someone in Shanghai as well as my language translator on my iPhone 5. The theft made my last 10 days in China very difficult!
Asked by leong from MALAYSIA | Dec. 04, 2012 03:04

Reply
what's the weather like in Guilin on 18 dec 2012,and what kind of clothings to bring?
Answers (1)
Answered by Nancy | Dec. 04, 2012 21:35

1

0

Reply
It will be fine then. The temperature will range from 6C to 15C on 18th, Dec.
You can wear a jacket plus a cardigan or other autumn clothes.