Guilin Dining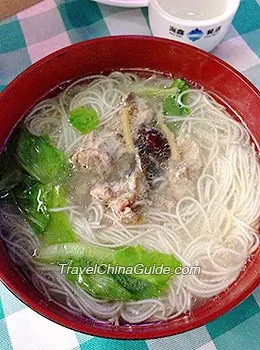 Rice Noodles
Guilin's central location in Ling Nan has given it a cuisine that is influenced by the food of Canton, Sichuan, Hunan, Zhejiang, Jiangxi, and Fujian. In recent years, however, Sichuan and Cantonese dishes have become the most popular. The development of tourism, too, has had an effect on eating habits, as local snack foods are enjoyed by tourists from around the world.

Among the more popular of these local snacks are Guilin rice noodles (mifen), nun noodles, chestnut glutinous rice dumplings (banli zong), stewed duck with gingko, lotus-leaf duck, and stewed duck with ginger. Some of the specialties of the region are described below.

Stewed duck with gingko is a traditional dish thought to be a remedy for lung problems. Gingko, cubes of duck meat, ham slices, and other ingredients are steamed in braising cups. The result is light but savory soup in which the tender duck meat contrasts pleasantly with the smooth, slightly slimy texture of the gingko.

Lipu taro pork is made up of Lipu taro, pork, this dish preserved bean curd, and various other ingredients. The pork and taro cubes are fried separately and then steamed together, so each piece is golden on the outside and soft and flavorful on the inside. Health benefits of this dish include extinguishing any "fire" (inflammation) in your body and improving your complexion.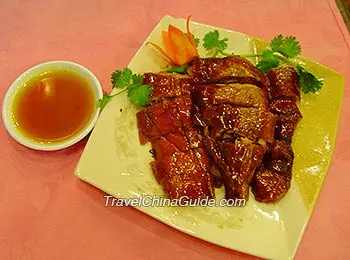 Stewed clams and chicken is an award-winning dish of Guilin. A chicken, a pair of clams, preserved longan, and slices of ham are stewed with other ingredients in a covered porcelain pot for two hours. This mellow-flavored dish has many healthful benefits.

Lo Han boiled chicken, as the name implies, is steamed with traditional Chinese herb like Lo Han Kuo, astragalus, and codeonopsis pilosula. This refreshing soup can help to lower blood pressure.

Fried chicken with water chestnut uses local water chestnut, quality chicken, fresh mushrooms, and other special ingredients. This dish is delicious and beautiful as well.

Duck wrapped in lotus leaf is very tasty and healthful. First, the duck is fried to a golden brown. Then cubes of lean pork, bamboo shoot, ham, taro, and mushroom; green beans; and shrimp are stir-fried with seasonings and stuffed into the duck, which is then wrapped with a lotus leaf and steamed. The unique fragrance of the lotus leaf permeates the tender duck meat, making this dish especially delicious.

Steamed pork with rice flour wrapped in lotus leaf is a traditional homemade dish. The pork is boiled and then stir-fried with soybean sauce, dipped into mung bean flour, wrapped in a lotus leaf, and steamed. The dish is rich but not greasy and helps to lower cholesterol.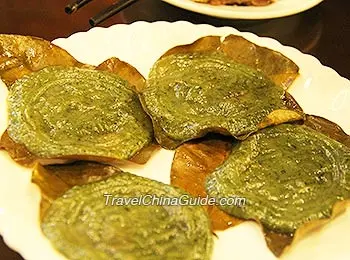 Fried meat floss with sweet-scented osmanthus is a good appetizer with a glass of wine. The pleasant scent of osmanthus is the highlight of this dish.

Sour fried dried fish. Dried fish is smoked with fruit peels and then dried in the sun. The dried fish is stir-fried with preserved pepper and bamboo shoots and then boiled in Sanhua wine and water. The resulting re-hydrated fish is served with spicy condiments such as garlic sprouts. This dish is a mouthwatering combination of spicy and sour.

Another popular dish is fried pork with pommelo rind. The sweet/tart rind goes well with pork.

In addition, homemade dishes like fried beef with bamboo shoot and steamed, minced pork with water chestnut are also worth tasting.

As a famous condiment, Guilin chili sauce is also a highly recommended specialty. It can be added into other dishes like Guilin rice noodles and tender tofu.


Local snacks
Rice noodles, which can be either round or flat, are the most popular local snack of Guilin. The thing that sets one dish apart from another is the soup, which is made of pork, steak, Lo Han Kuo, and various seasonings. Depending on the ingredients used in the soup, rice noodles can be divided into vegetable, three-fresh, original soup, spicy and sour, beef, and horse meat rice noodles. The horse meat rice noodles of Huixian Lou are the most famous.

Other well-known rice-noodle eateries include: Youyi Xuan, located at Jie Fang West Road;
Qin Ji; opposite to the local bus station;
Rong Gui, which has branches all over the city;
Liu Bo Niang, which also has branches all over the city;
Shi Ji on the opposite to Weixiao Tang, Sheng Li West Road;
Shengli at Shengli Lou, Wayao Road; and
Weixiang Guan at Zhongshan Road and Yi Road

Nun noodles are said to have been created by a nun in Yueya Hill. The soup for this noodle dish is boiled with bean sprouts, fresh mushrooms, dried mushrooms, and bamboo shoots until it turns golden. The soup is then poured over the noodles, vegetables, and seasonings. The best place to eat Nun noodles is at Yueya Lou in Qixing Park.

Glutinous rice is widely used. It can be made into ciba (rice paste), tangyuan (rice flour dumplings), nuo mi fan (rice dumplings), and zongzi (glutinous rice dumpling wrapped in a bamboo leaf). The stuffing varies, and may include sweetened bean paste. sesame powder, water chestnut powder, chestnut, lotus seed paste, peanuts, meat, or preserved ham.

Zhutongfan (bamboo-cooked rice) and youcha (oil tea) are two ethnic delicacies that are definitely worth trying.

For your reference, the following are the restaurants rated most popular by the locals: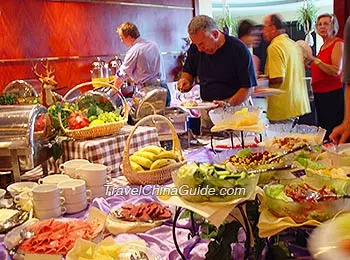 Buffet in Bravo Hotel
Guilin Bravo Hotel Restaurant
Location: No.14 Rong Hu South Road
Style: Sichuan cuisine

Tong Lai Guan
Location: No. 4, Zhongshan Middle Road, opposite to Guilin Hotel
Style: Local snacks and traditional dishes

Lao Xiang Qin Restaurant
Location: southeast of Shizijie Square
Style: Beijng and Tianjin cuisine

Guilin Ren Chain Restaurant (Local leading caterer)
The chain restaurants are spread throughout the city.

Hao Da Ma Cate Square
Location: Fl. 4, Bagui Building
Style: Buffet featuring a variety of snacks. Also from here, you can enjoy the bustling Center Square and Zhongshan Road.

For western food lovers, the following western restaurants are good choices:

Guilin Ren Western Restaurant
Address: Yiren Road
Specialty: New Zealand steak and Indonesian fried rice

Weixiao Eatery
Address: Zhongshan Middle Road
Specialty: New Zealand steak

Sharon's Coffee
Address: Chuanshan South Road (street to Chuanshan Park, at the corner Lijiang Road, near by Li River Chuanshan Bridge)
This coffee shop is a Western style restaurant opened at the end of 2007. It offers German and Western dishes (like soups & eintopf, salads, baguette, burgers, schnitzel, steaks, pizza), different types of coffee & espresso, cocktails and a special selection of spirits & wines in a cosy and pleasant atmosphere. The price range of the dishes is between CNY10 to CNY50, drinks starting at CNY5.


Further Reading: Top 10 Guilin Restaurants
| | |
| --- | --- |
| Left Bank Cafe Located in Binjiang Road | Left Bank Cafe |
Tips: The main streets where eateries are located are Binjiang Road, Jiefang West Street, Putuo Road, Meishi Cheng (Cate City, left of the bus station), and Zhishan Road with the most famous one located near the bell tower in the Center Square.
- Last modified on Apr. 15, 2021 -
Questions & Answers on Dining in Guilin
Asked by BOON from MALAYSIA | Mar. 13, 2015 01:16

Reply
What are some hotels closest to the famous food streets in Guilin downtown? Boon, MALAYSIA
Answers (1)
Answered by Jeremy from THAILAND | Mar. 13, 2015 04:34

1

0

Reply
The most famous food street must be the Binjiang Road, there are a lot of restaurants near there.
I suggest you live in the Hanting Hotel, located at No. 1 of Fuhe Alley, Binjiang Road.

Asked by mitesh from INDIA | Feb. 21, 2015 01:29

Reply
are there any indian restaurants in guilin?
Answers (1)
Answered by Grace from PERU | Feb. 26, 2015 21:17

0

0

Reply
Yes. In Shangshui Street, Xiufeng District, there is Kali Mirch Indian Cuisine, you can have a try.
Asked by Vivienne from INDIA | Aug. 13, 2014 03:20

Reply
I have heard of Guilin Beer Fish - where is it served?
Can we taste it in a restaurant there?
Answers (2)
Answered by Jamica from THAILAND | Aug. 13, 2014 04:05

0

0

Reply
Usually, you can find the beer fish at sidewalk snack booth in the city. Some large restaurants don't have the dishes.
Answered by Jenni from USA | Oct. 03, 2014 08:24

0

0

Reply
Curious if you found anywhere in GL city to try Beer Fish?? We wanted to try in Yangshou today but didn't have time with our tour. Thanks!
Asked by Moha Fauzi from MALAYSIA | Apr. 10, 2014 20:32

Reply
Any muslim restaurant in Guilin?
Answers (1)
Answered by Stella from JAPAN | Apr. 11, 2014 02:40

1

0

Reply
Yes, there is. I know there is an Endian Halal Resto (恩典清真餐吧) near the local Mosque near Chongshan Road! You may go for a try!