Silver Cave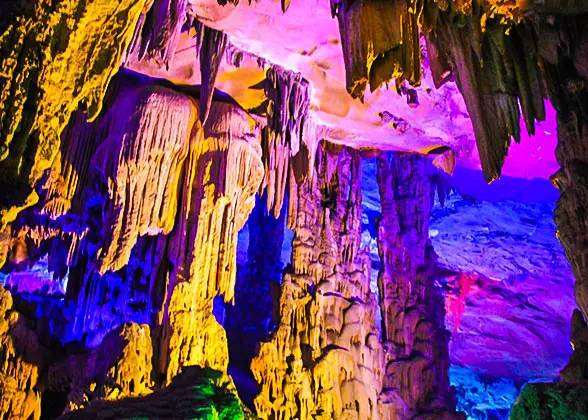 Silver Cave, Guilin
Silver Cave is located in Maling Town of Lipu County, about 85 kilometers (53 miles) south to the city center of Guilin and 18 kilometers (11 miles) from
Yangshuo
. It is the largest karst cave in Guilin and fully shows the charm of the typical karst landform in south China. Numerous crystal stalactites extend from the roof of the cave like stars in a falling Milky Way. They glitter like silver and diamonds under the colorful lights, giving the cave its name: Silver Cave. Because of the image attached to the name, there is a saying: "One will never be down and out as long as one reaches the Silver Cave". The majestic, other-worldly features make the cave an outstanding example in the world of karst landscape.
Facts about Silver Cave
Winding 2,000 meters (2,187 yards) through twelve peaks, the Silver Cave is a multi-level cave ascending as high as 16 floors. It can be divided into three parts - the ground cave, the main hall, and the upper cave.
How Was Silver Cave Formed
Along the narrow path, there are a variety of glamorous stalactites and stalagmites formed in different geological ages. For hundreds of thousands of years, water containing lime kept slowly dripping in the cave, creating this natural spectacle. The stalactites in vivid shapes resemble columns, towers, waterfalls, curtains, and even human figures. Visitors will marvel at the art of nature when standing in such a gorgeous crystal palace.
The Three Wonders and Three Treasures in Silver Cave
There are 28 scenic spots inside the Silver Cave including 'The Three Wonders' and 'The Three Treasures'.
The unrivaled three wonders are the Flying Waterfall of Snow Mountain, the Music Stone Screen and Wonderland in a Jade Pool Fairyland. At the Flying Waterfall of Snow Mountain, visitors are bathed in the shimmering light of the cave. All the walls are snow white, and the stalactites cascade majestically like a silver waterfall. Visitors will feel as if they're in a snow world, surrounded by waterfalls. Music Stone Screen is composed of stone pieces of different height and thickness. When rapping lightly on them, visitors can hear melodious tunes. It's easy to lose oneself in the wonderful scene. In Jade Pool Fairyland, visitors may wonder if the water is really colorful. In fact, the reflection in the lake constantly changes because of the subtle change of the light. Some visitors claim that this kind of scenery only can be found in heaven.
| | |
| --- | --- |
| | |
The three treasures are The Preaching Buddha, The Hunyuan Pearl Umbrella and The Single Pillar. The Preaching Buddha stalactite looks like a Buddha statue sitting on the platform with crossed legs. It is said he is preaching Buddhist scriptures, and his pious students come to attend his lecture, unwilling to leave. The Hunyuan Pearl Umbrella is a stalactite like a magic umbrella in a legend, which was used to pray for rain and subdue the devil. Its unique shape, thick in the middle and thin at both ends, is still a puzzle to geologists. The Single Pillar descends straight down to the ground, while many branches stretch out like a tree. Visitors are amazed at the power of nature when viewing this scene.
In addition, an underground river meanders through the cave and stretches to Green Lake outside. Visitors can take a boat to enjoy the sightseeing. Outside the Silver Cave, visitors can see Chaozhai Mountain rising abruptly from the ground. Farmhouses are clustered at the foot of the mountain, creating a vision of an idyllic life. The pleasant climate, cool breeze and favorable scenery enable visitors to forget their troubles. What's more, visitors can participate in the annual local festivals, such as the Lipu Flowers Festival, the Chestnut Festival, and the Food Festival. There are also opportunities for bicycle riding and rock climbing.
How to get to Silver Cave
1. From Guilin: Catch a bus at Guilin General Bus Station to Lipu County and remind the driver to drop you off at Silver Cave. Then, walk northeast for about 5 minutes, you will get to the scenic area. The bus is available from 6:00 to 20:10.
2. From Yangshuo: You can take a bus from the opposite of Yangshuo Park to Silver Cave, and the buses leave at 8:30, 9:30, 11:30, 14:30 and 16:30.
Entrance Fee
CNY 65
Free for children under 1.4m (4.6 ft)
Opening Hours
8:30 – 17:30
- Last updated on Apr. 15, 2021 -
Questions & Answers on Silver Cave
Asked by Yoong from UNITED KINGDOM | Feb. 21, 2019 01:28

Reply
How difficult is the Guilin Silver Cave for elderly?
Hi I am taking my mum who is 80 to Yinzi cave but she cannot walk far. How long is the cave and are there many steps? What would you suggest? Thanks
Answers (2)
Answered by Emerson from USA | Feb. 21, 2019 22:21

0

0

Reply
Generally speaking, it won't be difficult to walk. But the length is around 2km and divided into three parts. If you feel tired, you can only tour around one part.
Answered by bernie from UK | Apr. 14, 2020 09:29

0

0

Reply
Just for general information there is quite a long steep set of steps up to the cave entrance. Inside is not so bad but its a long cave. But elderly does not mean too unfit. I was outpaced by a group of 80 year old ladies!
Asked by Veronica from ITALY | Jul. 25, 2018 21:37

Reply
Reed flute cave or Silver cave?
Hello!

I first want to thank you for the amazing work that you have done with this website, I'm loving it!
then I want to ask, which cave do you think is better to visit, the reed flute cave in Guilin or the Silver Cave in Yangshuo? I'm going to both cities and I would like to choose one of the 2.
If the Silver cave is more worthed a visit, is it ok to do the Ten mile gallery and then go to the Silver cave? How much time should it take?

Thank you in advance

Veronica
Answers (2)
Answered by Nancy from NETHERLANDS | Jul. 26, 2018 21:12

0

0

Reply
I think Silver Cave will be better and you can take a tourist bus from YS, it takes about 40 minutes.
Answered by Veronica from ITALY | Jul. 27, 2018 21:20

0

0

Reply
Thank you Nancy!
Asked by Madhu from CHINA | Apr. 10, 2018 19:06

Reply
We are taking the guilin to Yangshuo cruise, want to visit silver cave.
Hello, we are doing the li river cruise and our flight back to Shanghai is at 7.45 pm the same day. Want to know if it is possible to see the silver cave after the cruise and still have time to make it for the flight? Also how to reach silver cave after the cruise is over? Where to hire a car? Is it easy to get cabs ?
Answers (3)
Answered by Harvey from USA | Apr. 10, 2018 22:22

0

0

Reply
Actually, I don't think you can make it. As I know, the cruise takes 4-5h, so it's over around 14:00. You'd better get to the airport 2h earlier; the bus from Yangshuo to GL Airport takes about 2h. So, there is nearly no time for another trip to the cave.
Answered by Madhu from CHINA | Apr. 11, 2018 01:42

0

0

Reply
Thanks a lot for your reply. Do you have an idea as to how to get back to the airport after the cruise? Is it easy to find cabs from the place the cruise ends?
Answered by Harvey from USA | Apr. 11, 2018 20:28

0

0

Reply
You can take a bus from Yangshuo General Bus Station back to the airport directly. No worry, it's easy to find a cab or battery cars after the cruise.
Asked by Dave from CANADA | Apr. 09, 2016 07:59

Reply
I want to see Silver Cave that's close to Yangshuo.
Where to get the bus for the trip? What time is the last bus? How long is the trip? How much is by taxi? Thanks.
Answers (3)
Answered by Lia from NEW ZEALAND | Apr. 09, 2016 22:12

0

0

Reply
As I know, in front of Yangshuo park, you can take the direct buses to the cave. The bus departs at 08:30, 09:30, 11:30, 14:30 and 16:30 (The last bus). The bus duration is about 30-40 mins.

If you hire a car for a round trip, the fare would be CNY150.

If you are a Cycling fan, you can hire a bike. The distance is about 13 miles.
Answered by Dave from CANADA | Apr. 10, 2016 06:25

0

0

Reply
Hi Lia,

Thanks for your reply. Do you know what time the last bus(s) from the Caves leave for YS?

Regards and Xie Xie
Answered by Lia | Apr. 11, 2016 01:20

0

0

Reply
I heard the last bus for return trip leaves around 16:30-17:00, but not so sure.