Code: GF-GL01
5 Days Golf Tour of Guilin and Yangshuo
As the saying goes, Guilin landscape tops those elsewhere, and Yangshuo landscape tops that of Guilin. Therefore, Guilin and Yangshuo are the best choices for a leisure vacation. If you're a golfer, it would make a difference by having a round of golf with your friends or families during the vacation. So in this tour, we offer some information on golf courses in Guilin. You may spare one day for golf playing.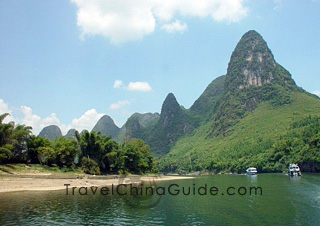 Li River cruise, Guilin
Day 01: Travel in Guilin City

After arrival in Guilin, you have an initial stop at the emblem of this city, Elephant Trunk Hill. Situated on the western back of Li River, it's just like a huge elephant drinking water from the river. Then go head to the largest all-round park of Guilin, Seven Star Park including the highlight sights of Flower Bridge, Light of China Square, Seven Stars Cave and Camel Hill (The former president of United States, Clinton once gave a lecture here). At the conclusion of the day, you visit the nature art gallery - Reed Flute Cave. This evening, to have better know the ethnic culture, you could enjoy the ethnic Songs and Dances in Lijiang theatre.


Day 02: Golf Playing

Play golf in local nice golf clubs to your hearts' content. Please check blew the detailed golf clubs info.


Day 03: Li River cruise from Guilin to Yangshuo

This morning, please board the cruise ship at the Zhujiang dock and start to cruise down Li River to Yangshuo. It is quite a treat for both your eyes and your mood. You will see incomparable scenery with crystal clear river, various shapes of karst hills and also farmers and oxen working in the fields. After arrival in Yangshuo, you could stroll in exotic West Street and taste the delicious Beer Fish of Yangshuo. In the evening, enjoy the Impression of Liusanjie directed by famous regisseur of China, Zhangyimou who participated in directing the opening ceremony of 2008 Olympic Games. If you are reluctant to leave the beautiful Yangshuo, you may choose to stay overnight in Yangshuo so that you can have more time to appreciate this breathtaking natural countryside scenery.


Day 04: Cycling in the countryside in Yangshuo

Please rent a bicycle or electrical car to view the natural scenery. We would like to recommend a classical biking route cycling out Yangshuo into the countryside along the beautiful Ten-Mile Gallery. It is a rather moderate cycling route, streching from the Yangshuo town area to the Moon Hill, including tourist spots along the way, such as Big Banyan, Jianshan Temple, Yan village, Aishan village, etc.


Day 05: Back to Guilin

Today you may get back to Guilin and prepare for your onward trip.





For any organized tours, please check our Guilin Tour Packages.

RELATED GOLF CLUB INFORMATION:
1. Guilin Merryland Golf Club
Designed by American designer, Golden Louise, Guilin Merryland Golf Club is the largest golf club in Guangxi of 160
hectares
, 36 holes. By fully making good use of the nature undulation of the hillsides and lakes makes this golf course more natural. It is a multi-functional golf course including sports, entertainment, traveling and business meeting. With perfect combination of the modern technology and marvelous landscape, it would be quite enjoyable to play golf here.
Address: Zhiling Road, Xing'an, Guilin, Guangxi, China
Tel: 86-773-6229988
2. Guilin Twin Peak Golf Club
Guilin Twin Peak Golf Club is the first golf course in Guangxi opened to the public in 1996; it is a 27-hole international golf course which is surrounded by majestic mountains. The beautiful sceneries will refresh you from the stress of the urban life and you will feel as if you are in fairyland. Twin Peak Golf Club provides with a comprehensive service from accommodation, meals to recreation and relaxation. The course gets 8400 yards in length and 116
hectares
in size.
Address: Jinji Road, Qixing, Guilin, China
Tel: 86-773-5882288
3. Guilin Li River Golf and Country Club
Situated at the foot of Mopan Hill and between the piers respectively for Chinese and foreigners, Li River Golf and Country Club has the most convenient transportation and the best view of Guilin landscape among the three golf clubs in Guilin. It's only 17km far from the downtown (20 minutes' driving) and 42km from the Airport. The whole club course occupies 100 hectares, total length 7150 yard, 18 holes, 72 par. The first 9 holes is surrounded by water while the last 9 holes by mountain.
Address: Zhu Jiang Pier, Tourist Highway, Guilin, Guangxi, China
Tel: 86-773-3909080