Longji Rice Terraces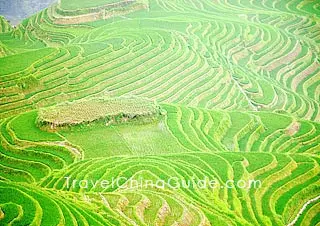 Longji Rice Terraces
Longji Rice Terraces, literally Dragon's Backbone Rice Terraces, gains its name because the rice terraces resemble a dragon's scales and the mountain range looks like the backbone of a dragon. It is reputed as one of the most beautiful rice terraces in the world.
It is located in Longsheng County, about 80 kilometers (50 miles) from Guilin and 140 kilometers (90 miles) from Yangshuo. The construction of incredible Longji Rice Terraces started in the Yuan Dynasty (1271-1368) and lasted till the early Qing Dynasty (1644-1911). Now, the Dragon's Backbone Rice Terraces covers an area of 66 square kilometers (about 16,308 acres) and spans an altitude between 300 meters (about 984 feet) and 1,100 meters (about 3,608 feet). Among them, two main and representative viewing areas are the Ping'an Zhuang Village Terraced Fields and the Jinkeng Terraced Fields where Zhuang and Yao Minority people have been living respectively for hundreds of years. In addition to appreciate the rice terraces, visitors can learn some unique customs in Longsheng rice terraces scenic area.
Ping'an Zhuang Village Terraced Fields
Ping'an Zhuang Village Terraced Fields have totally 15,862 pieces of rice terraces, some big while some tiny. Here visitors can appreciate two unique sights of rice terraces. One is the "Seven Stars Accompany the Moon", which is comprised of seven small piles of rocks left deliberately by people when they dig up the terraces and a moon-shaped terrace in the middle. Looking at it from a distance, it looks like "seven shinning stars" accompanying the "moon". It is a perfect place for photography. Another one is "Nine Dragons and Five Tigers". The nine ridges spread from the main vein of Dragon's Backbone, which look like nine dragons bending over to drink water from the Jinsha River. Alongside, there are five tiger-shaped rocks. It takes about 2 hours to visit this area.

Being the first rice terraced area in Longji Rice Terraces that was developed for tourism, Ping'an Zhuang Village Terraced Fields is now well-equipped with modern facilities. The dining, accommodation and transportation are quite convenient.
| | |
| --- | --- |
| Longji Rice Terraces in Spring | Local Residence of Zhuang Nationality |
Jinkeng Rice Terraces Fields (Dazhai Rice Terraces)
The Jinkeng Terraced Fields are inside the Dazhai Village, with mountains on all sides and known for its rich mineral resources of gold. Here visitors should not miss its three famous scenic spots - West Hill Music or No.1 viewing platform, Large-scale Thousand-Layer Terraces or No.2 viewing platform, and Golden Buddha Summit or No.3 viewing platform. All with high elevation of more than 1,000 meters (3,280 feet), they are the best places for viewing the sunrise and sunset as well as overseeing the whole Dragon's Backbone Rice Terraces. A visit needs about 4-5 hours.

Dazhai Village is also equipped with hotels and restaurants for visitors' convenience. But it is less commercial than Ping'an.
| | |
| --- | --- |
| Women of Yao Ethnic Minority | Zhuang Minority People |
Colorful Folk Customs of Zhuang and Yao Minority People
The dwellers of Longsheng Rice Terraces are mostly Zhuang and Yao minority people. They have their own unique and interesting customs in dinning, clothes, and living styles, etc. For instance, their houses are stilt houses to repel moisture; the ladies of Yao minority like to have long hairs, and some of their hairs are over 1 meter long; their clothes are very colorful with delicate embroidery.

Best Time to Visit Longji Rice Terrace
1. Mid-April to middle or late June: At the time, the rice terraces are filled with water for rice planting. You will see hundreds of "water mirrors" with reflections of the blue sky, floating clouds and mountains on the surface.
2. Late September to October: The rice in the terraces is ripen. Visitors can appreciate a sea of golden rice fluttering and dancing in the wind with distinctive layers.
3. July to middle September: The green world will bring you a sense of tranquil that is hard to find in the hustling and bustling city.
4. The festival time is also a good choice to visit Longsheng rice terraces, when visitors can have a lot of fun.
| | | |
| --- | --- | --- |
| Cole Flower Festival | March to April | Tourists will be amused by the sea of cole flowers. |
| Spring Plowing Festival | May to June | It's a good opportunity for photography enthusiasts to shoot beautiful pictures of the rice terraces. Also they can take part in the photo competition to win prizes. |
| Drying Clothes Festival | The 6th day in 6th lunar calendar | Yao minority people sun clothes on that day. Afterwards, they perform folk dances and songs in the village. Tourists can take this chance to appreciate Yao people's traditional costume and wonderful performances. |
| Golden Autumn Cultural Festival | September to October | During the festival, tourists can enjoy folk performances of the Yao Minority and join the campfire party at night. |
How to Visit Longji Rice Terraces - 2 Recommended Hiking Routes

1-day Itinerary: Arrive at Huangluo Yao Village – private car to Jingkeng Dazhai Terraced Fields – hike to No.2 viewing platform – No.3 viewing platform – back to Dazhai Village



2-day Itinerary: Arrive at Jinkeng Dazhai Terraced Fields – No.2 viewing platform – sunset at No.3 viewing platform – stay overnight at Dazhai Village – sunrise at No.1 viewing platform – hike to Ping'an Zhuang Village Terraces
How to Travel between Dazhai Village and Ping'an Village
Two ways from the Dazhai Village to Ping'an Village are by car or by hiking respectively. Since there is no direct bus from Dazhai Village to Ping'an Village, it is recommended to take a private car, which costs about RMB 80 and takes about 50 minutes. If you are energetic and want to explore more beautiful scenery of terraced fields, a hiking tour from Dazhai Village to Ping'an is highly recommended. The total journey will take about 4 - 4.5 hours.

How to get to Longji Rice Terraces from Guilin
1. In peak season, passenger can take direct shuttle bus to get to Ping'an or Dazhai villages in Longji Rice Terraces from Guilin Qintan Coach Station, Guilin North or West Railway Station, taking 2.5 - 3 hours and costing CNY 50 - 60. The depart time is from 8:00 to 15:00 depending on passenger flow.

2. Passengers can also take a coach from Guilin Qintan Coach Station to Longsheng County, and the depart time is 08:00, 09:10, 11:00, 12:00, 13:10, 14:00, 15:10, 16:10, 17:10 and 18:20, taking about 2 hours. Then take the shuttle bus from Longsheng to Longji Rice Terraces, duration is about an hour, and this bus depart at 07:30, 9:00, 11:00, 13:00, 15:00 and 17:00.

How to get to Longji Rice Terraces from Yangshuo
From Yangshuo to Longji Rice Terraces, passengers can take the direct shuttle bus from Yangshuo Coach Station to Dazhai Village. The depart time of this shuttle bus is 8:00, 10:30 and 13:30, and the cost is CNY 90. Duration is about 4-4.5 hours. In slack season, passengers need to get to Guilin first and then get to the scenic area from Guilin.
Admission Fee
CNY 80 covering Ping'an Zhuang Village and Dazhai Yao Village Rice Terraces;
Children below 1.2 meters (3.9 feet) are free of charge.
Ticketing Time
08:30 - 17:30
- Last updated on Jul. 06, 2023 -
Questions & Answers on Longji Rice Terraces
Asked by Lee Richard from MALAYSIA | Jul. 04, 2023 21:24

Reply
Longji Rice Terrace
Hi, I am told best time to view golden layered terrace is end Sept till first week October. Will 19 September too early and 15 October too late ( harvesting ?).Thx
Answers (3)
Answered by Gina | Jul. 05, 2023 00:10

0

0

Reply
The time differs a little every year but generally it is still the best time.
Answered by Lee Richard | Jul. 06, 2023 03:05

0

0

Reply
Thank you for your reply. Does that mean that by 19 September I can already see golden layered rice terrace ? when is the harvesting time, i am worried 15 October will be too late and only see harvesting activities with lots of smoke from burning the rice field. Thx
Answered by Gina | Jul. 06, 2023 18:46

0

0

Reply
Yes, 19 September is recommended and your worry is reasonable. They do harvest in the middle of October.
Asked by Lee Richard from MALAYSIA | Jul. 04, 2023 21:20

Reply
Lonji Ancient Zhuang terrace, Ping An Zhuang and Dazhai Jingang
Hi, can you suggest which is the best ? are all three provide cable cars ?
Answers (1)
Answered by Daisy | Jul. 05, 2023 00:15

0

0

Reply
Generally, it is more recommended to Dazhai Terrace as it is the only one having a cable car.
Asked by Gerry from USA/CHINA | Nov. 05, 2019 02:56

Reply
We are driving to Guilin in our own car. Want to visit Longsheng the end of January.
Is it a safe time to drive there? Or will the snow be a problem?
Answers (2)
Answered by Ethan from CANADA | Nov. 06, 2019 00:21

0

0

Reply
Hi, Gerry, generally speaking, you don't need to worry about the safety problem. :)
Answered by Gerry from USA/CHINA | Nov. 07, 2019 00:26

0

0

Reply
Thanks Ethan🙏
Asked by Tony Mills from USA | Oct. 08, 2019 13:52

Reply
Getting to Longji Rice Terraces in mid-November
How difficult is it to get a private car (no bus) from Guilin city (not the airport) to Longji rice terraces on Nov 11, and then come back in a private car (no bus) on Nov 12. I've heard that sometimes if the bus driver doesn't feel like driving on the trip back from Longji to Guilin during low season, you're stranded. In this case, what other methods of transportation are available?

I was trying to set this transportation up with my innkeeper, but he refuses to reply to my inquiries. I hate to not go to Longji, since I have 10 days to see Guilin and its surrounding areas, but I'm about to cancel this portion of my trip, because of these transportation issues not being resolved. Any information that anyone can provide will be greatly appreciated.
Answers (2)
Answered by Cole from NETHERLANDS | Oct. 11, 2019 22:56

0

0

Reply
Generally speaking, it won't be difficult for you to hire a car from Guilin to Longji Rice Terraces.
About the return way, you are suggested to take a taxi to Longsheng County first. Then take the coach back to Guilin. It is worth to visit this scenic area. Hope helpful!
Answered by tony mills from USA | Oct. 12, 2019 12:40

0

0

Reply
Thank you, Cole, for your advice.
Asked by Andrea from ITALY | Jul. 13, 2019 04:14

Reply
is any long distance buses from Guilin West Railway Station to Ping'an on the afternoon (16:00)?
And in case if I need to book the ticket now for first week of September? Many thanks.

Answers (1)
Answered by Larry from UNITED KINGDOM | Jul. 17, 2019 00:04

0

0

Reply
Do you refer to Ping'an village in Longsheng, or in Longji terraces? You only buy the bus ticket on the spot. The bus tickets cannot be booked in advance.