Longsheng Attractions - Things to Do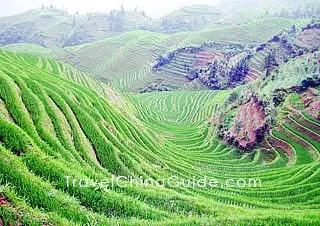 Longji Rice Terraces

Longji Rice Terraces

Dazhai Village

Longsheng Hot Spring National Forest Park

Yinshui Dong Village

Baimian Yao Village

Longsheng Town
Lonsheng is located in the northeast region of Guangxi Province, about 80 kilometers (50 miles) from the famous tourist city Guilin. In addition to the great ratio of population of Dong, Miao, Yao and Zhuang ethnic minorities, the autonomous county also boasts undulating green mountains and luxury forests. These are huge reserve for the development of Longsheng's tourism.
Hot spring and terraces are the main attractions. In the natural oxygen bar of Longsheng Hot Spring National Forest Park, one can have many things to do, including admiring the elegant mountains with clouds winding around and clear streams. Longsheng Hot Spring is the core and soul of the park, consisting of a group of sixteen springs. Thermal flows of water come from rock
formation that is about 1,200 meters underground. Relying on this, the park is a hot summer resort and spa. As the most amazing terrace in China, Dragon's Backbone Rice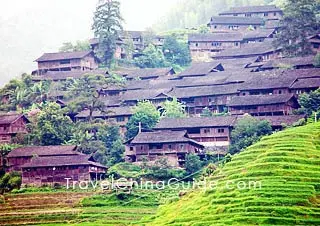 Zhuang Ethnic Minority Village
Terraces circles around from the foot to the peak of Longji Mountain layer by layer. This wonder created by diligent people of local ethnic minorities was first built some 600 years ago in late Ming Dynasty (1368-1644). Terraces are distributed on mountains between 1,100 and 300 meters (3,609 and 984 feet) above the sea level. Dragon's Backbone Rice Terraces has graceful lines and is admiringly said to be fascinating rhythm of earth.
Longshen Town is the center of the autonomous county. Yinshui Dong Village in the town is a typical Dong village with distinctive architecture and ethnic customs.
About 60 kilometers from the town seat of Longsheng, Huaping National Nature Reserve is a beautiful land to return to nature. There are dense forest, clear springs, and various flowers in blossoms giving a mysterious air to the reserve. Huaping is a famous town of waterfalls in Guangxi. Furthermore, it is also a nature museum where many rare animals and plants can be found. Therefore, this is a perfect summer resort combining values of travel, exploration and research.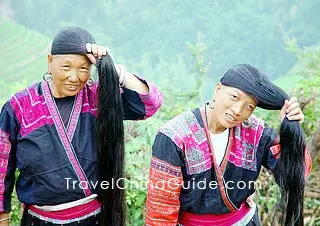 Women of Yao Ethnic Minority
The Yao with mountain, Miao with forest, Dong with field and Zhuang with water vividly shows the distributing of ethnic minorities of Longsheng. Red Yao is a branch of Yao ethnic minority. Hongyi (Red Clothes) Festival, also Shaiyi (Drying Clothes) Festival will be held every lunar June 6 and girls will wear beautiful red clothes. Traditional sports games and performances are surly inevitable during the ceremony. Hongyi Yao girls prefer wearing long hair. During the festival, they will compete to see whose hair is the longest.
Baimian Yao Village is on the road side which is 6 kilometers (3.7 miles) from Longsheng Hot Spring. All villagers of some thirty households are hospitable and can sing folk mountain songs. When visitors come, they will sing and dance to welcome. In addition, their customs and interesting sports games are also great temptation.
- Last modified on Sep. 25, 2019 -
Questions & Answers on Longsheng Attractions
Asked by Leh Siang from MALAYSIA | Jun. 23, 2016 08:51

Reply
What is the estimated taxi from central of Guilin to Longsheng?
Answers (1)
Answered by Rose from USA | Jun. 24, 2016 02:13

0

0

Reply
In general, it costs CNY 500-600 to charter a car for the trip.