Longsheng Transportation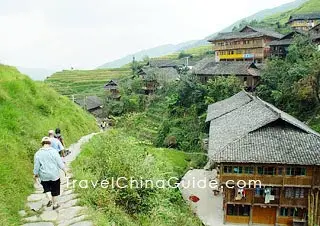 Tourists travel on foot in Longsheng
Due to Longsheng's location in a mountainous area, transportation is not that handy compared to other big cities in China. Without its own airport and railway station, visitors heading for Longsheng can firstly arrive at Guilin by air, train or bus and then transfer to the destination by bus.
Because of its unique landform Longsheng interior transportation is very simple. Although there is a regular bus to the main scenic areas, traveling by foot is more popular because of the beautiful scenery. Along the journey hikers can see the Dragon's Backbone Rice Terraces and many villages, in which different ethnic groups live.
Air
As it is a county under Guilin's governance, visitors who want to reach Longsheng by air can firstly fly to Guilin Liangjiang International Airport. From the airport tourists can take the airport bus to the Aviation Building Stop in the urban area, where to find the Guilin Chief Bus Station and then take a long-distance bus to reach that county.
Long-distance Bus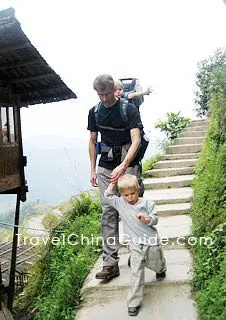 Explore Longsheng on foot
Arrival in Guilin City firstly, travelers could transfer to Longsheng County by bus at the Chief Bus Station. Here, there are frequent direct buses departing to that county from 06:50 to 19:00 at an interval of every 40 minutes. The 80-kilometer's journey will be finished in 2 hours and costs around CNY25 per person.
By the way, some local inns located in the terraces offer round-trip express buses for clients to get to the scenic area directly. Of course, you should do accommodation reservation in advance and ask for pick-up. The bus's ticket fare is a little higher which is around CNY40 to CNY50 per person for a single journey. Usually, the driver will pick up travelers early in the morning from your hotels in Guilin.

Regular Bus
In Longsheng Town, there is the regular bus which can take tourists to the main scenic areas in the surrounding places:
1. To Dragon's Backbone Rice Terraces (in Ping'an Village of Heping Township): the regular bus spends one hour arriving at the parking lot of the Ping'an Village, then 30 minutes' walk brings tourists to the scenic area. The bus fare is about CNY10 per person.
2. To Longsheng Hot Springs National Forest Park: the regular bus's operating hours is from 07:00 to 18:00 with one shift every 20 minutes. The fare is about CNY5 per person.
Note: For detailed information on how and where to take the regular bus, please ask your tour guide or the local residents when you are there.

On Foot
In Longsheng, the Dragon's Backbone Rice Terraces and the villages in the terrace areas are not accessible by bus, thus travel on foot is the best way. Tourists can not only enjoy the beautiful natural scenery along the road but also apperceive the different ethnic groups' social customs. At the same time, walking on the mountain path can be comparable to climbing the mountain and is a good way for tourists to take exercise.

Further Reading
How to Travel between Guilin and Longsheng
- Last modified on Dec. 12, 2019 -
Questions & Answers on How to Get to and Around Longsheng
Asked by tony mills from USA | Oct. 15, 2019 23:41

Reply
I'm staying at the Ridge Inn in Ping'an Village Nov 11 - Nov 12. I have a few questions:
1) Is the fee of 80 RMB per person (I think) collected outside the village? (Looks that way, from the map.) So can I just go to the rice terraces from the Ridge Inn without paying the fee (since I've already paid it to enter the village).

2) How far is it from Ridge Inn to the rice terraces? (Their information on booking.com says 0.4 miles; I just want to verify this.)

3) If I am not able to walk from the Ridge Inn to the terraces (just want to see a rice terrace, really), is it possible to take a taxi there?

Any help would be appreciated.
Answers (3)
Answered by Lucas from USA | Oct. 20, 2019 17:52

0

0

Reply
1. Yes, you don't need to pay again.
2. Yes, it's true.
Answered by tony from USA | Oct. 20, 2019 18:35

0

0

Reply
Alex, thank you very much for your help. You've eased my mind.
Answered by tony from USA | Oct. 20, 2019 18:35

0

0

Reply
I mean Lucas.
Asked by Alex from SPAIN | Aug. 11, 2019 07:12

Reply
Guilin north (train station)-ping an
Os there any chance to get to Ping an village from Guilin North station if we arrive to Guilin station st 14??
Answers (1)
Answered by David from UAE | Aug. 12, 2019 23:51

0

0

Reply
Sorry, I didn't find direct bus from the railway station to Ping'an. You are suggested to go to the Main Coach Station first. Then transfer to a coach to Ping'an.
Asked by Ana from SLOVENIA | Jul. 02, 2019 13:35

Reply
When is the last bus from Ping'an to Longsheng?
Answers (1)
Answered by Janny from USA | Jul. 03, 2019 00:20

0

0

Reply
It is about 17:00.
Asked by Rachel from ISRAEL | Mar. 09, 2019 05:57

Reply
What is the latest bus from ping'an to guilin?
Thank you
Rachel
Answers (1)
Answered by Victoria | Mar. 13, 2019 23:39

0

0

Reply
Well, there is no direct bus to go back to Guilin from Ping'an. You need to go to Dazhai first. As I know, the last bus schedule is at 15:00. The duration is 2.5 to 3 hours.
Asked by Robin from USA | Mar. 06, 2019 08:54

Reply
Is there a bus going from Guilin airport to Dazhai?
I arrive at Guilin airport 9:30 am and I am thinking of going to Dazhai and hike from there to Pingan. Is there a bus going from Guilin airport to Dazhai? On another day I will be taking the Li River cruise to Yangshuo and spending a night there. What is the earliest bus from Yangshuo to Guilin as I will leave from Guilin that next morning.
Answers (1)
Answered by Chasidy from DENMARK | Mar. 07, 2019 23:24

0

0

Reply
1. There is no direct bus between the airport and Dazhai. You are advised to take a shuttle bus to Guilin Bus Station. Take a coach to Longsheng. After arriving, transfer to a coach to Dazhai.
If you want to hire a private car from the airport directly, the fare is CNY300 to 400 for the single trip.
2. The earliest bus from Yangshuo to Guilin is at 06:45.