Shopping in Longsheng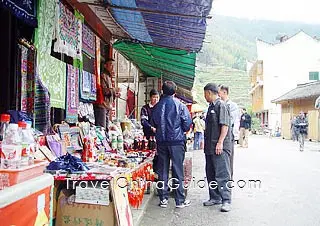 Shopping in Longsheng

The shopping markets in Longsheng are usually located in the convenient commercial streets, within easy reach for visitors. And within scenic areas, the numerous tourist souvenirs can be found.

The characteristic tourist souvenirs are attractive for the visitors. These souvenirs include Longsheng rare stones, the ethnic group's embroidery, arts and crafts including gold or silver decorations, Yao ethnic group's wax-printing goods, hand-knitted straw sandals and Zhuang ethnic group's brocade and bags.

The various carvings made out of bamboo, wood root and pencil stone are popular among those who like collecting such craftworks. The production output of the pencil stone in Sanmen Township of Longsheng is ranked in the second place in China. The pencil stone is the wonderful material for the carvings. Also, in the mountainous area of the town the output of the bamboo is high and in great varieties such as the square-stem bamboo and the ornamental bamboo. When the bamboo is made into a walking stick, more and more visitors buy it because of its practical merit.

Longsheng belongs to a mountainous area and its local products are very rich in categories: Longji Tea (Dragon's Backbone Tea), Longji Chili, Longji Water Wine, talc and bamboo products. The most famous local products are Longji Four Treasures which are produced in the areas of Dragon's Backbone Rice Terraces: Longji Chili, Longji Yunwu Tea, Longji Water Wine, and Longji Xiangnuo (fragrant sticky rice). Longji Yunwu Tea has become the imperial tribute since the Qing Dynasty (1644 -1911) and tastes pure as well as fragrant; Longji Chili is not only piquant but also spicy; Longji Xiangnuo is the material to make Longji Water Wine and the wine is sweet. In addition, the green foodstuffs in there like the bamboo shoot, the wild mushroom, the brake and the agarics are tasty and healthy.

Chu Nan Guan is an old building in Longsheng Town which was built in 1882 and has been the assembly place for businessmen ever since. This store pays great attention to local traditional dining culture and creates its own brand 'Chu Nan Xiang'. The Chu Nan Xiang series products include Longji Chili Sauce and Longji Sour Ginger which offer diverse options to visitors.

Tourists can not find the department stores or the supermarkets there due to the protection of the Chinese ethnic minority group's traditional pristine atmosphere. But within each scenic area and in town area, there are appointed shopping locations which offer high-quality merchandise for tourists. The following are some stores' telephones for your convenience:

Longji Special Local Product Franchised Store: 0773-7582463
Longji Hot Springs Special Local Product Store: 0773-7482688
Yanmen Miao Village Special Local Product Store: 0773-7482280
Mian Shan Ye Special Local Product Store: 0773-7514620
Chu Nan Guan Store: 0773-7515557

- Last modified on May. 30, 2019 -
Questions & Answers on Shopping in Longsheng
Asked by Ms.Sandra from USA | Oct. 05, 2009 22:38

Reply
Hello,
I will be traveling to the Guilin & Yangshuo area. I also want to go to Longsheng.It sounds like I should go to Guilin 1st before I go there, rather than back tracking from Yangshuo?

I am traveling by myself. Are there guides once you get to LS or is it better to go with a tour ?
I have some points and hope to stay at the sheraton, will the tours be much more expensive if I book thru the hotel. I really hate tours but I know I need a guide any suggestions and idea of the cost per day for a guide.
Answers (1)
Answered by Ms.Dora | Oct. 09, 2009 22:45

0

0

Reply
Yangshuo-Guilin-Longshan should be the best route to travel, however I guess you must arrive in Guilin first. There is no direct bus from Yangshuo to LS. You can rent a vehicle by your self or share with other single travelers. It costs 150-200 RMB for round trip. I didn't know the price now. You can negotiate the price. If you do not want to rent a car, you should get back to Guilin and then change bus to reach then. I have no idea about the cost for a guide. Anyway, hope it helps you some.
Asked by Mrs.Wong from CHINA | Jun. 10, 2009 23:00

Reply
Hi, I'm into embroidery. They are very beautiful. Is embroidery sold in Longsheng? Where can I find them? Oh, I am arriving there. Please give me some suggestion. Thank you.


Answers (1)
Answered by Mr.Robin from CHINA | Jun. 11, 2009 03:50

0

0

Reply
You may go to visit the Longji Terraced Land. You can buy embroidery in the Tiantou Village (Tiantou Zhai) of Yao. The embroidery relates to coif, cell phone bag, backpack and embroidered picture. You can bargain with the seller. Cut down half of the original price and then cut down small money.