Longsheng Travel Guide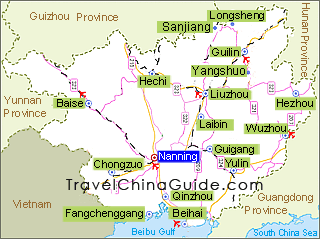 Longsheng Gezu Autonomous County (Longsheng Multi-ethnic Autonomous County) is located in the northeastern portion of Guangxi and it is under Guilin's governance. This area is the centralized hub for about ten ethnic minority groups in northern Guilin including Zhuang, Yao, Miao and Dong, etc. who thrive on farming and tourism.

The governance of the county covers three towns - Longsheng Town, Piaoli Town, Sanmen Town, and seven townships, namely Heping, Sishui, Jiangdi, Madi, Weijiang, Pingdeng and Lejiang.

The city boasts many attractions that have helped build a thriving culture of tourism. A few of its highlights include: Dragon's Backbone Rice Terraces located in Heping Township; Longsheng Hot Springs, which originate in the Longsheng Hot Springs National Forest Park and are considered supernatural water by locals - the water that flows from that hot springs is natural mineral water which can be used both medicinally and as drinking water; Huaping National Nature Reserve, which is the largest subtropical evergreen broad-leaf forest and also known for its many waterfalls; Longsheng Nanshan Prairie, which is a natural meadow stretching across Hunan and Guangxi Provinces and famed as 'China Southland's Hulunbeier Prairie (in Inner Mongolia)'.
Visitors typically begin trips to Longsheng from Guilin. Transportation within the county is also convenient, as buses regularly run between the surrounding villages, towns and scenic spots. If you plan on visiting Dragon's Backbone Rice Terraces, you'll be able to take a bus that transfers only once in Heping Township, and then travels directly to the scenic area.
| | |
| --- | --- |
| Dragon's Backbone Rice Terraces | Women of Yao Ethnic Minority |
Weather
-
- Last modified on Oct. 08, 2018 -
Questions & Answers on Longsheng Travel
Asked by Danny from HONG KONG | Sep. 30, 2018 17:36

Reply
Hi there, What or where can I find the timetable for going to Dazhai and back from Guilin?
Answers (1)
Answered by Ogden from USA | Oct. 08, 2018 00:34

0

0

Reply
Danny, do you want to go to Dazhai from Guilin and then back Guilin?
If yes, at Guilin General Bus Station, as I found online, you can find several coaches to Dazhai. The ticket fare is CNY 40 per person. You can purchase the bus tickets when you arrive there. Or you can take the bus at Qintan Bus Station to Longsheng. The buses run from 07:00 to 19:00 every day and leave every forty minutes. You can get off midway at Heping County where you need to transfer to take the direct bus to the scenic area.

From Dazhai to Guilin, you can take the bus back to Longsheng, with duration of about 1.5hours. Then take the bus at Longsheng to Guilin, taking about one hour. The buses mainly departing before noon from Longsheng to Guilin every day and the ticket price is CNY35/ 40 per person.
Asked by Julia Fron from GERMANY | Sep. 21, 2017 03:46

Reply
From Longsheng To Ziyuan?
We want to stay one day in LS and then travel to Ziyuan.
Is there any bus transfer?
Answers (1)
Answered by Adam from NEW ZEALAND | Sep. 21, 2017 22:04

0

0

Reply
As I know, there are two buses from LS Bus Station to Ziyuan Genaral Bus Station, and they leave at 7:20 and 13:50 and take about 3 hours.
Asked by gc from SINGAPORE | Mar. 21, 2017 23:30

Reply
Where to purchase direct transportation from Yangshuo to Dazhai?
How much per pax and how to buy the ticket?
Answers (1)
Answered by Samantha from FINLAND | Mar. 22, 2017 21:14

0

0

Reply
You are advised to take a coach from Yangshuo North Bus Station to get to Guilin General Bus Station first. The bus schedules are from 06:45 to 20:30 with the frequency of 15-20 mins.
The duration is around 70 mins. The ticket fare is CNY 50 per person. After arriving, as I know, you can find several coaches to Dazhai. I remember that the ticket fare is CNY 40 per person. You can purchase the bus tickets when you arriving at there.
Asked by Hux from CANADA | Jan. 01, 2017 14:17

Reply
What day is Mid-Autum Day at Longji Rice Terraces. Posts mention it but do not give exact day.
I want to go when it is golden fields. I was thinking 3rd week of September.
Answers (1)
Answered by Matthew from FINLAND | Jan. 04, 2017 21:11

1

0

Reply
Oh, the mid-autumn festival is Aug.15 in lunar calendar every year. In 2017, the festival is Oct.4, 2017 in gregorian calendar.
Asked by Aga Milanowska from USA | Sep. 16, 2016 11:05

Reply
Does the bus from Fenghuang to Guilin (at 11am) stop in Heping or Longsheng?
How much would a private transfer from LS or Heping to Dazhai cost?
Answers (1)
Answered by Jack from USA | Sep. 18, 2016 02:56

1

0

Reply
As I know, the bus stops at LS. A private transfer to Dazhai from LS costs about CNY 200. ;)