Liuzhou Travel Guide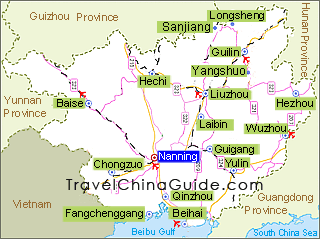 Liuzhou Facts
Chinese Name: 柳州 (liǔ zhōu)
Population: 3,545,500
Area: 18,677 square kilometers (7,211 square miles)
Nationalities: Han, Dong, Miao
Location: Liuzhou is located in the north-central part of
Guangxi Zhuang Autonomous Region
bordering on Guilin in the east. It shares a boundary with Hunan Province in the north and Guizhou Province in the northwest.
Administrative Division: 4 districts (Chengzhong, Yufeng, Liunan, Liubei); 6 counties (Liujiang, Liucheng, Luzhai, Rong'an, Sanjiang Dong Autonomous County, Rongshui Miao Autonomous County)
Useful Telephone Numbers:
Tourist Complaints: 0772-2821364
Weather Forecast: 121
Zip Code Inquiry: 184
Bank of China: 0772-3801046
Liuzhou Attractions - Things to Do

Longtan Scenic Area: It is a spectacular tourist zone that combines beautiful natural scenery, distinctive customs of the ethnic minority groups, and the subtropical karst landscape.

Tourist resorts of ethnic minorities: Sanjiang and Rongshui are the counties with the largest populations of ethnic minorities. Visitors can appreciate the natural beauty, folk customs, and unique architecture of different minorities.
Other Scenic Spots: Bailian Cave, Yufeng Mountain Park
How to get to Liuzhou
Liuzhou Bailian Airport is 12 kilometers (7.5 miles) south of the city proper and has flights to Beijing, Haikou, Shanghai, Chongqing, and Chengdu. Airport buses can be found in Liuzhou Hotel departing about two hours before flight departure.

Liuzhou Railway Station is the only railroad passenger transport station in the city. There are many trains running to Bejing, Shanghai, Hangzhou, Nanjing, Zhangjaijie, Guilin and more.


See Liuzhou - Zhangjiajie Train, Guilin - Liuzhou Train, Liuzhou to Shenzhen Train, Liuzhou Railway Station
Weather
-
Liuzhou enjoys a subtropical monsoon climate with moderate temperatures and abundant rainfall. The summers are long and hot, while the winters are short and not so cold.

When to Go: Visitors can enjoy a trip there in any season. Because it is often rainy, umbrellas and rain jackets are indispensable to visitors while traveling here.
Liuzhou Travel Tips

History: Liuzhou belonged to Guilin Shire during the Qin Dynasty (221BC-206BC), and it was not until the Western Han Dynasty (206BC-24AD) this area became a city for the first time. During the Tang Dynasty (618-907), the name of this area was changed from Maping County to Liuzhou.



Physical Features: The city has a typical karst landform with the clear Liuhe River flowing through the city. It is surrounded by mountains in the east, west and north. The terrain consists of river bends in the city center, karst plains in the northern part, isolated peaks and valleys in the south, and river terraces, karst basins and hills in the east.



Local Highlights: Liuzhou has a large population of ethnic minorities, and there are many celebrations and festivals all the year round. Sanjiang Dong Autonomous County and Rongshui Miao Autonomous County are the most distinctive places to admire the customs of the ethnic minorities in the city. By 2020, Liuzhou Forest City, ie., a skyscraper covered with lush jungles and trees, will be built to absorb waste fas.



Special Local Products:
Handicrafts: jade, wonder stone, garments and ornaments made by the ethnic minorities
Foods: oval kumquat, orange, grapefruit, longan
- Last modified on Sep. 02, 2019 -