Beihai Travel Guide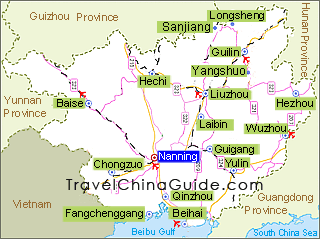 Located in the southwest area of China, Guangxi Zhuang Autonomous Region possesses a charming city in the south - Beihai. Due to the city's advantageous position, lying on the northeastern bank of Beibu Gulf, it is known as an excellent tourist city. It is a hub city connecting the southwest of China to Southeast Asia while lying adjacent to Guangdong, Hainan, Hong Kong, Macau and Vietnam. It is a beautiful and romantic city boasting subtropical seaside scenery.

Two thousand years ago, Beihai was one of the two departure harbors of China's famous 'Silk Road on the Sea'. It has experienced a long history of being open to tourists. This has contributed to the large number of international tourists found in the city. Facing the Beibu Gulf, the local climate is very pleasant: sufficient sunlight, abundant rainfall, luxuriant plants, green grass and beautiful flowers flourish in its fresh air. The local people are proud of their quality of air as it is regarded as the best in China, containing a high content of negative oxygen ions having the ability to dispel aches, reduce fatigue and blood pressure whilst bringing about a sense of relaxation. More than ten non-local nursing homes and recovery centers are built in the city thereby providing perfect facilities for the aged. Many people, both home and abroad, choose to live in the city, as it is regarded as one of China's four most liveable cities. (Zhuhai, Beihai, Weihai, and Xiamen)

As a beautiful garden seaside city in the south of China, it is no exaggeration to say the city is a present given by Mother Nature. It is welcoming to all tourists from home and abroad.
Beihai boasts many scenic areas displaying modern gardening techniques. Such scenic places include the Beibu Gulf Square, Silver Beach, Underwater World, Weizhou Island and Xingdao Lake. Many human and cultural scenic spots also can be found including Wenchang Pagoda and Dongpo Pavilion.
A strong communication network has formed in the city and the transportation is fast and convenient either by sea, by road or by air. Beihai Fucheng Airport is one of the three big airports in Guangxi. There are trains to many cities in China and many highroads are in use. Beihai's harbor makes it easy to travel within China and abroad. The exit procedure for travel by sea from the city to Xialong in Viet Nam has been made easier making it more convenient to travel to Viet Nam. Within the city there are limited bus lines thus pedicabs are very popular. Cheaper than taxies, they provide tourists with the opportunity to see the beautiful local sights.

Read more about Beihai Railway Station
Weather
-
More info:
Nightlife
Shopping
Folk Custom of Dan People in Beihai
The fisherfolk of Dan People, a group of traditional people who live on the loal cockleboats, can provide valuable information relating to the local culture. The Dan People is known according to their way of life: Hao (oyster) Dan makes a living by collecting oysters and fishing; Zhu (pearl) Dan makes a living by collecting pearls and fishing in the shallow sea while Yu (fishing) Dan makes a living solely from fishing. The fisherfolk of Dan People are bold and unconstrained, passionate and romantic, and like singing folk songs. The Dan family integrates a number of traditions in wedding and funeral ceremonies believing in a number of superstitions. The Dan People place significance to the Zhongyuan (Hungry Ghost) Festival and Yapo Festival. The performance about the Dan People Folk-custom during this time is held on Waisha Island in Beihai and reflects a deep commitment to local culture providing visitors with valuable knowledge regarding the local way of life.
- Last modified on Jun. 05, 2019 -