Beihai Travel Guide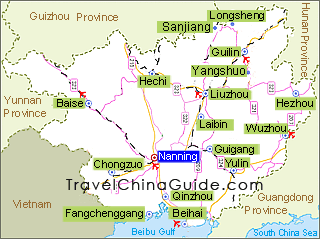 Beihai Facts
Chinese Name: 北海 (běi hǎi)
Population: 1,743,000
Area: 3,337 square kilometers (1,288 square miles)
Location: in the south of Guangxi Zhuang Autonomous Region, southwestern China
Administrative Division: 3 districts (Haicheng, Yinhai, Tieshangang); 1 county (Hepu)
Area Code: 0779
Zip Code: 536000
GDP (2018): CNY 98.5 billion (USD 14.9 billion)

A Beautiful Beach Destination with Holiday Resorts
Located in the southwest area of China, Guangxi Zhuang Autonomous Region possesses a charming city in the south - Beihai. It connects the southwest of China to Southeast Asia while lying adjacent to Guangdong, Hainan, Hong Kong, Macau and Vietnam. Facing the Beibu Gulf, the local climate is very pleasant. The sufficient sunlight, abundant rainfall, luxuriant plants, and silver beaches all make it one of the best destinations for a vacation, especially the beaches, drawing numerous beach-inspired tourists. Besides the famous long sliver beach and beautiful seascapes, Beihai is also known for its fresh air which has higher oxygen content. A lot of nursing homes and recovery centers with perfect facilities thus are built in the city. The good environment and fine climate title it as one of China's four most livable cities, along with Zhuhai, Weihai, and Xiamen.
Beihai boasts many scenic areas displaying modern gardening techniques. Such scenic places include the Beibu Gulf Square, Silver Beach, Underwater World, Weizhou Island and Xingdao Lake. Many human and cultural scenic spots also can be found including Wenchang Pagoda and Dongpo Pavilion.
A strong communication network has formed in the city and the transportation is fast and convenient either by sea, by road or by air. Beihai Fucheng Airport is one of the three big airports in Guangxi. There are trains to many cities in China and many highroads are in use. Beihai's harbor makes it easy to travel within China and abroad. The exit procedure for travel by sea from the city to Xialong in Viet Nam has been made easier making it more convenient to travel to Viet Nam. Within the city there are limited bus lines thus pedicabs are very popular. Cheaper than taxies, they provide tourists with the opportunity to see the beautiful local sights.

Read more about Beihai Railway Station
Weather
-
More info:
Nightlife
Shopping
Folk Custom of Dan People in Beihai
The fisherfolk of Dan People, a group of traditional people who live on the loal cockleboats, can provide valuable information relating to the local culture. The Dan People is known according to their way of life: Hao (oyster) Dan makes a living by collecting oysters and fishing; Zhu (pearl) Dan makes a living by collecting pearls and fishing in the shallow sea while Yu (fishing) Dan makes a living solely from fishing. The fisherfolk of Dan People are bold and unconstrained, passionate and romantic, and like singing folk songs. The Dan family integrates a number of traditions in wedding and funeral ceremonies believing in a number of superstitions. The Dan People place significance to the Zhongyuan (Hungry Ghost) Festival and Yapo Festival. The performance about the Dan People Folk-custom during this time is held on Waisha Island in Beihai and reflects a deep commitment to local culture providing visitors with valuable knowledge regarding the local way of life.
- Last updated on May. 31, 2022 -
Questions & Answers on Beihai Travel
Asked by Radzi from MALAYSIA | Dec. 11, 2019 03:14

Reply
Can I get taxi at airport around 12.30 to 1.00am?
My flight will arrive Fucheng airport around 12.30 midnight.
Is it still easy to get taxi at this time?
Answers (2)
Answered by David from AUSTRALIA | Dec. 11, 2019 19:02

0

0

Reply
Well, generally speaking, it won't be difficulty for you to take a taxi at that time.
Answered by Radzi from MALAYSIA | Dec. 14, 2019 03:59

0

0

Reply
Thank you David
Asked by Lanky Tay from SINGAPORE | Apr. 21, 2017 05:30

Reply
I am very keen wanting to go Beihai. I checked the total journey by air can be more than 12hours
including transit time depending on departure time. I have to fly to Nanning first.

Most airlines such China Southern, Shenzhen Airlines, China Eastern, Air China and others had few hours
transit time.

Can you advise the best and shortest journey to there?
Thanks & Regards
Answers (1)
Answered by Jay from FRANCE | Apr. 24, 2017 03:55

0

0

Reply
As I know, the shortest journey will be the flight of the China Southern Airlines, which will take around 10.5 hours. It will have a transfer at the Guangzhou Baiyun International Airport.
Asked by Careen from US | Mar. 23, 2017 17:47

Reply
What are the bus schedules from Nanning Airport to Beihai?
Where does the bus stop in BH? What is the schedule? Cost?
Answers (1)
Answered by Federico Lucchi from CHINA | Mar. 26, 2017 05:45

0

0

Reply
It's much faster (and probably cheaper) to take the high speed rail. There is the regular city bus coming to the airport (7:00am to 10:30pm) and once you get to the subway it's fast to join the railway station. With the high speed rail, you can reach BH in one hour, it's around 70 RMB, so the total trip should not exceed 100 RMB.
Asked by John Paton from UK | Oct. 16, 2016 15:22

Reply
Beihai via Singapore
Travelling there sometime in 2017. From Singapore, on China Southern airlines. With stops and aircraft changes at Guangzhou (4 hours), Nanjing (1 hour) before arriving in the city.

Will my luggage be checked through as it will be same airline? Or will I need to check it in with each flight?
Answers (2)
Answered by Josey from RUSSIA | Oct. 16, 2016 21:50

1

1

Reply
Since you wil travel with the same airline, just have the luggage check-through service at the departing place, it is no need to reclaim your luggage during layover.
Answered by John Paton from UK | Oct. 17, 2016 06:11

0

0

Reply
Thanks Josey - thats what I thought, but am aware Chinese airlines differ in many ways to many western airlines, where checking luggage through would be considered usual.
Asked by gusto from SINGAPORE | Oct. 01, 2016 00:00

Reply
How to travel from Guangxi Beihai Airport to Beibuwan One condo?
Answers (1)
Answered by Ali from GERMANY | Oct. 08, 2016 04:32

0

0

Reply
You can take a taxi there. The fare may be around CNY 50.