Zhuhai Travel Guide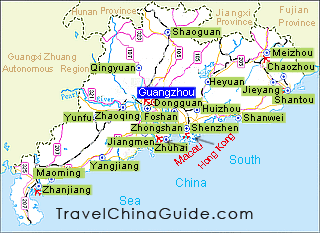 Zhuhai Facts
Chinese Name: 珠海 (zhū hǎi)
Population: 1,891,100
Area: 1736.46 square kilometers (607.45 square miles)
Location: in the south-central region of Guangdong Province, southern China
Administrative Division: 3 districts (Xiangzhou, Doumen, Jinwan); 5 economic function districts (Hengqin, Gaoxin, Baoshui, Wanshan, Gaolan)
Area Code: 0756
Zip Code: 519000
GDP (2018): CNY 291.47 billion (USD 54.90 billion)
A Livable Garden City Linked by Hong Kong-Zhuhai-Macau Bridge
Located at the southern tip of the Pearl River Delta of Guangdong Province, Zhuhai is one of the seven special economic zones in China. It faces Hong Kong to the east across the sea and joins Macau to the south and Zhongshan to the north. The completion of the Hong Kong-Zhuhai-Macao Bridge makes Zhuhai the only city in the mainland connected to Hong Kong and Macao by land. The 55 kilometers (22 miles) long bridge shortens the time for land transportation between Zhuhai, Macao and Hong Kong from 3 hours to 45 minutes. Zhuhai is a gardenlike coastal city with 146 charming islands. There are not only long coastlines and excellent beaches, but also a large number of parks which are scattered in every corner of the city and open to tourists free of charge. "Livable" is the label of Zhuhai. It has always been rated as Livable City, Garden City or Happy City, which has also become a highlight of Zhuhai's tourism.
The superior advancement in economy promotes the development of the city's tourism. Zhuhai has many attractions worthy of visiting, including the Fisher Girl Statue, New Yuanmingyuan Garden, Pearl Land Amusement Park, Agricultural Scientific Academy, Jiuzhou City, Meixi Royal Stone Archways, Huangyang Mountain, Chimelong Ocean Kingdom and Baiteng Lake. Additionally, various appealing islands are recommended such as Dong'ao Island, Gaolan Island, Qi'ao Island and Hebao Island and so on.

See More about: Top 10 Things to Do in Zhuhai In-depth Guide to Top 10 Guangdong Destinations

Dining
Shopping
Nightlife
Zhuhai is also famous for its hot springs and golf clubs where you can take a break from sightseeing. The consummate tourist reception and service system offers many choices of entertainment as well. Dining and shopping are also pleasant. Western and oriental cultures collide and combine here: an open, colorful, and romantic Zhuhai awaits you.
You May Like
Top 10 China Main Cities for Nature Lovers
- Last modified on Jan. 11, 2021 -
Questions & Answers on Zhuhai Travel
Asked by Karen from SINGAPORE | Dec. 14, 2019 09:42

Reply
is there taxi from zhuhai gongbei border to shunde and how much please?
Answers (1)
Answered by Rita from AUSTRALIA | Dec. 17, 2019 17:06

0

0

Reply
No, there isn't. You can take taxi to Zhuhai Railway Station with CNY10, then take bullet train from there to Shunde Railway Station.
Asked by Judy Lee from MALAYSIA | Nov. 20, 2019 17:23

Reply
Dear Sir,my family and I are planning to go to Zhuhai,Guangzhou in December
but we are still waiting for the visa.Can I book the High speed train now ,If I cannot get the visa, can I cancel with full refund.I plan to collect the tickets at gongbei railway station.Thanks.From Judy Malaysian
Answers (1)
Answered by Luke from MALAYSIA | Nov. 24, 2019 17:19

0

0

Reply
If you return your ticket 15 days before driving (excluding), you will not be charged a refund fee; 48 hours before driving will be charged 5% of ticket fee; if you return your ticket more than 24 hours before driving and less than 48 hours, you will be charged a handling fee of 10% of the train fare, and 20% of the fare for less than 24 hours.
Asked by Chia from MALAYSIA | Nov. 19, 2019 01:54

Reply
Day Trip to Zhuhai for Malaysians Passport Holders..
my wife and me will be visiting macau for a short vacation.. we travel on malaysian passports.. while in macau, we are keen to make a day trip to zhuhai.. how and where can we apply for voa and how much does it cost.. or is it better for us to join a day trip tour with an authorised travel agent.. regards.chia
Answers (1)
Answered by Rita from THAILAND | Nov. 21, 2019 16:53

0

0

Reply
It is easy and convenient to take bus to Gongbei port, then you can go to the VOA office at the border, just complete the application form, take a photo and pay the fee, which costs CNY 168 for applicants of most countries.
Asked by Nan from SINGAPORE | Oct. 30, 2019 18:58

Reply
Bus route in Zhuhai
Can anyone advice what public bus to take from Gongbei port Zhuhai to Yangming Plaza at 1088 Fenghuang S Rd, Xiangzhou, Zhuhai, Guangdong, China?

Answers (1)
Answered by Yuri from THAILAND | Oct. 31, 2019 20:20

0

0

Reply
You can take bus k3 to Wanzaisha station, and walk north around 300m to your destination. It takes 50 minutes with CNY1.