Zhuhai Travel Guide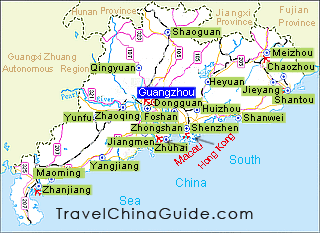 Located at the southern tip of the Pearl River Delta of Guangdong Province, Zhuhai is one of the five special economic zones in China. It faces Hong Kong in the east across the sea and joins Macau in the south. Also, it is close to many other cities in Guangdong Province.

Standing on the west bank of the estuary of the Pearl River to the South China Sea, Zhuhai is a gardenlike coastal city with 146 charming islands. With its amazing large green area, the city is a modern ecotypic resort. The beautiful Jingshan Road and Qinglu Road (Lovers' Road) add romantic atmosphere to this city. In 1990s, the city as a whole was selected as one of the top 40 tourist attractions in China. And in 1998, it won the Dubai International Award for Best Practices to Improve the Living Environment. Since then, the city has become known to the world as a most suitable place for human living.

Actually, people have lived there since the Neolithic Age four or five thousand years ago. A government administrative department was set up in the area in the Qin Dynasty (221 - 206 B.C.). During the following centuries, the area underwent slow but steady development. In 1953, Zhuhai County was set up there, upgraded to city in 1979. In 1980, a special economic zone was established there. Today, the city has under its jurisdiction three districts, namely, Xiangzhou, Doumen, and Jinwan.

In recent years, Zhuhai has made progress in economic development owning to its advantageous geographical location near Hong Kong and Macao, its ports with excellent conditions, its overseas Chinese contributions, and especially the policy of reform and opening up. Foreign investment, advanced technologies and management methods stimulated the economic boom of the area. As a result, the transportation and accommodations improved. Diversified transportation links provide a wide range of ways to get there or to travel inside the city. A variety of star rated hotels offer convenience and enjoyment.
The superior advancement in economy promotes the development of the city's tourism. Zhuhai has many attractions worthy of visiting, including the Fisher Girl Statue, New Yuanmingyuan Garden, Pearl Land Amusement Park, Agricultural Scientific Academy, Jiuzhou City, Meixi Royal Stone Archways, Huangyang Mountain and Baiteng Lake. Additionally, various appealing islands are recommended such as Dong'ao Island, Gaolan Island, Qi'ao Island and Hebao Island and so on.
Dining
Shopping
Nightlife
Zhuhai is also famous for its hot springs and golf clubs where you can take a break from sightseeing. The consummate tourist reception and service system offers many choices of entertainment as well. Dining and shopping are also pleasant. Western and oriental cultures collide and combine here: an open, colorful, and romantic Zhuhai awaits you.
- Last modified on Sep. 10, 2019 -
Questions & Answers on Zhuhai Travel
Asked by Willy Taruna from INDONESIA | Oct. 09, 2019 07:02

Reply
i want to travel to macau, then from macau across to zhuhai through Gongbei.
Hi, i'm Indonesia passport holder, Can i apply visa on arrival at Gongbei?
Answers (1)
Answered by Leah from GERMANY | Oct. 09, 2019 20:56

0

0

Reply
I am not sure. You'd better to apply for the visa in advance in your country.
Asked by Urmila Gurung from HONG KONG | Sep. 12, 2019 00:12

Reply
Is there Visa on Arrival for Nepalese Passport holder?
Hi, I am Hong Kong resident holder of HK permanent identity card. i have Nepalese passport. would like to visit Zuhai by bus via Hong Kong- Zuhai- Macau- Bridge. Is there Visa on arrival for Nepalese Passport holder for HK residents? Please advice
Answers (1)
Answered by Justin from AUSTRALIA | Sep. 15, 2019 20:04

0

0

Reply
Well, you can apply for it in Gongbei, Hengqin or Jiuzhou ports.
Asked by Eli from NORWAY | Sep. 10, 2019 09:04

Reply
How do I get from Zhuhai to the royal pinnacle hotel?
I read that the hotel is located far away from the city center in «nowhere», but it looks so luxurious for such a good price, so would like to stay there for fun. Thank you!
Answers (2)
Answered by Tanner from CANADA | Sep. 11, 2019 18:05

0

0

Reply
Where exactly do you start off? The nearest bus station around your hotel is Jinghua Jiariwan and Ziyuan Luzhong, so you can take bus 812/k30/z142 to it.
Answered by Eli from NORWAY | Sep. 13, 2019 00:57

0

0

Reply
Thank you for answering! Don't know exactly actually, but we are taking the boat from Shenzhen to Zhuhai.
Asked by Pareira from INDONESIA | Sep. 02, 2019 13:52

Reply
HKIA to L Hotel Changsheng Branch Zhuhai
We will arrive at HKIA around 10pm. All of us 9 adults. Any one know what can I do if We want to go direct from HKIA to L Hotel Changseng Branch Zhuhai by bus? Is it possible after 10pm? Or you have suggest other transportation? Please tell us. Thank you
Answers (1)
Answered by Gunnar from USA | Sep. 04, 2019 19:34

0

0

Reply
It is impossible to go direct to your hotel from HKIA by bus. It is suggested to stay one night around the airport and take ferry from there to Jiuzhou port in next morning. After your arrival, you can take bus 99 to Gongbei station, and walk west of 500m to your hotel. It takes around 40 minutes with CNY1.