Zhuhai Railway Station
Zhuhai Railway Station is about 14 miles (23 kilometers) from Chimelong Ocean Kingdom, 4 miles (7 kilometers) from
New Yuanming Palace
, 9 miles (14 kilometers) from
Meixi Archways Tourist Area
, 19 miles (30 kilometers) from North Railway Station and 28 miles (45 kilometers) from
Zhuhai Airport
.
Address: West of Gongbei Port in Xiangzhou District

Schedule and Ticket Booking
As the terminal station of Guangzhou-Zhuhai Intercity High Speed Railway, the station mainly operates intercity bullet trains between Zhuhai and Guangzhou. Besides, it also has high speed trains to Guilin. Passengers can also transfer in Shenzhen or Guangzhou to travel between Hong Kong and Zhuhai by bullet train after September of 2018.


Major Rail Lines from Zhuhai to:
See detailed Zhuhai Train Schedule

(Last Update on Apr 25, 2023)
To
Trains
Duration
Ticket Fare (CNY)
First/ Second Class Seat

Guangzhou South

C7602, C7604, D2812, C7606...
100 departures from 06:25 to 22:57
0h47m - 1h29m
CNY 90/ 65
USD 13/ 10

Guilin North

D2812, D2992, D1842 from 06:45 to 07:42
4h34m - 4h39m
CNY 327/ 218
USD 48/ 32

Guiyang East

D2812, D1842 at 06:45 and 07:42
7h15m - 7h39m
CNY 547/ 355
USD 80/ 52

Changsha South

G544, G338, G1302, G6156...
5 departures from 08:45 to 16:36
3h40m - 4h00m
CNY 594/ 385
USD 87/ 57

Zhongshan North

C7602, D2812, C7606, C7606...
107 departures from 06:25 to 22:57
0h16m - 0h50m
CNY 40/ 25
USD 6/ 4

Wuhan

G544, G338 at 08:45 and 10:15
5h9m - 5h37m
CNY 828.5/ 531.5
USD 122/ 78

Beijing West

G338 at 10:15
11h5m
CNY 1,554.5/ 985
USD 229/ 145

Note: The above schedule is for reference only. For real-time schedule and ticket booking, please click the arrival stations.
Station Plan
Zhuhai Train Station comprises a four-storey terminal building and a front square.

2F: platforms

1F: entrance/exit, ticket office, check-points, waiting hall, hot drinking water, toilets, convenient store, bookstore and nursery room

-1F: taxi stands, toilets

-2F: parking lot
How to get to Zhuhai Train Station from downtown area

Arrival by bus:
At Railway Station Bus Stop: 1, 2A, 2, 10F, 10, K10, 32, 101, 601, 608, airport shuttle bus line 2
At Gongbei Port General Bus Stop: K1, K3, K5, 8, K8, 9, 36, 99, 207, 601B, 931

Arrival by taxi:
| From | Time (minutes) | Fare (CNY) |
| --- | --- | --- |
| Chimelong Ocean Kingdom | 30 | 55 |
| New Yuanming Palace | 10 | 15 |
| Meixi Archways Tourist Area | 30 | 30 |
| North Railway Station | 30 | 70 |
| The airport | 50 | 150 |

Arrival by long-distance bus:
Passengers who take long distance bus to the station will arrive at nearby Gongbei Bus Station on Lotus Road or Qiguan Bus Station on -2F of Gongbei Port Shopping Plaza. Gongbei Bus Station is about 900 yards (820 meters) from the railway station while Qiguan Bus Station is around 400 yards (360 meters) from the station.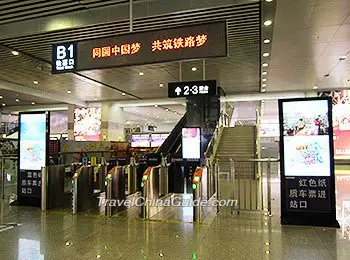 Boarding Gates
Ticket Check and Boarding
Passengers should go through the security check behind the entrance first. After entering, read the tickets and LED screen carefully to know where to have the tickets checked and which platform to get onboard. After ticket check either automatically or manually on 1F, use the elevator, escalator or stairs to reach the right platform on 2F.
How to exit and leave Zhuhai Railway Station
The station has several exits. Passengers should choose the correct exit according to their destinations. Those who plan to go to Macau can get out from Exit A on the east end of the platform to reach Gongei Port directly. Those to take public transport should go down to 1F first and then find the correct exit according to the bilingual direction signs.

Leave by bus:
Bus stops are available at the front square of the station. Passengers can take buses to the downtown area or tourist places in the city.

Leave by taxi:
If passengers plan to leave by taxi, they should go to the taxi stands on -1F of the terminal building.

Leave by long-distance bus:
Gongbei Bus Station:
It mainly operates buses to Guangzhou, Dongguan, Shenzhen, Foshan, Huizhou and other major cities in Guangdong Province. Passengers can also take long distance buses to the cities in Guangxi, Hunan, Jiangxi and Fujian Provinces.

Qiguan Bus Station:
Passengers can take bus from there to Guangzhou, Zhongshan, Panyu, Dongguan, Shantou, Jieyang, Fuzhou, Putian, Wuzhou, Yangjiang, Yangchun, Xinhui, Huadu and Zengcheng.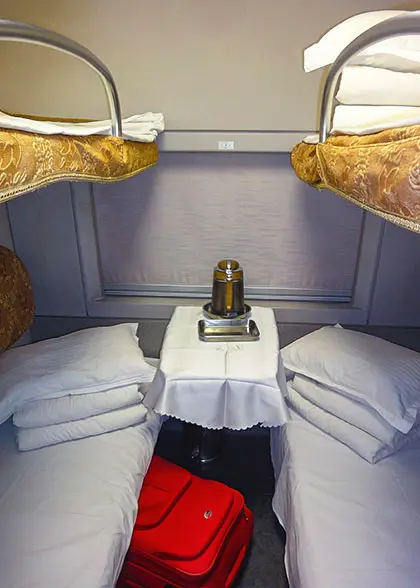 Soft Sleeper Cabin

Transportation to famous sites:

Chimelong Ocean Kingdom:
Take bus no. K10, and get off at Chimelong Station.

New Yuanming Palace:
Take bus no. 1, and get off at New Yuanming Palace Station.

Meixi Archways Tourist Area:
Take bus no. 1, and get off at Cuiwei Station. Then change bus no. 36 to get off at Meixi Archways Station.

North Railway Station:
1. Take intercity bullet trains to reach it. .
2. Or passengers can take bus no. 2A, 2 or 1, and get off at Huaqiao Hotel. Then change to K1 bus to get there.
3. Walk about 1,000 yards to Gongbei Port General Bus Stop to take bus K1 to get there directly.

The airport:
1. Take airport shuttle bus from the bus stop located at front square of the station. It departs every 15 or 30 minutes from 08:10 to 22:10. It costs CNY 25 per person takes about 60-70 minutes on the way.
2. Walk to Gongbei Port General Bus Stop to take bus no.207 to the airport directly. The bus is available from 06:05-21:40. Ticket fare is CNY 5 and duration is about 2 hours.

Macau:
Get out of the station from Exit A to reach Gongbei Port. Pass the port and you will be on the land of Macau.
Facilities and Services

Ticket Office:
Ticket office is located on the first floor. Passengers can purchase, exchange or refund their tickets at the ticket counters. It will be closed in late night till next early morning, when there is no departure or arrival.

Waiting Hall:
The waiting hall is located on the first floor. Passengers just need to pass the security check to enter the waiting hall. Inside the waiting hall, there are convenient stores selling snacks and local specialties. Free drinking water and wash rooms are provided in the hall. There is also a nursery room for mothers and babies.

Inquiry Office:
Passengers can find an inquiry office called Blue Sky Cabin (Lan Tian Xiao Wu) at the front square. If they have any problems, they can seek help there.

Free Wifi:
Free wifi named G O V W iFi (Free) is available at the station.
Print

- Last updated on Apr. 25, 2023 by Brenda Lian -
Questions & Answers on Zhuhai Railway Station
Asked by Edmund from CANADA | May. 05, 2020 17:51

Reply
How long it takes to cross the border at Zhuhai Railway Station?
Answers (1)
Answered by TravelChinaGuide | May. 06, 2020 17:18

0

0

Reply
Thank you for your inquiry.

The time needed for immigration process is not fixed, it may take 15min to even an hour according to the real situation. Basically, it is advised to prefer at least 30min during normal days and at least 1 hour at weekends and holidays. If you are worried about missing a train, you may consider to buy ticket on spot. Hope this information can be a reference for you.

Asked by Rebekah | Jul. 15, 2019 00:35

Reply
Distance between Jiuzhou cruise port and Zhuhai Station
How much a taxi approximately costs and is there other convenient public transfer?
Answers (1)
Answered by Halle from MEXICO | Jul. 15, 2019 18:45

0

0

Reply
There is a bus 99 which runs between Jiuzhou Port and Gongbei Port. Gongbei Port is in walking distance to the railway station, so you can consider this bus too if you are not in a hurry. If you want to be faster and less walking, then taxi is the best way. Taxi would cost around CNY30 and only 15min.
Asked by THANH BINH UONG from CANADA | Apr. 30, 2019 06:34

Reply
ZHuhai luggage storage
Hello

PLease tell me if there is any luggage storage at zhuhai railway station? We have two luggage, one is carry on size(22 cm x 35 cm x 56 cm), 2nd one is medium size (67cm of height)

Thanks
Answers (1)
Answered by Joyce | May. 07, 2019 19:31

0

0

Reply
I think there is no luggage office in the station, but seems a service center near Gongbei Port Building offer this service. You can have a try. Some travel agent office there also offer this service.
Asked by Matt from AUSTRALIA | Feb. 10, 2019 20:09

Reply
Is there a business class lounge at Zhuhai Train Station?
Answers (1)
Answered by Reeves | Feb. 11, 2019 02:01

0

0

Reply
Did not notice one there. Just waited in the waiting hall.
Asked by Zhen from TAIWAN | Dec. 06, 2018 18:40

Reply
Immigration and Zhuhai station
Hi
I am planning on travelling from Macau to Guangzhou
Is immigration and Zhuhai station separated ?
Do I have to go though immigration first and then go to Zhuhai station ?
Answers (3)
Answered by Charlton from PERU | Dec. 07, 2018 00:50

0

0

Reply
They are separated, but not too far from each other, still in working distance. After you go through the immigration check, you can walk to reach the station.
Answered by Zhen from TAIWAN | Dec. 07, 2018 02:35

0

0

Reply
Thanks a lot
One more thing, do you know approximately how long is waiting line for immigration ? Since i will travel with my grandpa who aged above 80 years old, i wanna know if the waiting line will hurt him badly otherwise i'll just book a direct flight to Guangzhou
Answered by VACHARA | Dec. 07, 2018 21:52

0

0

Reply
Normally, the waiting line would not be too long, you could pass within 30min, during weekend and vacations you need to wait longer time. From Macau to Zhuhai, there will be more people after 16:00. So you could try to avoid the peak time.