Zhuhai Train

Zhuhai has two train stations, Zhuhai Railway Station and North Railway Station. Both of these mainly provide train service for the Guangzhou-Zhuhai Intercity High Speed Railway (Guangzhu Intercity MRT).
See detailed Zhuhai Train Schedule

Also called Gongbei Station, it was opened on Dec. 31, 2012. It lies to the south of Changsheng Road, east of Guihua South Road, and west of Gongbei Border. It is the southern terminus of Guangzhu Intercity MRT, and also the second largest stop along this high-speed rail line.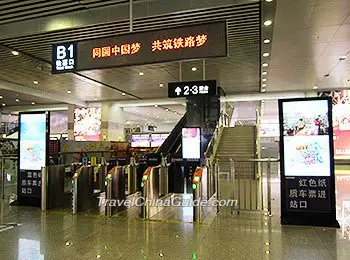 Zhuhai Railway Station
Guangzhu Intercity MRT from Guangzhou South Railway Station to this railway station came into operation on Dec. 31, 2012. The stops at Zhuhai Station, Qianshan, Mingzhu, Tangjiawan, and North Railway Station in this city. Twenty-five pairs of trains run daily on this line. The first schedule departs at 07:00 from Guangzhou South and 08:30 from Zhuhai. The whole journey takes only 72 minutes by the fastest type. The ticket fare is CNY 70 for a second class seat and CNY 90 for a first class seat.
After September of 2018, passenger can take a transfter in Guangzhou or Shenzhen to travel between Hong Kong and Zhuhai by high speed train.

See more Hong Kong - Zhuhai Train, Zhuhai - Guangzhou Train, Guilin - Zhuhai Train, Shenzhen - Zhuhai Train
The station building has 4 stories. Covering an area of 69,488 square meters, basements 1 and 2 are used as taxi stands and parking lots respectively. The basement parking lots serve as the city's biggest distributing centre with nearly 1,500 parking spaces linking the MRT to buses, taxies, private cars and others. The first floor is for the ticket and waiting hall, while the second floor is for the platform. At the platform, passengers can see direction, signs pointing to Gongbei Border, public bus terminus, taxi stands, and parking lots clearly. There is an elevator at the east side of the platform, from which passengers can reach the front square. It is easy to walk from the front square to Gongbei Border Square in 5 minutes.



Buying Tickets


Tickets are available at the ticket windows in the ticket hall.


Passengers can get tickets with their passports or Hong Kong and Macao Exit-entry Permit.


Passengers can also purchase tickets from local ticket outlets in the city area. Following is a list of addresses for some outlets:
No.65, Zhongxing Road, Jing'an Town, Doumen District
No.8, Huanping Road, Nanping Town, Xiangzhou District
No.305, Zijing Road, Xiangzhou District
Shop 6, 1/F, Vanguard, No. 808, Renmin Road West, Xiangzhou District
Shop 74, Qianshan Market, Qianshan Road, Xiangzhou District
No. 1081, Yingbin Road South, Gongbei District
Xin Tian Di Mansion, No.107, Jingshan Road, Jida, Xiangzhou District



Transportation
It is convenient for passengers to transfer by bus to other places in the city after getting off. There are 11 city bus routes (nos. 1, 2, 10, K10, 11, 31, 32, 101, 207 601 and 608) running from this station to Xiangzhou Terminal, Xiazha Checkpoint, Jida Terminal, Shenqian Terminal, the airport, Jing'an and Ocean Spring Resort.

North Railway Station
This station is located on Jinfeng North Road in City's National High-tech Development Zone. Occupying an area of 120,000 square meters (nearly 30 acres), the building has two layers underneath for car parking and two stories above ground - the first for ticketing and the second for platforms. There are two escalators and two lifts next to the stairs on two sides of the building. Wheelchair-accessible passage is also available. This station is a compact one with four tracks only. The passenger flow is about 1,760 people per hour in peak time.
At present, there are 5 pairs of multi-unit trains shuttling between this station and Guangzhou South every day. On the way to Guangzhou South, the train passes through Zhongshan North, Xiaolan, Ronggui, and Shunde. The whole journey takes 48~58 minutes. The operating time is 08:54 to 18:39 from North Railway Station and 08:15 to 18:25 from Guangzhou South. The full price of a first class ticket is CNY 70. A second class ticket costs CNY 55.

Transportation
The North Station is not close to the downtown area, but located at border between Zhongshan and Zhuhai. Currently, there are four city bus routes running to the city center, including bus No. 3A, Special Bus Line A and B, and No. 65.

Bus No. 3A: to Jiuzhou Port
Distance: 32.3 kilometers (20 miles) with 39 bus stops
Operating hours: 06:15-22:10 from Jiuzhou Port; 06:10-22:00 from North Station
Interval: every 12 minutes
Ticket price: CNY 2 (CNY3 for air-conditioned bus)

Special Bus Line A: to Beijing Normal University (Zhuhai Campus)
Distance: 9.3 kilometers (5.8 miles) with 11 bus stops
Operating hours: 06:30-19:50
Interval: every 25 minutes
Ticket price: CNY 1

Special Bus Line B: to Guantang (direct bus without any stops)
Operating hours: 07:00-21:05 from Guantang; 07:10-21:20 from North Station
Interval: every 12 minutes
Ticket price: CNY 1



Bus No. 65: to Zhulinpu
Distance: 12.7 kilometers (7.9 miles) with 20 bus stops
Operating hours: 06:20-21:30 from Zhulinpu; 06:20-20:45 from North Station
Interval: every 11 minutes
Ticket price: CNY 1
- Last updated on Apr. 01, 2021 -
Questions & Answers on Zhuhai Train
Asked by nabila from CANADA | Nov. 01, 2019 00:47

Reply
is there any train for xiamen from zhuhai?
Answers (2)
Answered by Max from USA | Nov. 04, 2019 18:40

0

0

Reply
No, there isn't.
Answered by nabila from CANADA | Nov. 05, 2019 05:46

0

0

Reply
hey max ..thanks for your reply bro...but actually there is a train who goes from zuhai to xiamen, i took it
Asked by RICKY GAN from MALAYSIA | Oct. 30, 2019 23:14

Reply
Any high speed train from Guangzhou to Quanzhou?
Answers (1)
Answered by Mona from CANADA | Nov. 03, 2019 22:37

0

0

Reply
Yes, you can take high speed train from Guangzhou South Railway station to Quanzhou Railway station at 14:55.
Asked by Bridget from USA | Aug. 20, 2019 18:54

Reply
What type of transportation from Zhuhai gongbei rail station to Macau? Can someone help me out?
Answers (1)
Answered by Savannah from UNITED KINGDOM | Aug. 21, 2019 20:23

0

0

Reply
You can just walk to Gongbei Port and pass the border into Macao.
Asked by Shirley Ng from SINGAPORE | Aug. 04, 2019 23:57

Reply
How to get from Macau to Guangzhou by train?
Answers (1)
Answered by Elise from USA | Aug. 07, 2019 18:57

0

0

Reply
You should go to Gongbei Port from Macau first, then take high speed train from Zhuhai Railway Station to South Guangzhou Railway Station.
Asked by FYL from USA | Jun. 04, 2019 04:10

Reply
How to get to Sheraton hotel from the Hong Kong Macao ZH shuttle bus stop?
Answers (3)
Answered by Dave from USA | Jun. 04, 2019 20:21

0

0

Reply
Do you mean the Sheraton Zhuhai Hotel? You can take Sports Center Special Line to Beiling (北岭) and then take taxi to your hotel. The cab fare is about CNY30.
Answered by FYL from USA | Jun. 05, 2019 03:30

0

0

Reply
Thank you Dave, yes, I am referring to the Sheraton Zhuhai. Do you know what is the bus number from the Zhuhai port?
Or can I take the bus to the Zhuhai rail station, then taxi? And how much would that be?
Answered by Dave from USA | Jun. 05, 2019 18:46

0

0

Reply
Yes, you can. There is no specific bus number. You can take Gongbei Special Line (拱北专线) to Zhuhai Railway Station and then take taxi. The bus fare is CNY10 and the taxi fare is about CNY25.