Guangzhou South Railway Station
Guangzhou South Railway Station is about 10.5 miles (17 km) from the downtown area, 14 miles (23 km) from Guangzhou Railway Station, and 34 miles (55 km) from Baiyun International Airport. The station has been in use since 2010 and was designed to be one of the main transportation hubs in the Pearl River Delta.

Address: Shibi Village, Zhongcun Town, Panyu District


Guangzhou South Railway Station See-off Service
Schedule and Ticket Booking
As one of China's four largest rail hubs, the station specializes in operating high speed trains, including those to/from Beijing, Shanghai, Hong Kong, Wuhan, Zhuhai, Nanning, Shenzhen, Zhengzhou, Xi'an, Jinan, Nanchang, Wuhan, Changsha, Hangzhou, Xinhui, and Chaoshan.

Major Rail Lines from the Station to:

(Last Update on Sep 22, 2020)
To
Trains
Duration
Ticket Fare (CNY)
First/ Second Class Seat

Shenzhen North

C7001, C7037, C7055, G6501...
199 departures from 06:00 to 23:18
0h29m - 1h27m
CNY 99.5/ 47
USD 15/ 7

Hong Kong

G6501, G9715, G6521, G6539...
35 departures from 06:48 to 21:37
0h46m - 1h16m
CNY 261/ 187
USD 38/ 27

Zhuhai

C7601, D7139, C7731, D923...
75 departures from 06:15 to 22:34
0h55m - 1h30m
CNY 90/ 70
USD 13/ 10

Wuhan

G4012, G276, G1316, G1744...
66 departures from 06:28 to 18:43
3h38m - 5h7m
CNY 738.5/ 463.5
USD 108/ 68

Beijing West

G70, G72, G80, G66...
11 departures from 07:47 to 20:30
8h00m - 10h48m
CNY 1,380/ 709
USD 201/ 104

Shanghai Hongqiao

G86, G100, G1304, G1306...
7 departures from 08:00 to 19:39
6h48m - 11h26m
CNY 1,302.5/ 525.5
USD 190/ 77

Xi'an North

G832, G96, G818, G836...
8 departures from 07:04 to 13:45
7h36m - 9h8m
CNY 1,301.5/ 813.5
USD 190/ 119

Nanchang West

G1408, G86, G100, G1402...
13 departures from 06:23 to 19:11
3h44m - 4h40m
CNY 768.5/ 472
USD 112/ 69

Hangzhou East

G86, G100, G1304, G1306...
8 departures from 08:00 to 19:39
6h00m - 10h30m
CNY 1,185.5/ 479
USD 173/ 70

Guilin

D1862, D1766, D1853, D1764...
64 departures from 06:57 to 20:54
2h14m - 5h33m
CNY 263/ 164
USD 38/ 24

The above schedule is for reference only. For real-time schedule and ticket booking, please click the arrival stations.

See detailed
Guangzhou Train Schedule
| | |
| --- | --- |
| | Platform |
Station Plan
Covering an area of 581,250 square yards (486,000 square meters), the station is built in the southern China style and resembles a banana leaf. Its terminal building consists of four floors.

3F: waiting hall, left luggage, commercial center, restaurants, hot water, toilet…

2F: platforms…

1F: arrival hall, ticket office, parking lot, taxi stand, city bus station, long-distance bus, subway entrances/ exits, restaurants…

-1F: subway platforms, parking lot…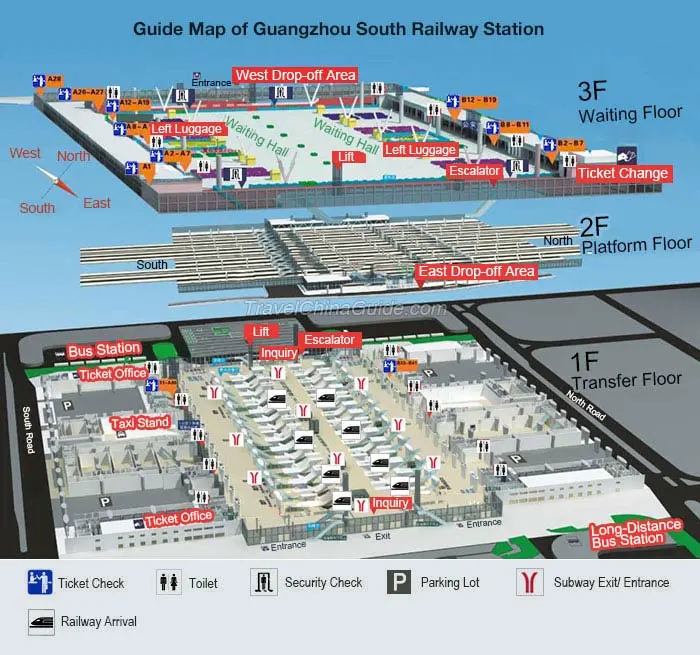 Station Map
How to get to South Train Station from downtown Guangzhou?

Arrival by bus:
At South Station Bus Station: 288a, 301a, 303a, 309a, Pan100, Pan108b, Pan110, Pan129, Pan145, Pan52, Pan52 (long line), Pan75b, Pan75, Pan99, Fo k330, Fo k6, Fo Nanhai Express line 3, Guangpan 108, Night bus line (20, 61, 79)
At Guangzhou South Coach Station: 303a, 312, Pan100, Pan129, Pan145, Night bus line 61
When arriving at the station by bus, one will get off at the southwest side of the station. If you have booked the ticket prior, enter the station directly to find a seat in the correct waiting area. If not, buy a ticket at the ticket office on 1F. Then go to the waiting hall for departure.

Arrival by subway:
Line 2
: Passengers arriving by subway should get out at exit B, C, D, E, F, G, J, K, H, or I1, from where they can easily reach the entrance of the station.
Line 7
: Take this metro line and get out at exit B, C, D, E, F, G or H, from where passengers can easily reach the entrance of the station.

Arrival by taxi:
1. It takes 40 minutes and costs approximately CNY65 from Guangzhou Railway Station.
2. It takes 50 minutes and costs around CNY80 from the
East Station
.
3. It takes one hour and costs about CNY180 from the
North Station
.
4. It takes one hour and costs around CNY160 from Baiyun International Airport.
Passengers taking taxis to the station will be dropped off at the east side of the station on 2F or at the west elevated drop-off area on 3F.

Arrival by long-distance bus:
When arriving by long-distance bus, passengers will get off at the northeast corner of the station.
Ticket Check and Boarding
Check points are located in the waiting hall on 3F. Passengers should know which check point they should go to have their ID certificate bearing the ticket handled. Afterwards, passengers will be led to platforms on 2F to get onboard. Please note that foreign ID certificates must be checked manually. Check points are usually closed 3 minutes before departure.
How to exit and leave the station
Arriving passengers will be led to 1F to exit. After choosing a method of transport to leave the station, follow the direction board to find buses, taxis or subway.

Leave by bus:
The bus station is located to the southwest of the station. Passengers should confirm their routes and then find the bus they need to take.

Leave by subway:
To take the subway, passengers should go down to 1F where subway entrances can be found. Depending on destination, the ticket fare is from CNY2 to CNY7.

Leave by taxi:
A taxi stand is located at the south side of 1F.

Leave by long-distance bus:
Passengers going to Shenzhen, Dongguan, Zhongshan, Zhuhai can also take a long-distance bus at the east square on the ground floor. Long-distance buses are available from 07:30 to 23:00.

Transportation to famous sites in town:
Bus / Subway Search

Yuexiu Park
:
Take subway line 2 to the Memorial Hall, and leave from exit C to get there.

The Pearl River
(Tianzi Wharf):
Take subway line 2 to Haizhu Plaza, and leave from exit A. Then walk eastward to the wharf.

Chimelong Resort
:
Take bus no. 303a to Hanxi Chimelong subway station. After getting off, walk northwest.

Baiyun International Airport:
Take subway line 2 to Jia He Wang Gang, transfer to
line 3
(northern extension) and get off at Airport South.

Transportation to Hong Kong:
1. Take a long-distance bus at South Coach Station (to the east side of South Railway Station) and get to Shenzhen Luohu Coach Station. After, go to Luohu Port (to the north of Luohu Coach Station) and handle relevant custom procedures to go to Hongkong. The coach is available from 11:35 to 20:50 with an interval of an hour. It takes about 2 hours and the ticket fare is CNY70.
2.
Guangzhou - Shenzhen - Hong Kong High Speed Train
will open in the third quarter of 2018, by then Hong Kong can be reached within 48 minutes. Ticket fare will be HKD 260.

Transportation to Macau:
Take a high speed train at South Station to Zhuhai Railway Station, which are available from 06:30 to 22:45. It usually takes about 1-1.5 hours on the way. Ticket fare is CNY90 for a first class seat and CNY70 for a second class seat. Afterwards, follow the direction boards to Gongbei Port and handle relevant customs procedures to go to Macau.
Facilities and Services at the station

Ticket Office:
Four ticket offices are available for passengers' convenience in the station. Ticket offices No.1, No.2, and No.3 are respectively in the northeast, southeast and southwest corners of 1F. Ticket changes can be handled in Ticket Offices No.1 and 2, ticket refunds can be dealt with in Ticket Office No. 2, while ticket purchasing and collection can be done in all three offices. There is also a ticket office in the northeast corner of 3F dealing with ticket changes only. One thing to remember is that ticket issuing ends 15 minutes prior to departure.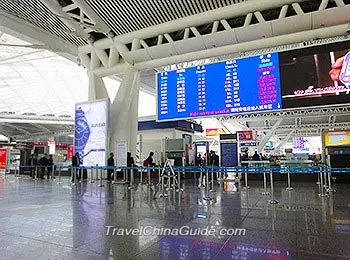 Waiting Hall

Waiting Hall:
The waiting hall is located on the third floor where waiting areas, left luggage services and restaurants are offered. Toilets and hot water are available around the waiting hall.

Left luggage service:
Passengers can store their luggage in the left luggage offices on 3F. One office is in Waiting Area A, close to the Business Class Waiting Room. Another one is in Waiting Area B, close to the Special Waiting Area. The charge is CNY5-20 for each bag per day.



Inquiry:
An inquiry desk is located on the west side of the first floor. Many services, including advice, emergency medicine, needlework, wheelchairs as well as complaint handling are provided.
Print
- Last modified on Sep. 22, 2020 -