Guangzhou Railway Station
Guangzhou Railway Station is about 18.6 miles (30 kilometers) from the North Railway Station, 5.6 miles (9 kilometers) from the East Station, 14 miles (23 kilometers) from the South Station and 18.6 miles (30 kilometers) from Baiyun International Airport. As rail lines to Shenzhen, Beijing and Sanshui directions meet here, the station is one of the important rail transportation hubs in China.

Address: West Huanshi Road, Yuexiu District


Guangzhou Railway Station See-off Service

Schedule and Ticket Booking
At present, the station provides rail rides to Beijing, Zhuhai, Shenzhen, Maoming, Wuhan, Nanjing, Chengdu, Chongqing, Hanzhong, Wenzhou, Xiangyang, Xi'an, Lhasa and many other Chinese cities.

Major High Speed Rail Lines from this station to:
High Speed Train Schedule
(Last Update on Nov 20, 2018)
To
Nos.
Duration
Ticket Fare (CNY)
First/ Second Class Seat

Shenzhen

C7023, C7001, C7053, C7149...
202 departures from 06:00 to 23:08
0h29m - 1h39m
CNY 99.5/ 47
Normal Speed Train Timetable
(Last Update on Nov 20, 2018)
To
Nos.
Duration
Ticket Fare (CNY)
Soft/ Hard Sleeper

Beijing West

Z202, Z36, Z98, K600 from 08:28 to 18:06
21h24m - 29h58m
CNY 784/ 456

Shanghai South

K528, K512, T170 from 07:45 to 14:55
18h17m - 23h39m
CNY 584.5/ 343.5

Wuhan

K1160, Z138, Z202, K356...
30 departures from 08:11 to 22:52
10h44m - 15h8m
CNY 443.5/ 255.5

Nanjing

K528, T152 at 07:45 and 09:00
23h55m - 24h31m
CNY 656/ 377

Chongqing North

K356, K776, K587, K837...
8 departures from 09:17 to 22:15
21h59m - 31h16m
CNY 598/ 361

Chengdu

K587, K486, K192, K827 from 11:40 to 16:26
27h53m - 38h14m
CNY 669/ 407

Xi'an

Z138, K1348, Z230, Z264...
7 departures from 08:22 to 20:20
21h51m - 28h26m
CNY 711/ 407

The above schedule is for reference only. For real-time schedule and ticket booking, please click the arrival stations.
See detailed
Guangzhou Train Schedule
Station Plan
Guangzhou Railway Station is made up of a two-storey terminal building and a front square. In the middle of the square stands a large clock, by which passengers can identify the station from other surrounding buildings.

2F: waiting rooms, shopping areas, toilets, hot water

1F: ticket office, waiting rooms, toilets, nursing room, fast food restaurant, hot water, inquiry, left luggage, transfer hall
Map of Station Building
How to get to Guangzhou Train Station from downtown area?

Arrival by bus:
At Railway Station Bus Station: 30, 31, 52, 52 express line, 201, 210, 228, 254, 257, 529, 550, 552, 803a, 803, 805 short line, 805, 807a, 807, 840, 862b, 862, b10, b2a, b2, 21 express line, 43 express line, 60 express line, Guang 275, Night Bus Line (11, 18, 25, 41, 94, 96, 98)
At Caonuan Park: 5, 7, 30, 34, 38, 111, 180, 181, 251, 271a, 271, 543, 7 express line, Guang 42, Night Bus Line (8, 14, 15, 25, 41, 55, 77)
At Bus Terminal of Liuhua Bus Station: 271A, 271, 301A, 301, 823, Guang 231 express line, Guang 231, Special bus line 2 for festivals and holidays, Night bus line 88
At Zhannan Road: 5, 38, 251, 290, 301A, 301, 518, 530, 543, 552, Guang 231 express line, Special bus line 2 for festivals and holidays, business line 1, line 2, line 3 and line 7, Night bus line 88
If arriving by bus, passengers will get off at the east side of the square. For those with a ticket, just enter the station and find the right waiting room according to the ticket. For those without, the ticket offices can be found to the east side of the station terminal, as well as in the west and east sides of 1F. Passengers can go to any of them to buy a ticket and then get into the station to wait for the departure.

Arrival by subway:
Subway line 2
and
line 5
Passengers getting to the station by subway will get off at the southwest of the station.

Arrival by taxi
From East Railway Station: It takes about 20 minutes and costs around CNY30.
From South Station: It takes 35 minutes and costs around CNY65.
From North Station: It takes about an hour and 45 minutes and costs approximately CNY100.
From Baiyun International Airport: It takes 30 minutes and costs about CNY90.
Passengers taking taxis to the station will be dropped off at the east side of the station. Upon arrival, follow the passenger flow to reach the terminal.
| | |
| --- | --- |
| A High Speed Locomotive in the Station | Interior of a Bullet Carriage |
Ticket Check and Boarding
Different tickets are checked at different check points. Thus, before checking-in, passengers should read their tickets carefully to confirm which check point they should go to have the tickets handled. One thing to remember is that blue tickets can be operated at automatic checking machines, while pink ones can only be checked manually. After getting onboard following the LED screens, please put luggage in the right place steadily in case that it falls and hurts others.
How to exit and leave Guangzhou Train Station?
Upon arriving, all passengers will be led to the transfer hall to get out. The exit is in the west side of 1F.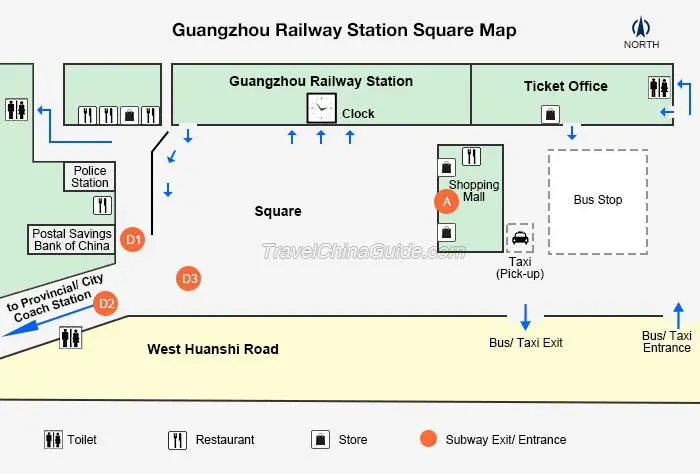 Map of Station Square

Leave by subway:
Subway line 2 and line 5 are easily accessible in the station for passengers' convenience. It is best to leave from the south exit, where they can see the subway exits/ entrances A and B easily.

Leave by bus:
Bus station is in the east side of the front square. After confirming the routes, passengers can go there to take one.

Leave by taxi:
Taxi stand is also available in the east side of the square. It is close to the bus station.

Transportation to other places in town:
Bus / Subway Search

Yuexiu Park
: Take subway line 2 to Yuexiu Park station and then get out from exit B1. Or one can just walk there if you are in good physical condition; it is about 1,300 yards away.

East Railway Station: Take subway line 5 to Yangji and then transfer to
subway line 1
to the East Station.

South Station: Take subway line 2 to the South Station directly.

North Station: Take Guang-Hua Express Line to Huadu Bus Station, and then walk northward to the destination.

Baiyun International Airport:
1. Take subway line 2 to Jiahe Wanggang and then change to subway line 3 (northern extension) to the Airport South and get out from exit C to the destination.
2. Take airport shuttle bus line 1 at the Civil Aviation Ticket Office (350 yards to the southeast side of the station) to the airport. The bus is reachable from 07:00 to the next 02:00 every 20 minutes. It takes about 45 minutes and the ticket fare is CNY18.

Transportation to Hong Kong:
Take an intercity high speed train to
Shenzhen Railway Station
. After getting off, walk southward for about 650 yards to Luohu Port to handle relevant customs procedures and then reach Hong Kong, where Hong Kong MTR East Rail Line is available.

Transportation to Macau:Take long-distances buses at Guangdong Coach Station (650 yards to the southwest side of the station) to Zhuhai Gongbei Coach Station. Afterwards, walk to the Gongbei Port to handle relevant custom procedures and go to Macau. The coach is available from 06:30 to 21:00 with an interval of 20 minutes. The travel time is about 2 hours and the ticket fare is CNY65.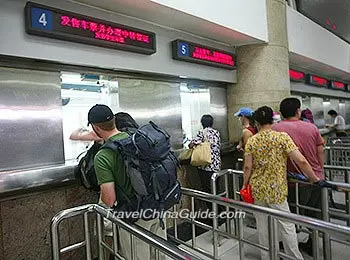 Buying Tickets in the Station
Facilities and Services

Ticket Office:
There are four ticket offices in the station. Two of them are located to the west and east sides of the station. Another two are in the west and east sides of the terminal on the first floor. In the east side of 1F is the ticket office for passengers to Shenzhen.

Waiting Hall:
Eleven waiting rooms equipped with air-conditioner are in the station. Four of them including a nursing room are on 1F. Another seven including the waiting room for soft sleeper ticket holders are on the second floor. Toilets and hot water are usually next to the waiting room for passengers' convenience. There are also shopping areas on 2F. And a fast-food restaurant is on 1F.

Left Luggage Service:
Next to the ticket office in the east side of the square is a place to temporarily store the luggage. It charges CNY5 for each bag within 44 pounds (20 kg) and CNY10 for each luggage over 44 pounds per day.

LED Screen:
LED screens are throughout the station to show train numbers, departure time, arrival time and waiting rooms. They are prominent in the entrances, waiting halls and exits.
Print

- Last modified on Oct. 22, 2018 -
Questions & Answers on Guangzhou Railway Station
Asked by Lala from SINGAPORE | Oct. 22, 2018 01:23

Reply
Hi hw do I get from guangzhou railway station to Hk?
Do i take metrol line 2 frm guangzhou railway to south station? After I reach south station where should I go to take the express train to Hk?
Answers (1)
Answered by Almeda from PERU | Oct. 22, 2018 18:40

0

0

Reply
Yes, you need to reach south station first. After that you need to go to ticket office to buy or collect your paper ticket first. Then you can enter the station and find your waiting area based on train code. When then checkin starts, you can go though the ticket check for boarding.
Asked by jas from SINGAPORE | Oct. 07, 2018 21:01

Reply
Guangzhou South Station to Guangzhou Railway Station
Understand its 34km and 15 stops apart with Line 2, may I know how long will it take? Thanks.
Answers (1)
Answered by Duke from AUSTRALIA | Oct. 08, 2018 02:33

0

0

Reply
Normally around 40min.
Asked by Kelly from CAMBODIA | Aug. 18, 2018 01:12

Reply
If I arrived Baiyun airport and I want go to Quangshouz city center which subway station i get off
Answers (1)
Answered by Theobald | Aug. 20, 2018 01:33

0

0

Reply
Guangzhou East Station, Haizhu Square etc can also be considered city center area
Asked by Daniel from HONG KONG | Jul. 03, 2018 00:19

Reply
Guanzghou to Urumqi train Z138
Anybody knows what station the train to Urumqi is leaving from?

Thanx!
Answers (1)
Answered by Sarah from MALAYSIA | Jul. 03, 2018 00:47

0

0

Reply
It is this station, Guangzhou Railway Station at No. 159 West Huanshi Road.
Asked by Henry from USA | Jun. 26, 2018 16:44

Reply
Is ther a coach bus from Guangzhou to Taishan General bus terminal
Answers (3)
Answered by Elmer | Jun. 27, 2018 22:30

0

0

Reply
I suppose you mean Taishan near Jiangmen right? Not the Mt. Taishan in Shandong. There are buses to Taishan General Bus Terminal from Guangzhou Provincial Bus Terminal. The bus should take around 2.5 hours and around CNY65.
Answered by Henry from USA | Jun. 28, 2018 06:58

0

0

Reply
Thank you for the information. Yes, I mean Taishan near Jaingmen. However, what is the Guangzhou Provincial Bus Terminal address?


Answered by Elmer | Jun. 29, 2018 02:31

0

0

Reply
It is at No. 145 West Huanshi Road, not far from Guangzhou Railway Station. By the way, I heard rail service will become available later this year.