Guangzhou North Railway Station
Originally named Huadu Station till 1999 and renovated in 2009, Guangzhou North Railway Station is a bit far from the city center. It is about 17 miles (27 kilometers) from Guangzhou Railway Station, 25 miles (40 kilometers) from the East Station, 30 miles (49 kilometers) from the South Station, and 14 miles (23 kilometers) from Baiyun International Airport.

Address: Xinhua Street in Huadu District Guangzhou


Guangzhou North Railway Station See-off Service

Schedule and Ticket Booking
No trains are originating from the station. Those passing through include high speed trains and ordinary types to/from Ganzhou, Wenzhou, Hanzhong, Chongqing, Zhangjiajie and other cities.

Major High Speed Rail Lines from this station to:
High Speed Train Schedule
(Last Update on Apr 25, 2023)
To
Trains
Duration
Ticket Fare (CNY)
First/ Second Class Seat

Wuhan

G696, G1170, G1554, G696...
81 departures from 06:13 to 17:45
3h38m - 5h19m
CNY 708.5/ 443.5
USD 104/ 65

Zhengzhou

G696, G1170, G696, G276...
40 departures from 06:13 to 17:10
5h15m - 7h44m
CNY 964/ 602
USD 142/ 89

Xi'an North

G834, G878, G814, G822...
9 departures from 07:03 to 13:29
7h20m - 9h25m
CNY 1,262.5/ 789.5
USD 186/ 116

Changsha South

G1408, G696, G1170, G1554...
119 departures from 06:08 to 21:07
2h17m - 3h9m
CNY 474/ 294
USD 70/ 43

Hangzhou East

G818, G1184, D3121, G1302...
7 departures from 08:00 to 15:56
6h00m - 11h44m
CNY 1,154.5/ 646
USD 170/ 95
Normal Speed Train Timetable
(Last Update on Apr 25, 2023)
To
Trains
Duration
Ticket Fare (CNY)
Soft/ Hard Sleeper

Chongqing North

K486, K811, K1172, K776...
8 departures from 11:42 to 21:40
18h38m - 23h58m
CNY 540.5/ 317.5
USD 79/ 47

Ganzhou

Z113, K675, K829, K727...
10 departures from 06:05 to 19:14
6h25m - 7h14m
CNY 214/ 136
USD 31/ 20

Wenzhou

K327 at 07:42
25h34m
CNY 655/ 377
USD 96/ 55

The above schedule is for reference only. For real-time schedule and ticket booking, please click the arrival stations.

See detailed
Guangzhou Schedule
Station Plan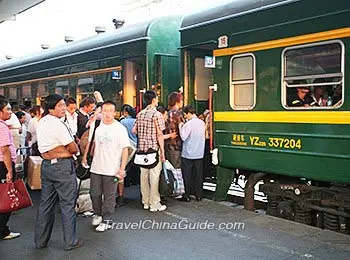 Boarding
The station consists of a two-storey building and two squares, east and west.


2F: waiting rooms


1F: waiting rooms, ticket office

How to get to North Train Station from downtown Guangzhou?

Arrival by metro:
Take
line 9
to the North Railway Station directly.

Arrival by bus:
At North Station Bus Sop: Hua 1, Hua 4, Hua 6, Hua 9, Hua 10, Hua 17b, Hua 17, Hua 17 Wangzilu Regular Bus, Hua 19, Hua 19 Yonggao Regular Bus, Hua 27, Hua 62, Hua 73, Hua 81
At North Station Coach Station: Huadu-Dongpu Line, Huadu-Panyu Line, Airport Shuttle Bus Line 9
At Bus Terminal: Hua80, Hua84, Hua85, Hua87
At Huadu Coach Station: Guang-Hua Jiaokou Line, Guang-Hua Dongzhan Line, Guang-Hua Fangcun Line, Guang-Hua Express Line, Guang-Hua Tianhe Line, Hua63, Hua63 Rulincun Regular bus, Hua63 night line, Huadu-Dongpu Line, Huadu-Conghua Line, Night Bus Line 87.
Passengers arriving by bus will get off not far away from the station. For those having booked the ticket in advance, please enter the station directly and find the right waiting room following the ticket information. If not, the ticket office is on 1F. Please go there and buy a ticket first and then find the right waiting room to wait for the departure.

Arrival by taxi:
Passengers will get off at the west square of the north station if arriving by taxi. The terminal building can be easily recognized upon arrival.
From Guangzhou Railway Station: It takes about 55 minutes and costs around CNY 95.
From East Station: It takes an hour and costs approximately CNY 125.
From South Station: It takes about an hour and 20 minutes and costs about CNY170.
From Baiyun International Airport: It takes 30 minutes and costs about CNY45.
Ticket Check and Boarding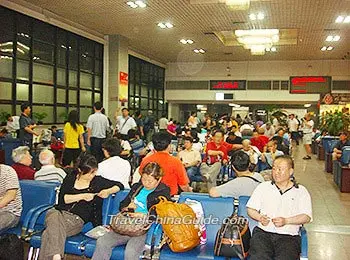 Waiting Room
Passengers should know exactly which check point they should go to have the ID certificate used to book the ticket checked . After check-in, go to the platforms to get onboard. It needs to be mentioned that foreign passport holders should have their passports checked manually.

Please note that passengers to take high speed trains should go to platforms 3 and 4 by an elevated bridge on 2F. For passengers to take ordinary ones, platforms 1 and 2 are easily accessible on 1F.

How to exit and leave the station?
Upon arriving, passengers get out of the station by an underground passage. Then find the relevant bus or taxi to leave the station.

Leave by metro:
Passengers can get out of the railway station according to the signs in subway station.

Leave by bus:
Passengers who want to leave by bus please confirm the route first, and then go to the west square to find the right bus.

Leave by taxi:
The taxi stand is also in the west square. It is very convenient for passengers to go their destinations.

Transportation to other places:

Guangzhou Train Station:
Take Guang-Hua Express Bus Line at the Huadu Coach Station to Guangzhou Bus Terminal and then walk eastward for 766 yards (700 meters) to the destination.

South Station:
1. There is no direct transport. The most convenient way is to get to Guangzhou Railway Station first, and take
subway line 2
to get here.
2. Take Huadu-Panyu Line at North Station Coach Station to Shima South Station. After take bus line 523 to Yaotai Station and then walk northeast for 450 yards (410 meters) to Sanyuanli Station and take subway line 2 there to the destination.

East Station:
Take Guang-Hua Dongzhan bus line in Huadu Coach Station to the Bus Terminal of the East Station, and then walk about 87 yards (80 meters) to the destination.

Baiyun International Airport:
Take Baiyun Airport shuttle bus line 9 at the North Station Coach Station to Baiyun Airport Station. The bus is available from 05:25 to 19:55 with an interval of 30 minutes. It takes about 1.5 hours and costs CNY10.
Facilities and Services

Ticket Office:
There are two ticket offices in the station, one at the south side of 1F, the other north side of 1F. The former has eight windows, which mainly serve high speed trains, while the latter with six ticket windows for regular ones.

Waiting Hall:
Six waiting rooms can be found inside the terminal building – those on the first floor are for common trains, while the second floor serves only the high speed ones.

Left Luggage:
It usually charges CNY10 per piece of luggage per day.

LED Screens:
LED screens are available in the station showing the departure time, arrival time, waiting room and other information.
Inside the terminal building, elevators, escalators, wash rooms, hot drinking water and shops are available for passengers' convenience.
Print

- Last updated on Apr. 25, 2023 -
Questions & Answers on Guangzhou North Railway Station
Asked by Sebastian | Jul. 18, 2019 03:00

Reply
How can I found train from Guangzhou North Station to Shenzhen North?
What is the cost of business, first and second class seat?
Answers (1)
Answered by Mateo from GREECE | Jul. 18, 2019 18:01

0

0

Reply
As I can see on this website, there are 12 trains each day from North Station to Shenzhen. Ticket price would be around USD39/ USD20 / USD14 per person. You can input your departure station as "Guangzhou North" so there would be schedule listed for this station.
Asked by Malik from PAKISTAN | Apr. 29, 2018 20:09

Reply
Guangzhou North to Baiyun Airport International ?
i want to go from Guangzhou North to Baiyun Airport. suggest me best route and i have almost 5.5 hrs from the flight takeoff as i reached Guangzhou North Railway station.
Answers (1)
Answered by Mr. FRANK | Apr. 30, 2018 03:12

0

0

Reply
You could take the airport shuttle bus No. 9 from Guangzhou North to airport directly. This is the best way.
Asked by john mcnicholl from AUSTRALIA | May. 10, 2017 20:18

Reply
I want to go from Baiyun airport to shenzhen. Please advise the beat and quickest way to do so?
Answers (1)
Answered by Belle | May. 11, 2017 02:02

0

0

Reply
Well, by rail, you may try to take the shuttle bus or taxi to the North station and then go for Shenzhen North by rail. Or you can atke the bus from airport to Shenzhen. There should be bus service to Shenzhen offered, the duration may around 2.5 hours. The bus seems available around every 1 hour from 9:30am to 10pm.
Asked by Xiao Bing from SINGAPORE | Apr. 29, 2017 22:07

Reply
Baiyun airport to heyuan
How do take train to heyuan?
Answers (1)
Answered by Kurt | Apr. 29, 2017 22:44

0

0

Reply
There are rides available from Guangzhou or GZ East station to Heyuan. The whole trip takes about 3 hours. You can check the schedules on the website directly.