Guangzhou East Railway Station
Opposite the Zhongtai International Plaza, Guangzhou East Railway Stationis 6 miles (10 km) from
Guangzhou Railway Station
, 16.3 miles (26 km) from the
South Railway Station
, 21.5 miles (40 km) from the
North Railway Station
, and 24 miles (38 km) from
Baiyun International Airport
.

Address: Dongzhan Road, Tianhe District


Guangzhou East Railway Station See-off Service
Schedule and Ticket Booking
The station mainly operates bullet trains (C Types) to Shenzhen and ordinary ones to Meizhou, Shantou, Xiamen, Beijing, Harbin, Changchun, Chengdu and other cities. It is also the terminal station for the
Guangzhou–Hong Kong Through Train
.

Major Rail Lines from this station to:
High Speed Train Schedule
(Last Update on Jan 19, 2023)
To
Trains
Duration
Ticket Fare (CNY)
First/ Second Class Seat

Shenzhen

G9755, D9787, C9955, G4567...
284 departures from 00:24 to 23:28
0h29m - 1h59m
CNY 94/ 47
USD 14/ 7

Hong Kong

G6551, G6539, G6581, G6515...
14 departures from 07:58 to 21:51
0h43m - 1h53m
CNY 261/ 187
USD 38/ 28
Normal Speed Train Timetable
(Last Update on Jan 19, 2023)
To
Trains
Duration
Ticket Fare (CNY)
Soft/ Hard Sleeper

Hong Kong

Z811, Z815, Z807, Z817...
6 departures from 09:30 to 20:40
1h53m - 1h58m
CNY
USD

Harbin West

Z113, K727, Z237 from 06:05 to 18:36
35h56m - 52h59m
CNY 1,128/ 703
USD 166/ 103

Shanghai

K513, K829, T871 from 06:39 to 13:35
18h59m - 24h44m
CNY 689/ 404
USD 101/ 59

Changsha

K6574, Z135, K1161, Z503...
36 departures from 00:56 to 23:28
7h31m - 10h13m
CNY 301/ 196
USD 44/ 29

Tianjin

Z113, K727, K727, T367...
9 departures from 06:05 to 21:15
23h46m - 35h56m
CNY 825/ 521
USD 121/ 77

Beijing West

Z503, K597, Z837 from 07:36 to 15:00
22h44m - 30h55m
CNY 917/ 521
USD 135/ 77

Zhengzhou

Z135, K1161, Z503, K1348...
16 departures from 06:54 to 21:57
16h19m - 22h50m
CNY 671/ 387
USD 99/ 57

Xiamen

K297, K229 at 20:00 and 20:02
11h39m - 12h59m
CNY 329/ 214
USD 48/ 31

Shantou

K9241 at 08:25
7h21m
CNY 187
USD 28

Meizhou

T8365, K297, K229 from 11:31 to 20:02
5h49m - 6h41m
CNY 211/ 139
USD 31/ 20

Nanchang

Z113, K675, K727, T219...
9 departures from 06:05 to 23:08
10h51m - 14h18m
CNY 403/ 233
USD 59/ 34

The above schedule is for reference only. For real-time schedule and ticket booking, please click the arrival stations.

See detailed
Guangzhou Train Schedule
Station Plan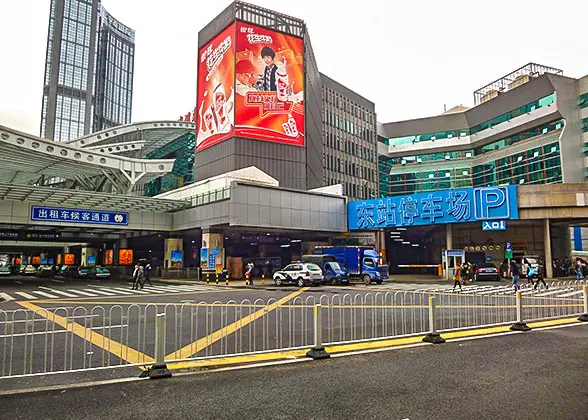 East Railway Station
The East Train Station is made up of the square, the terminal building, and two tower buildings.


Square Layout
The square in front of the terminal building has three levels. The elevated level is for pedestrians, the ground level for motor vehicles and the underground for bus stops, parking and subway station. There are also restaurants (like Starbucks & McDonald), hotels and shops in or around the square.



Terminal Layout


4F: Waiting Room and Ticket check point for passengers to Hong Kong, Waiting Hall;


3F: Ticket office; Waiting hall for passengers to Hong Kong; Waiting room for long distance passengers;


2F: Dispersion hall; Ticket office for long distance departures;


1F: Ticket office and luggage consignment office for Hong Kong passengers; Ticket office and waiting room for Shenzhen passengers, Rail tracks, Platforms

One of the tower buildings is a 43-storey office building while the other is a 47-storey hotel.
How to get to East Railway Station from downtown area?

Arrival by bus:
At East Station Coach Station: 27, 32, 39, 60, 298, 508, 560, 776, 778, B18, B6 Express Line
At East Station Bus Station: Tourism Bus Line 3
At Middle Linhe Road: 41, 43, 122A, 122, 175, 183, 185, 195, 209, 256, 263, 302A, 302, 501, 508, 804, 808, 841, 884, B17, Gaofeng Express Line 28, Guang283, Tourism Bus Line 3, Night Bus Line (17, 28, 51, 74)
At East Linhe Road:45, 62A, 62, 214, 233, 280, 551, 810A, 810, B19, B20, Gaofeng Express Line 24 and Line 28, Night Bus Line (15, 77, 78)

Passengers arriving by bus will be dropped off outside the station. For those already with a ticket, just go into the station and read the ticket carefully to find the right waiting room. For those without, go to the ticket office on 1F, 2F or 3F accordingly to buy one first. After, go to the exact waiting room to wait for the departure.



Arrival by subway line 1 or line 3:
Passengers reaching the station by subway should exit through exits E, I or G, which are nearest to the station building.



Arrival by taxi
1. It takes 25 minutes and costs CNY30 from Guangzhou Railway Station.
2. It takes 40 minutes and costs CNY75 from the South Railway Station.
3. It takes an hour and costs CNY110 from the North Railway Station.
4. It takes an hour and costs CNY120 from Baiyun International Airport.
Ticket Check and Boarding
Before checking-in, passengers should know exactly which check point they should go to have their ID certificate bearing the ticket checked. Afterwards, go to the platforms to get onboard. It deserves to be mentioned that overseas passengers need to have their ID certificate checked manually. The boarding gates for those to Hong Kong are closed 10 minutes prior to departure while those to other destinations are 5 minutes prior.
| | |
| --- | --- |
| Platform | Inside the Carriage |
How to exit and leave the station?
Upon arriving, Hong Kong Through passengers should take escalators to 4F for entry formalities before getting out, while other passengers can exit directly from the underground passage.

Leave by subway:
Subway Station is on the underground level of the front square. Passengers can go there to take subway line 1 or line 3.

Leave by bus:
If passengers decide to take bus to leave, they should go to the front square ground floor or the south side of the station where bus stops can be found.

Leave by Taxi:
Taxi stands are located on the ground level of the front square. Passengers should confirm their routes first and then go there to take.

Leave by long-distance bus:
400 yards northwest of the station is the East Station Coach Station with buses to Shenzhen, Dongguan, Zhongshan, Zhuhai, Foshan and other cities. Passengers need to note that they have to go through an underground passage to reach the coach station.

Transportation to famous sites in town:
Bus / Subway Search

Yuexiu Park
:
Take subway line 1 to Gongyuanqian, transfer to
line 2
and exit from Gate C at the Memorial Hall, then walk northward to the park.

The Pearl River
(Dashatou Wharf):
Take subway line 3 (northern extension) to Yantang, and then transfer to
line 6
to Donghu. Exit at Gate A and walk southward to the wharf.

Sun Yat-sen Memorial Hall
:
1) Take subway line 3 (northern extension) to West Tiyu Road, transfer to line 3 to Kecun, and then take
line 8
to Lujiang. Exit at Gate C and walk westward to the venue.
2) Take bus no. 263 and get off at Kangle Village, and then walk westward to the venue.

Chimelong Resort
:
Take subway line 3 (northern extension) to West Tiyu Road, transfer to line 3 and exit at Gate B, then walk to Chimelong.

Baiyun International Airport:
1) Take subway line 3 (northern extension) and alight at Airport South. It takes about 40 minutes and CNY 7.
2) Take airport shuttle bus line 6 at Citic Plaza, located south of West Linhe Road. Buses run from 05:20 to 21:40 at an interval of 20 minutes. Journey takes about 40 minutes and ticket fare is CNY20.

Transportation to Hong Kong:
Take a through train to
Hung Hom Station
in Hongkong directly. There are 12 departures daily from 08:19 to 10:17. The travel time is about 2 hours and the ticket fare is CNY250 for a VIP seat and CNY210 for a first class seat.

Transportation to Macau:
Take a coach from East Coach Station (400 yards northwest of the East Railway Station) to Zhuhai Qiguan Coach Station (close to Gongbei Port). Afterwards, walk to the Gongbei Port to handle relevant custom procedures and go to Macau. The coach is available from 06:45 to 20:40 every 15 minutes. Duration is about 2 hours and ticket fare is CNY65.
Facilities and Services at the station

Ticket Office: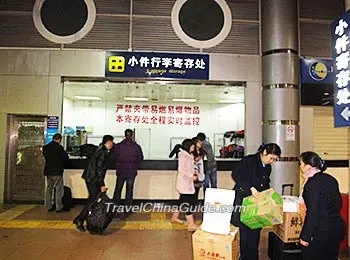 Left Luggage Office
There are three ticket offices respectively on 1F, 2F and 3F, but they are selling different tickets. Ticket office on 1F serves passengers traveling between the station and Hong Kong/ Shenzhen. The ticket office on 2F is located in the west side. It mainly sells long distance tickets. The third one is on 3F, also selling tickets to domestic destinations.



Waiting Hall:
The first waiting area is on 1F, which is for passengers to Shenzhen. The second one is on 2F, where the west side has five VIP waiting rooms. Long distance passengers need to wait on 3F. For passengers to Hong Kong, they are settled in the west of 4F, while the middle of 4F is also for domestic passengers. Each waiting room is equipped with toilets and hot water. Please take care when fetching the water because it is boiled.



Left luggage service:
Luggage office is close to the ticket office on 1F. It usually charges CNY10 for a bag per day.
Print

- Last updated on Jan. 19, 2023 by Brenda Lian -