Guangzhou - Yangshuo Train
The Guangzhou - Yangshuo high speed trains started running in early 2016 make the direct travel between the two cities possible. At present, there are about 20 pairs running from
Guangzhou Railway Station
/
Guangzhou South Railway Station
to
Yangshuo Railway Station
and about 15 vice versa. All belong to D type except G2907 & G2929. The journey only takes 2 to 3 hours, so passengers could even take a day trip to Yangshuo from the busy Guangzhou. A second class seat costs CNY 140 - 148. By the way, there is no normal speed train between the two cities. Passengers may take a long distance bus instead.
Guangzhou - Yangshuo High Speed Train
Basic Facts:

Open Date: January 24, 2016

Duration: 2 - 3 hours

Running Distance: 380 kilometers (236 miles)

Top Speed: 250 km/h (155 mph)

Stations along the way: Foshan West, Zhaoqing East, Sanshui South, Guangning, Huaiji, Hezhou, Zhongshan West, Gongcheng, Yangshuo.
Guangzhou to Yangshuo Bullet Train Timetable
(Last Update on Apr 25, 2023)
| Train No. | Departure - Arrival | Travel Time |
| --- | --- | --- |
| D2804 | 07:02 - 09:53 | 2h51m |
| D2812 | 07:48 - 10:52 | 3h4m |
Around 20 departures in total: departure time from 06:57 to 17:19; duration from 2H9M to 2H39M.
See more
Guangzhou Schedule
| Train No. | Departure - Arrival | Travel Time |
| --- | --- | --- |
Around 15 departures in total: departure time from 08:26 to 20:09; duration from 2H2M to 2H46M.
Note: The above timetable is for reference only. Please search for the real-time schedule via the search box on page top.
Ticket Fare of Guangzhou - Yangshuo High Speed Trains
(Last Update on Apr 25, 2023)
Business Class Seat
First Class Seat
Second Class Seat
G trains
CNY 379
USD 56
CNY 203
USD 30
CNY 126
USD 19
D trains
---
CNY 203
USD 30
CNY 126 - 140
USD 19 - 21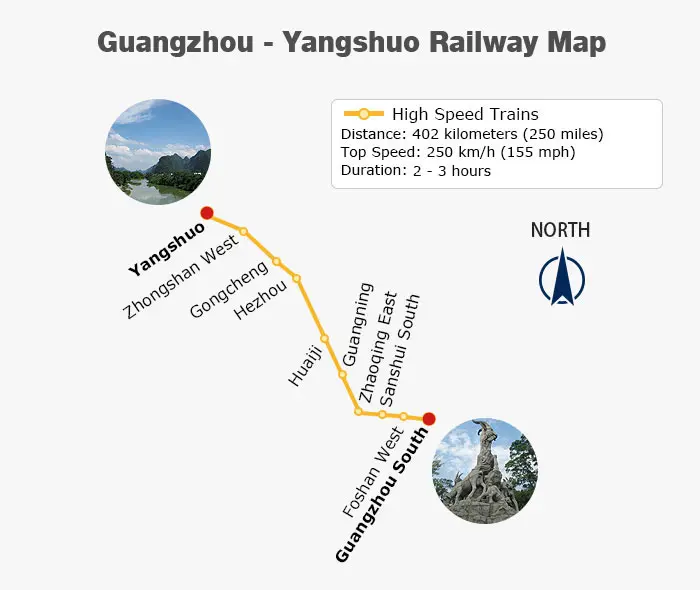 Guangzhou - Yangshuo Railway Map
Train Travel Tips:
1. From Guangzhou to Yangshuo, there is no G train, while from Yangshuo to Guangzhou, G2907 & G2929 are available, but the tickets are quite hard to get, since the railway authority releases less tickets for this route. And G2907 takes the shortest travelling time, tickets of it are in a great demand. Travelers wishing to take this train had better purchase the tickets as soon as they are available.
2. Yangshuo Railway Station is in Xingping County rather than the city center. There are shuttle buses around the railway station which can take you to the city center in around one hour.
3. When failed to get tickets for Guangzhou - Yangshuo bullet trains, you could also try to book Guangzhou - Guilin high speed train tickets since there are much more trains between Guangzhou and Guilin. In this way, you need to make a transfer at Guilin. From Guilin to Yangshuo, except trains, there are also Li River cruise ships and buses available; vice versa.

Major Rail Lines from Guangzhou to:

Major Rail Lines from Yangshuo to:
- Last updated on Apr. 25, 2023 -
Questions & Answers on Guangzhou - Yangshuo Train
Asked by Bernice Tso from HONG KONG | Nov. 30, 2019 21:12

Reply
How to locate D2812 when arrived Guangzhou from Hong Kong on G80? 08 車07F號 is printed on my ticket.
Answers (1)
Answered by Tesiman | Dec. 03, 2019 20:00

0

0

Reply
You could pick up the D2812 ticket at Hong Kong kowloon station (at window 1- 10) firstly, then you know the platform number, which is printed on the ticket. Then, you could use Transfer (or fast transfer) at Guangzhou South station, just follow the indications at the station.
Asked by Katie from FRANCE | Oct. 18, 2019 01:09

Reply
Can much for taxi to go to West Street from Yangshuo high speed station?
Answers (1)
Answered by Terry from SOUTH AFRICA | Oct. 20, 2019 17:47

0

0

Reply
If you take a taxi, the cost may around CNY100. There is bus service from there to Yangshuo bus station which is CNY20 per ticket. You can also use this bus service and then use bus or taxi to West Street.
Asked by Chadwick from AUSTRALIA | Apr. 25, 2019 03:16

Reply
What is the most convenient way to reach HK Airport from Yangshuo?
Answers (1)
Answered by Kevin from USA | Apr. 25, 2019 18:52

0

0

Reply
There is no direct rail service. You may consider to go to Guangzhou first and then take another train to West Kowloon. Finally take airport express line to reach HK airport. I heard there is buses from Guangzhou to HK Airport directly, but not sure about the information and how to buy a ticket in advance. Second option, you may consider to go to Guilin first and then to HK by direct high speed ride. It depends on your time.
Asked by Pedro from SPAIN | Jan. 11, 2019 08:49

Reply
From Yangshuo to Hong Kong (Kowloon)
I am thinking in taking a train from Yangshuo to Guangzhou and then change to another Guangzhou to Kowloon for arriving to Hong Kong.I leave 30 minutes between trains ...is it enough? Or better one hour? I am not sure if I have to make a control passport in Guangzhou.

Thanks
Answers (1)
Answered by mong | Jan. 11, 2019 22:09

0

0

Reply
30 min is obviously not enough, you need to leave at leave one hour for the connection.
Asked by Tankard from BRAZIL | Dec. 24, 2018 01:30

Reply
I suppose if I book a ticket to Guilin, I can still get off in Yangshuo right?
Is there anything else need to be noticed in advance? Will it be a problem when I exit the station? Your advice will be appreciated.
Answers (1)
Answered by Paddy from GERMANY | Dec. 24, 2018 19:01

0

0

Reply
If the train you booked also stop at Yangshuo before it reach Guilin, it is no problem to get off there. It is no problem to exit the station.