Yangshuo Railway Station
Yangshuo Railway Station is located in Xingping Town, so it is also called Xingping Station. It is about 14 miles (22 kilometers) from the Yangshuo downtown. Covering an area of 12,000 square yards (10,000 square meters), its maximum capacity is 1,500 passengers.

Address: Fanzeng Village of Xingping Town

Schedule and Ticket Booking
As the largest intermediate station along the
Guilin - Guangzhou High Speed Railway
, Yangshuo Train Station currently only operates high speed trains to/from Guilin, Guangzhou, Guiyang, Nanning, and Hezhou, so known to passengers as Yangshuo High Speed Train Station, too.

Major Rail Lines from the station to:
(Last Update on Jun 22, 2021)
To
Trains
Duration
Ticket Fare (CNY)
First/ Second Class Seat

Guilin

D8262, D8262, D1862, D2804...
27 departures from 09:01 to 19:30
0h23m - 0h41m
CNY 39/ 24
USD 6/ 4

Guangzhou South

D2959, G2907, D2961, G2929...
14 departures from 08:26 to 20:00
2h2m - 2h46m
CNY 225/ 140
USD 35/ 22

Shenzhen North

G2907, G2929 at 09:52 and 11:24
2h39m - 3h4m
CNY 324.5/ 214.5
USD 50/ 33

Guiyang North

D1862, D2804, D1882, D1810...
11 departures from 09:09 to 18:30
2h42m - 3h20m
CNY 283/ 177
USD 44/ 27

Liuzhou

D8262, D2992, D2944, D8266...
6 departures from 09:01 to 19:30
1h42m - 1h57m
CNY 113/ 70.5
USD 18/ 11

Zhuhai

D2367 at 14:12
3h37m
CNY 210
USD 33

Nanning East

D8262, D8266, D8270 from 09:01 to 18:46
3h6m - 3h17m
CNY 247/ 154.5
USD 38/ 24

Hezhou

D2959, G2907, D2961, G2929...
15 departures from 08:26 to 20:00
0h36m - 0h56m
CNY 70/ 44
USD 11/ 7

The above schedule is for reference only. For real-time schedule and ticket booking, please click the arrival stations.
Note: Although there are more departures for Guilin West, it is not recommended to get off there, as Yangshuo Railway Station is located far from downtown area and the public transportation is not convenient. D8232 stops at both Guilin Station and Guilin North Station. If you are going to the city area, get off at Guilin Station for it is closer to city center. If you are going to transfer to other trains, especially high speed ones, get off at Guilin North Station, because most bullet trains are operated there.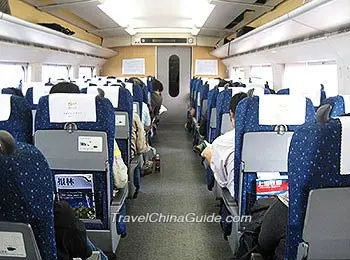 Second Class Carriage
Station Plan
It comprises a two-storey terminal building and a front square.

2F: waiting hall, VIP room, boarding gates, toilets, hot drinking water, platforms…

1F: entrance/exit, ticket office, police stand, tourism information service center…
Note: The station is built on an elevated base. There are more than 100 stairs from the ground floor all the way to the platform. But do not worry. There are escalators and accessible elevators for your convenience.
How to get to Yangshuo Train Station from downtown area
Currently, a special bus line is operated between Yangshuo downtown and the railway station. Bus fare is CNY 20. The bus departs from the coach station near Shima Yuanpan in Kangzhan Road and arrives at the front square of the station. Duration is about 60-70 minutes.
Ticket Check and Boarding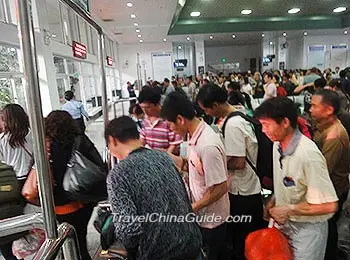 Ticket Check
Boarding gates information is shown on the tickets. Read the ticket carefully and find your boarding gate upon arrival on the waiting hall on 2F. If it is not the time for ticket check yet, you can find a seat nearby the boarding gate and have a rest. After ticket check, there are LED boards leading you to the platform or you can follow other passengers to get onboard. After, please find your seat/sleeper and put your baggage on the luggage rack steadily in case that it falls and hurts others.
How to exit and leave Yangshuo Railway Station?
Upon arrival, passengers can get out from the exit to the front square, where they can find special blue buses to leave. The bus stops at Xingping Town, Fuli and eventually arrives in Yangshuo. Bus fares are CNY 5, CNY 15 and CNY 20 respectively.
How to Get to West Street from Yangshuo Railway Station
Passengers can take bus Yangshuo High Speed Special Line 1 to Fengming Tourist Service Center and then take city bus Yangshuo 801 on the opposite of the road to arrive at West Street.
How to Get to Xingping from Yangshuo Railway Station
After you get out of the railway station, you can go left straightly. Then you will find the ticketing window. There, you can buy the tickets of bus heading to Xingping. The ticket price is CNY 5 per person and the travel time is about 15 minutes.
Facilities and Services
Ticket Office:
The ticket office is located on the first floor. There are 10 ticket windows in total. However, just three windows are in service on ordinary days. During the holidays, more windows will be put into service.
Waiting Hall:
The waiting area is located on the second floor. Entering the station hall, passengers need to use the escalator, elevator or the stairs to reach the second floor. There are 1200 seats in the waiting area. There is also a VIP waiting room. Inside the waiting hall, there are toilets and hot drinking water for passengers' convenience.
Print

- Last modified on May. 17, 2020 -