Guilin Railway Station
Guilin Railway Station is about 18.6 miles (30 km) from Liangjiang International Airport, 5.4 miles (8.7 kilometers) from the North Railway Station and 2 miles (3 km) from Elephant Trunk Hill.

Address: At the junction of South Zhongshan Road and Shanghai Road in Xiangshan District

Schedule and Ticket Booking
As one of the three main stations in Guangxi Zhuang Autonomous Region, Guilin Railway Station connects all the major cities, including Beijing, Guangzhou, Shanghai, Xi'an, Changsha, Nanning, Liuzhou, Beihai and so on. Presently, both ordinary and bullet trains share this station, making traveling comfortable and fast.

International Service
Z5 (Beijing - Hanoi): It departs twice every week from Beijing West Railway Station on Monday and Friday and has a stop at this station from 11:23 to 11:30 next day.
Z6 (Hanoi - Beijing): It departs from Hanoi every Tuesday and Friday and makes a stop at the station from 14:23 to 14:28 the next day.



Other Rail Lines from this station to:

High Speed Train Schedule
(Last Update on May 7, 2019)
To
Trains
Duration
Ticket Fare (CNY)
First/ Second Class Seat

Beijing West

G422, G530 at 10:57 and 12:10
9h56m - 10h48m
CNY 1,290.5/ 806
USD 196/ 122

Shanghai Hongqiao

G1502 at 11:45
9h30m
CNY 1,089.5/ 659.5
USD 165/ 100

Guangzhou South

D2964, D2959, D2963, D2954...
43 departures from 07:38 to 21:02
2h18m - 3h33m
CNY 171/ 107
USD 26/ 16

Changsha

G436, G2340, G434, G536...
16 departures from 08:07 to 18:13
3h15m - 3h46m
CNY 291/ 181.5
USD 44/ 28

Nanning

D3935, D8455, D8403, D8405...
44 departures from 07:05 to 21:07
2h12m - 2h53m
CNY 168/ 104.5
USD 25/ 16

Yangshuo

D2959, G2929, D2807, D2811...
13 departures from 08:02 to 19:29
0h22m - 0h43m
CNY 37/ 23
USD 6/ 3

Liuzhou

D3935, D8455, D8481, D8403...
54 departures from 07:05 to 21:07
1h4m - 1h19m
CNY 73/ 45.5
USD 11/ 7

Beihai

D8403, D8405, D8491, D3561...
11 departures from 07:59 to 18:19
3h58m - 4h29m
CNY 260/ 162.5
USD 39/ 25

Normal Speed Train Timetable
(Last Update on May 7, 2019)
To
Trains
Duration
Ticket Fare (CNY)
Soft/ Hard Sleeper

Beijing West

K158, K22, Z286, Z6 from 04:29 to 21:30
19h26m - 28h13m
CNY 656/ 428
USD 99/ 65

Guangzhou

K950 at 20:48
10h57m
CNY 402/ 208
USD 61/ 32

Changsha

K458, K158, Z336, Z6...
8 departures from 04:02 to 21:30
5h4m - 7h36m
CNY 250/ 142
USD 38/ 22

Nanning

T77, K1137, K1523, K581...
15 departures from 04:25 to 22:02
3h56m - 8h18m
CNY 161.5/ 107.5
USD 24/ 16

Liuzhou

T77, K457, K1137, K1523...
19 departures from 04:25 to 22:02
1h31m - 3h15m
CNY 114.5/ 77.5
USD 17/ 12

The above schedule is for reference only. For real-time schedule and ticket booking, please click the arrival stations.
See detailed
Guilin Train Schedule
Station Plan
Similar to other stations in China, Guiin Train Station has a two-storey station building and a front square.

2F: waiting rooms, ticket office, toilet, hot drinking water

1F: waiting rooms, ticket office, platforms, toilet, hot drinking water

Front Square: bus stops, taxi stands, tourist buses
How to get to Guilin Railway Station from downtown area?

Arrival by bus:
At the Station Bus Stop: 3, 4, 5 (double-decker special bus with air conditioner for garden expo park), 9, 10(double-decker bus with air conditioner), 11(double-decker bus with air conditioner), 16, 19, 22, 25b (bus with air conditioner), 88, 91, 91, 99, 100 (double-decker bus with air conditioner)
At Government of Xiangshan District: 1(double-decker bus), 20 (bus with air conditioner), 205, 301(bus with air conditioner)
At Xiangjiang Restaurant: 6, 10(double-decker bus with air conditioner)
At Tian'etang:3, 9, 22, 201
Passengers arriving by bus will be dropped off in front of the square. For those with a ticket in hand, enter the station directly and find the correct waiting room to wait for departure. For those without, go to the ticket office to purchase one first and then go to the waiting room.

Arrival by taxi:
If arriving by taxi, passengers will get off at the front square.
From
Duration (Minutes)
Cost (CNY)
North Railway Station
30
25
Liangjiang International Airport
40
80
Elephant Trunk Hill
10
10
Seven Star Park
15
15
Zhujiang Dock
45
90
Reed Flute Cave
25
25

Arrival by long-distance bus:
Passengers can also get to the station by long-distance bus. The Coach Station is located to the northeast of the terminal building.
Ticket Check and Boarding
A number of check points are available inside the waiting hall. Before checking in, passengers should read their tickets carefully to know exactly where to have the tickets checked. After that, passengers are led to the platform to get onboard. One thing to remember is that pink tickets can only be handled manually, while blue ones can be checked at automatic ticket checking machines.
How to exit and leave the station?
Upon arriving, all passengers will be led to the underground passage to exit. Afterwards, passengers can follow the direction boards to find bus stops or taxi stands to leave the station.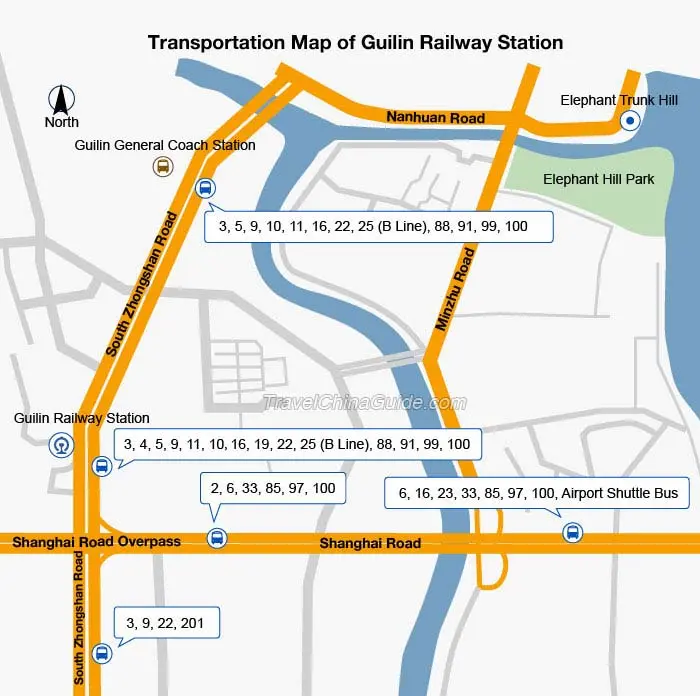 Transportation Map of Guilin Railway Station

Leave by bus:
To the northeast side of the front square is the bus stop where passengers will find many buses to different places in the city. Tourist buses to nearby scenic spots such as Yangshuo and Longsheng are also operated on the square.



Leave by taxi:
Taxi stands are located at the east side of the front square.



Leave by long-distance bus:
To the northeast of the station is the Coach Station, which operates long-distance buses to other places around the city including Gongcheng, Yangshuo, Longsheng and Sanjiang.



Transportation to other places:


Elephant Trunk Hill:
Take bus line 5 or 16 to the destination.



Seven Star Park:
Take bus line 9, 10, 11, 21 or 97 to the park.



Reed Flute Cave:
Take bus line 3 to get there.



West Railway Station
Take bus no. 22 to get there.



Zhujiang Dock:
One can take bus Line 9 to its final stop at Huaqiao Nongmao Shichang (Huaqiao Agricultural Products Market) and then hire a local car to Zhujiang Dock. Or visitors can walk to the Lingui Hotel (about 550 yards north of the station) to look for private buses to Zhujiang Dock.



Liangjiang International Airport:
Take bus line 100 to Anxin Community Station and then change to Airport Shuttle bus to the destination. The bus is reachable daily from 06:00 to 21:30 every 30 minutes. It usually takes 40 minutes and the ticket fare is CNY20 per person.



Yangshuo:
Passengers can take a coach in the General Coach Station to the northeast of the terminal building. The coach is available daily from 07:00 to 21:00 with an interval of 20 minutes. The travel time is about 1.5 hours and the ticket fare varies from CNY 14 to CNY 22. Remember to take the coach inside the coach station to avoid being cheated.



Dragon's Backbone Rice Terraces:
The coach to Longsheng is reachable daily from 07:40 to 19:00 every 40 minutes inside the General Coach Station. It usually takes 3 hours and the ticket fare is about CNY 40. Upon arrival, change to local buses to the rice terraces; the local buses depart about every 30-60 minutes in daytime with a duration of about 2 hours and ticket fare of CNY 15.
Facilities and Services
An International Ticket
Bought at the station

Ticket Office:
There are two ticket offices in the station building. The main ticket office on 1F has 14 ticket windows. The other one on 2F is only for high-speed railroad tickets. There is an information desk at the entrance of the main ticket office for passengers to consult and solve any problems. The Yongfang Ticket Window inside the main ticket office provides international railroad tickets (Nanning to Hanoi or Beijing to Hanoi) purchasing, English service and serves the disabled 24 hours a day.



Waiting Rooms:
There are four regular waiting rooms inside the station building, with No.1 and No. 2 waiting rooms on the second floor, and No. 3 and No. 4 on the first floor. Among them, No. 2 waiting room is for passengers to take bullet trains. Next to No. 2 waiting room is the Nursery Room for those traveling with babies and small children; in most cases they are allowed to get onboard earlier than others to avoid crowds.


See details of Train Travel in China with Kids or during Pregnancy

There is also a waiting room for passengers holding soft seat/sleeper or international ticket to the south of the bullet train ticket office. Wash rooms and drinking water are available in each waiting room. Stores are set inside the No. 2 waiting room and the central hall on the second floor.



Luggage Left:
Located next to the terminal exit, it charges around CNY5 to CNY10 per piece per day. Visitors can easily see many other private luggage storage places on the square, but because of safety concerns, leaving your luggage at these places is not recommended.



Other Services:
Bank: Guilin Bank, near the station bus stop, and the Postal Savings Bank of China on the opposite side provide a money exchange service.
Police Station: It is next to the exit.
Print

- Last modified on Apr. 03, 2019 -
Questions & Answers on Guilin Railway Station
Asked by Daniel from MALAYSIA | Oct. 24, 2018 01:23

Reply
High Speed Rail from Guangzhou to Guilin
Which high speed rail station is nearer to Guilin Town Center from Guangzhou?

Thanks
Daniel
Answers (1)
Answered by Jennifer | Oct. 24, 2018 03:23

0

0

Reply
It should be Guilin Railway Station, and then the North Station.
Asked by Darcy from MAURIITUS | Apr. 17, 2018 11:54

Reply
Hi which is the nearest railway station near beijing road to travel to guilin?
how long it take to reach guilin by rail? From guilin center to the rice terace how long it takes?
Thanks
Answers (1)
Answered by Adriane | Apr. 18, 2018 03:33

1

0

Reply
From where to Guilin? Beijing Road in Guangzhou?
Asked by robert from U.S.A. | Sep. 20, 2017 16:11

Reply
GuiLin railway station to sharaton Hotel( downtown)
I would like to know that How to take the bus to Sheraton Hotel in downtown. Thank you!!
Answers (1)
Answered by Janette from USA | Sep. 20, 2017 22:21

0

0

Reply
You may need to go to Shanghai Lu Kou about 800m away to take bus No. 2 to Lijiang Theatre. It is about 150m to the hotel. In fact, you can take a taxi as well, it is only about 10min by taxi.
Asked by andrea from MACAU | Sep. 08, 2017 03:48

Reply
What is the railway station more close of city center of Guilin?
Answers (3)
Answered by Hanna from ITALY | Sep. 08, 2017 05:54

0

0

Reply
It should be Guilin Railway Station, the main station in the city center
Answered by Andrea from MACAU | Sep. 08, 2017 06:26

0

0

Reply
I will arrived from Guangzhou.
Answered by YUNG | Sep. 09, 2017 03:30

0

0

Reply
There are many trains from Guangzhou, but there are only four rides arrive at Guilin Station. While, North station is not too far to the city center.