Guilin Train
Presently, there are three passenger train stations in the city: Guilin Railway Station (South Station), Guilin North Railway Station and West Railway Station.

Every day, there are over 250 pairs of trains running to and fro, linking the city with many places in the country, including bullet ones to Beijing, Shanghai, Guangzhou, Shenzhen, and Nanning.

In addition, Z5/Z6 running between Beijing and Hanoi has a stop in the city.

Below is a schedule of some of the bullet trains:
From
To
Duration (approximation)
G Type
D Type
Guilin
Beijing West
11h
---
Shanghai Hongqiao
9.5h
---
Hangzhou East
8-8.5h
---
Nanning East
2.5h
2.5-3h
Nanning
---
2.5-3h
Yangshuo
---
50m
Guilin North
Guangzhou South
2.5-3h
3h
Shenzhen North
3.5h
---
Nanning East
---
2.5-3h
Yangshuo
---
30m

See details of Guilin Train Schedule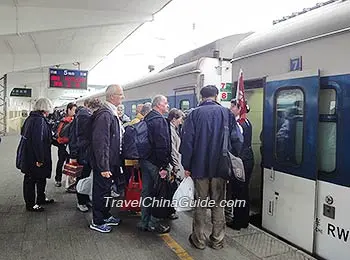 Located at the junction of Shanghai Road and Zhongshan South Road near the city center, it is more accessible than the North Railway Station. Most ordinary trains to/from the city are operated here, as well as bullet ones to/from Beijing, Shanghai, and Nanning.

Tickets
There are more than 10 ticket windows at the station. Please note that as most trains do not originate from this station, it is difficult to obtain a sleeper ticket here, especially during the
National Day
"Golden Week" (Oct.1st-7th) and
Chinese New Year
holiday. Thus, passengers in need of sleeper tickets are advised to buy the tickets departing from this station in advance.

Transportation Connections
By Bus: 3, 4, 5, 9, 10, 11, 16, 19, 22, 51, 88, 91
By Taxi: It takes about CNY 10-15 from the station to
Elephant Trunk Hill
, the landmark of the city;
By Hired Car: It takes about CNY 180-250 from the station to Yangshuo directly depending on the car type.
Tip: Arrival passengers holding high-speed train tickets can take the free airport shuttle bus from the Railway Station to Civil Aviation Mansion, where they can transfer to an airport bus to
Liangjiang International Airport
. The buses depart from the south side of the railway square at 09:30, 10:30, 11:00, 12:00, 14:00, 16:30, 18:00, 19:00 and 20:40.
Guiyang - Guangzhou High Speed Railway
and
Shenzhen-Guilin High Speed Rail Line
. Currently, the station mainly operates bullet type to/from Shenzhen, Guangzhou, Nanning and a few ordinary ones to Beijing and Shanghai.
Located in the suburbs, only buses 32, 100, and 302 can take passengers downtown from this station. If stops at the South Station in the downtown, it is better to get off there rather than this station.
At the station, there are twelve ticket windows. Tickets for trains departing from this station can also be bought at Guilin Railway Station and other railway stations in the country.
Tip: From this station, passengers can get to Liangjiang Airport directly by airport shuttle bus, which departs from Haoting Hotel located 300 yards southeast of the terminal exit. The departure time is 7:30, 12:30, and 18:30 and the ticket fare is CNY20.
- Last modified on Sep. 04, 2019 -