How to Travel Between Guilin and Yangshuo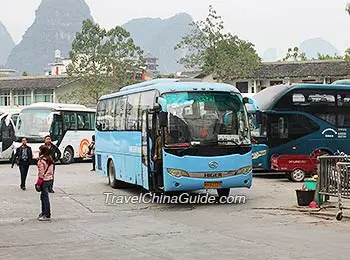 Guilin - Yangshuo Bus
In the following guide on how to get to Yangshuo from Guilin, the frequent bus is sure the first choice, which makes it possible to have a 1-day tour between the two places and an in-depth exploration to the karst lansdscape of south China.
Guilin to Yangshuo Bus Schedule

Note: All buses arrive at Yangshuo North Bus Station.



From Guilin Airport
Direct shuttle buses from Liangjiang Airport to Yangshuo are available. They leave from the Long-distance Bus Station of the airport, which is located in the southeast corner on 1F of the terminal building, close to the Domestic Arrival Lobby. Just buy the tickets and board the bus there.
Airport → Yangshuo Bus Station
Yangshuo Bus Station → Airport
09:30, 11:00, 12:30, 14:00, 15:30, 16:30, 18:00, 20:00
07:00, 09:00, 11:00, 13:00, 14:30, 16:00, 17:30, 19:00
Duration: 1.5 hours; Ticket Fare: CNY 50/person
Hotline: +86 0773-6916828

From South Bus Station
Located at west of Kaifeng Road and south of West Chadian Road, the South Bus Station operates many express buses to that county.
South Bus Station → Yangshuo Bus Station
Yangshuo Bus Station → South Bus Station
07:00 - 20:30 with the frequency of 15-30 minutes
06:45 - 20:30 with the frequency of 15-20 minutes
Duration: 70 minutes; Ticket Fare: CNY 27/person

From Railway Stations
From the front square of Guilin Railway Station
From North Railway Station
06:30 - 22:30 with the frequency of 15 minutes
10:30, 12:30, 14:00, 15:30, 16:30, 17:30, 18:30, 20:00
Duration: From Guilin Railway Station: 90 minutes; From North Railway Station: 120 minutes
Ticket Fare: From Guilin Railway Station: CNY 25/person; From North Railway Station: CNY 50/person

Note:Generally, coaches leaving from the front square of the railway station shall have several stops on the way to gather more passengers which may take longer to the destination. To save time, you may choose to go to South Bus Station to take one for a direct trip.
Nowadays, getting to Yangshuo from Guilin by train is possible. Three railway stations operate several bullet trains to Yangshuo Railway Station: West Railway Station, North Railway Station and Guilin Railway Station.
Stations
West Railway Station
North Railway Station
Main Railway Station
Guilin to Yangshuo
11:41, 11:50, 14:39, 15:55, 18:35
08:05, 12:30, 15:09, 19:55
15:48, 20:53
Yangshuo to Guilin
10:56, 12:15, 15:42, 16:55, 17:25
14:41, 18:22, 21:32
09:03
Duration
24 minutes
24 minutes
40 minutes
Ticket Fare
First Class Seat
CNY 24
CNY 25
CNY 32
Second Class Seat
CNY 20
CNY 20.5
CNY 26

Note: Yangshuo Railway Station is about 21 miles (33 kilometers) away from West Street. Upon getting to the railway station, catch the official shuttle bus with CNY20/person to the downtown within an hour. Alternatively, take a taxi at a cost of CNY80-100.
Taxi
In general, the cab fare is CNY 300-350 from Liangjiang Airport to the county. The duration is around 1.5 hours. If one travels from downtown Guilin, it costs CNY 200-250.
| | |
| --- | --- |
| Getting Onboard the Cruise Ship | Cruise Ship |
Cruise
The best way to enjoy the scenery along
Li River
is to take a cruise. The cruise trip ends at Yangshuo Shuidongmen Wharf. The cruise takes 4 to 5 hours in usual time. This route contains several main attractions, such as Crown Cave,
Nine-horse Mural Hill
and Yellow Cloth Shoal. Both Zhujiang Wharf and Mopanshan Wharf have cruises.
Wharf
Cruise Type
Ticket Fare/person
Zhujiang Wharf
Luxury Air-conditioned Cruise
April-November
CNY 270
December-March the next year
CNY 240
Super Deluxe Cruise
April-November
CNY 450
December-March the next year
CNY 380
Mopanshan Wharf
Standard Cruise
April-November
CNY 210
December-March the next year
CNY 190

Notes:
1. It is advised that tourists book the cruise ticket in advance from local hotels or travel agencies.
2. One adult can bring one child no taller than 4 feet (1.2 meters) for free; Half-price tickets are provided for children between 4 to 5 feet (1.2 to 1.5 meters).
- Last modified on Jun. 27, 2019 -
Questions & Answers on How to Travel Between Guilin and Yangshuo
Asked by CK Soo from MALAYSIA | May. 19, 2019 23:50

Reply
Taxi after SanJie Liu Impression show back to Guilin.
Three of us plan to watch the 19:40 SanJie Liu Impression show on a Monday or a Tuesday night.
The show ends at about 21:00

Is it safe and easy for us to take a taxi from SanJie Liu Impression Show area back to Guilin?
Where is the taxi stand/station at this SanJie Liu Impression Show?
How much will it cost to take this taxi trip to Guilin?

TQ/CK
Answers (2)
Answered by Anne from NETHERLANDS | May. 21, 2019 18:01

0

0

Reply
It is safe and not difficult to take a taxi. The cab fare is around CNY250-280 per taxi. However, you can also choose to take bus to Guilin. There are some buses waiting outside of the theater.
Answered by CK Soo from MALAYSIA | May. 22, 2019 07:46

0

0

Reply
Tqvm
Asked by Steve from MALAYSIA | May. 13, 2019 22:21

Reply
Yangshuo train to Guangzhou Station
Anyone know the Yangshuo train frequency timing daily to Guangzhou Train Station?
As found out departure to Gz South many train but to Gz train station none? I prefer direct to Gz train Station as nearer to city.
Answers (1)
Answered by James from USA | May. 14, 2019 18:54

0

0

Reply
There is no train direct to GZ Station and there are only 12 trains to GZ South from 8:30 to 20:00.
Asked by Steve from MALAYSIA | May. 12, 2019 22:11

Reply
Plan to take Li cruise 4 star from Guilin to yangshuo n stay for a night to watch liusanjie show.
If cruise dock near at West Street, n I hv two big luggage bag, should I take the train from YS train station to Guangzhou via public bus any problem? Instead of going back to guanlin hotel to get bags store at hotel to save time. Would appreciate Yr comments
Answers (1)
Answered by Jane from USA | May. 13, 2019 20:31

0

0

Reply
You can take a train from Yangshuo to Guangzhou. From West Street to Yangshuo Railway Station, you can take Bus Line 801 to Fengming Tourist Center, then transfer the special line to the Railway Station. Anyway, remember to book train tickets in advance.
Asked by Elise from SINGAPORE | May. 11, 2019 00:49

Reply
Hi, I will be reaching Guilin railway station from hengyang east station at 20:15
And was wondering if there's any bus to yangshuo at that time. Please advise!
Answers (1)
Answered by Dave from AUSTRALIA | May. 12, 2019 23:02

0

0

Reply
The last bus departs to Yangshuo at 20:30 from Guilin south bus station and I'm afraid you cannot catch it.