Guilin North Railway Station
First built in Oct. 1927, Guilin North Railway Station is 5 miles (9 kilometers) from Guilin Railway Station, 5 miles (8 km) from Seven Stars Park, and 25 miles (40 kilometers) from Liangjiang International Airport. Reconstruction began on Jun. 11, 2013, and the station came back into service on Dec. 10, 2014. It is nowadays the second largest station after Nanning East Station in Guangxi.

Address: Beichen Road in Diecai District

Schedule and Ticket Booking of Guilin North Railway Station
The station operates most of the trains of Hengyang-Pingxiang Railway and Guiguang Railway passing by the city. Currently one can reach Guangzhou, Guiyang, and Nanning using high speed services from the station in around 3 hours. In addition, there are ordinary services to Kunming, Shanghai, Fuzhou, Beijing, Zhengzhou, Chengdu, Xi'an, and Harbin, etc.

Major Rail Lines from Guilin to:

High Speed Train Schedule:
(Last Update on Jul 22, 2019)
To
Trains
Duration
Ticket Fare (CNY)
First/ Second Class Seat

Guangzhou South

D2985, D2959, D2997, D2963...
50 departures from 07:35 to 21:02
2h19m - 3h24m
CNY 198/ 124
USD 29/ 18

Shenzhen North

G2901, G311, G2903, G2905...
7 departures from 09:25 to 17:50
2h57m - 3h28m
CNY 362.5/ 238.5
USD 53/ 35

Guiyang North

D1838, D1862, D2804, D1782...
42 departures from 08:28 to 21:03
2h1m - 2h55m
CNY 245/ 153
USD 36/ 23

Nanning East

D3941, D8451, D3903, D8401...
45 departures from 06:48 to 20:56
2h20m - 2h59m
CNY 172/ 107
USD 25/ 16

Yangshuo

D2959, G2907, D2961, G2929...
14 departures from 08:02 to 19:29
0h22m - 0h24m
CNY 38/ 24
USD 6/ 4

Beihai

D8401, D3561, D8409, D8411...
10 departures from 07:36 to 17:04
3h54m - 4h37m
CNY 264/ 165
USD 39/ 24

Liuzhou

D3941, D8451, D3903, D8481...
56 departures from 06:48 to 20:56
1h12m - 1h35m
CNY 73/ 45.5
USD 11/ 7

Kunming South

D3941, D3903, D3949, D3953...
8 departures from 06:48 to 17:09
4h17m - 7h30m
CNY 613/ 371.5
USD 90/ 55

Normal Speed Train Timetable:
(Last Update on Jul 22, 2019)
To
Trains
Duration
Ticket Fare (CNY)
Soft/ Hard Sleeper

Beijing West

K158, K22, Z286, Z6 from 04:27 to 21:30
19h11m - 28h18m
CNY 674/ 444
USD 99/ 65

Shanghai South

K1558, K150, T382, T78...
5 departures from 03:50 to 19:37
18h20m - 25h33m
CNY 537/ 351
USD 79/ 52

Kunming

T381 at 12:16
19h57m
CNY 454.5/ 279.5
USD 67/ 41

Xi'an

K316 at 18:22
26h41m
CNY 587/ 388
USD 86/ 57

Changsha

K458, K158, Z336, Z6...
8 departures from 04:02 to 21:30
4h57m - 7h41m
CNY 250/ 142
USD 37/ 21

Nanning

T77, K1137, K1523, K581...
16 departures from 04:21 to 21:56
4h5m - 8h4m
CNY 200.5/ 108.5
USD 29/ 16

Nanjing

K1558, K1192 at 03:50 and 21:16
21h14m - 21h20m
CNY 509.5/ 317.5
USD 75/ 47

The above schedule is for reference only. For real-time schedule and ticket booking, please click the arrival stations.
See detailed
Guilin Train Schedule
Station Plan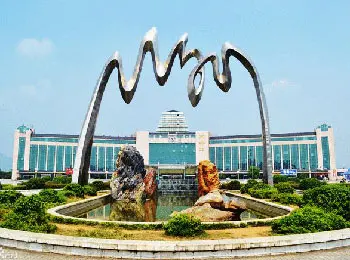 Guilin North Railway Station
The station is made up of a two-storey terminal building and a front square. There are 28 escalators as well as 8 barrier-free elevators inside the station, which make travelers' moving very convenient.

2F: waiting hall, check points, toilets, hot drinking water

1F: ticket office, platforms, entrance

Front Square: bus stops, taxi stands
How to get to north train station from downtown area?

Arrival by bus:
Intersection of Starting Station: 1, 32
Guibei Coach Station: 1 (double deck), 18, 18 (double deck), 32, K99 (double deck), 100, 211, K301B, K301
Intersection of North Station: 1 (double deck), 18 (double deck), 32, K99 (double deck), 100, K301B, K301, 303
Diecai Mart: 18, 18 (double deck), K301B, K301, K302
Passengers arriving by bus will get off at the front square. Ticket holders can enter the station directly and find the correct waiting area to wait for departure. Passengers without tickets should go o the ticket office on 1F to purchase one first and then go to the waiting hall.

Arrival by taxi:
If arriving at the station by taxi, passengers will be dropped off at the front square.
From
Duration (Minutes)
Cost (CNY)
Guilin Railway Station
30
25
Liangjiang International Airport
45
75
Elephant Trunk Hill
30
25
Zhujiang Dock
50
65

Reed Flute Cave

30
25
Ticket Check and Boarding
Check points are available inside the waiting hall. Passengers should read their tickets carefully to know exactly where to have the tickets checked. After that, follow the direction boards to the platform to board. The station is equipped with automatic ticket check machines and blue tickets can be checked by them while pink ones still need to be checked manually.
How to exit and leave the station?
Upon arriving, passengers will get out of the terminal building from an underground passage. Afterwards, they can follow the direction signs to find buses or taxis to leave the station.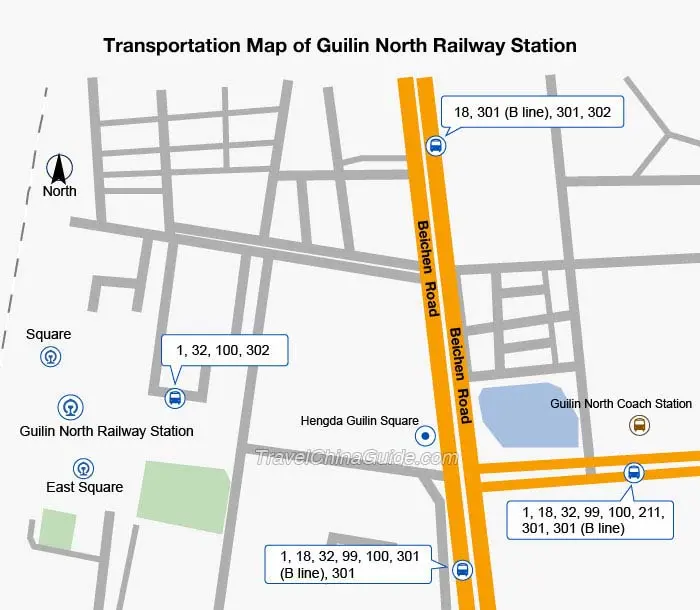 Transportation Map of Guilin North Railway Station

Leave by bus:
Bus stops can be found at the west side of the front square.

Leave by taxi:
Taxi stands are located at the front square, close to the exit.

Leave by long-distance bus:
When getting out, passengers can walk eastward for about 700 yards to North Coach Station to take a coach and leave the station. The coach station has coaches to Lingchuan, Xing'an, Quanzhou, Ziyuan, and other cities located to the north of Guilin.

Transportation to other places:

Guilin Railway Station:
Take bus line 1, 99, 100 or 301 to get there.

West Railway Station
Take bus no. 303 to the West Station.

Elephant Trunk Hill:
Take bus line 100 to Intersection of Xicheng Road and then walk southeast to the destination.

Seven Stars Park:
Take bus line 18 to get there.

Reed Flute Cave:
Take bus 100 to Beiji Square. After, walk westward to North First Ring Road to take bus line 3, and then get off at the destination

Liangjiang International Airport:
Take bus line 100 to Anxin Community Station and then change to airport shuttle bus to the destination. The airport shuttle bus is available daily from 06:00 to 21:30 every 30 minutes. It usually takes 40 minutes and the ticket fare is CNY20 per person.
Facilities and Services

Ticket Office:
12 ticket windows are in operation in the ticket office on the first floor. Here, passengers can buy, pick up, change or refund their tickets conveniently.

Waiting Hall:
The station now has five waiting rooms with an area of 5,980 square yards (5,000 square meters) on 2F; four of them are for ordinary use, and the other one for soft seat ticket holders. Wash rooms and drinking water rooms are accessible in the waiting rooms.

Left luggage service:
Passengers can store their luggage inside the waiting hall. The price ranges from CNY5 to CNY15 for each piece per day.
Print

- Last modified on Jul. 22, 2019 -
Questions & Answers on Guilin North Railway Station
Asked by guest from AUSTRALIA | Jul. 18, 2019 02:58

Reply
Hello, can I arrange pick up service from Yangshuo Town to Guilin North Station?
What is the cost for 3 people? Thank you for your reply.
Answers (1)
Answered by TravelChinaGuide | Jul. 18, 2019 18:00

0

0

Reply
Thank you for your inquiry.
We are pleased to offer transfer service for you. Would you please advise us your detailed pick up address as well as detailed pick up time & date? How many pieces of luggage do you have? You may inform us the details by email: booking

travelchinaguide.com. We will reply you as soon as possible after getting your email. We look forward to hear from you!
Asked by pablo from SPAIN | Nov. 13, 2018 10:43

Reply
guilin north to city
hi there. wanted some advice about getting from guilin north to Aroma tea house, former Jing guan Ming Lou museum hotel. is it possible by bus? which should be the price by taxi?
thanks a lot !
Answers (1)
Answered by Anne from USA | Nov. 13, 2018 18:11

0

0

Reply
You can take bus No. 100 to Yangqiao and the hotel is about 700m away.
Asked by Mélanie from CANADA | Oct. 14, 2018 23:53

Reply
From guilinbei station to Guilin central hostel
Hello. I would like to know which bus can bring me from guilin north to renmin road (Guilin central hostel).

Thank you
Answers (1)
Answered by Halley | Oct. 15, 2018 02:10

0

0

Reply
You can take bus No. 100 to Shizijie and then walk about 800m to the hostel.
Asked by Andrea from CHINA | Jun. 08, 2018 23:55

Reply
How to go to Guilin airport from north Guilin railway station
Answers (1)
Answered by Karlsson | Jun. 09, 2018 04:06

0

0

Reply
Take the airport shuttle bus, CNY20 per person, takes about 1.5 hours.
Asked by benjamin from INDONESIA | Jun. 20, 2017 10:08

Reply
bus number
i want to ask is there bus from qintan bus station to north railway station guilin?
Answers (1)
Answered by Hartha from USA | Jun. 20, 2017 20:18

0

0

Reply
Yes, bus No. 1 go from Qintan Coach Center to the North Railway Station directly. The duration may around 50 to 60min.