Zhongshan Travel Guide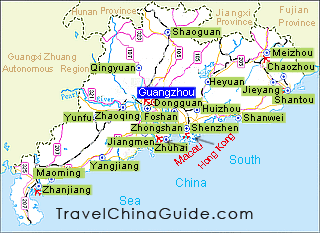 Zhongshan Facts
Chinese Name: 中山 (zhōng shān)
Population: 3,310,000
Area: 1,783.76 square kilometers (688.71 square miles)
Location: in the south-central region of Guangdong Province, southern China
Area Code: 0760
Zip Code: 528400
GDP (2018): CNY 363.27 billion (USD 54.90 billion)

Hometown of Dr. Sun Yat-sen
Located in the south-central region of Guangdong Province, Zhongshan is an important waterway that connects Guangzhou with Hong Kong and Macau. It borders Foshan and Guangzhou to the north, Jiangmen to the west and Zhuhai to the south. Zhongshan, originally called Xiangshan in ancient times, was renamed in honor of Sun Yat-sen, who was born in nearby Cuiheng in 1866. Sun Yat-sen is regarded as the father of modern China as he devoted himself to the overthrow of the feudal Qing Dynasty (1636-1912) and the foundation of a new democratic republic in China. When visiting the city, you are recommended to visit a series of historical attractions related to Sun Yat-sen. Besides its cultural heritage, Zhongshan also offers visitors charming natural surroundings, which include the graceful water townships south of the Pearl River and the splendid top 10 views of the city. It is an attractive city for investors from both home and abroad. The world Fortune Top 500 has set up more than 20 enterprises in the city. At the same time, the local hi-tech industry is developing rapidly and occupies an important place in the national market.
Scenic spots named after or built in memory of Sun Yat-sen are all over this city. The most well-known attractions include the Tourism Area of Sun Yat-sen's Hometown, Sun Yat-sen's Former Residence, Zhongshan. Dr. Sun Yat-sen's Memorial Hall, Sun Wen Xi Road, and Sun Yat-sen Park, and Zhongshan Film and Television City.



Tourism Area of Sun Yat-sen's Hometown
The Tourism Area of Sun Yat-sen's Hometown is about 20 kilometers (12 miles) away from urban Zhongshan, 90 kilometers (56 miles) away from Guangzhou, and faces Shenzhen and Hong Kong across the Pearl River Estuary. It is composed of the Museum of Dr. Sun Yat-sen, Cuiheng Village, Zhongshan Town, and the Memorial Park of the 1911 Revolution, which presents the related historical sites of Sun Yat-sen from birth to revolutionary activities.



Sun Yat-sen's Former Residence
Sun Yat-sen's Former Residence designed and built by Sun Yat-sen's himself is located in Cuiheng Village, 20 kilometers (12.4 miles) from urban Zhongshan, 90 kilometers (56 miles) from Guangzhou, 30 kilometers (18.6 miles) from Macao. It is a unique two-story building with red walls, balustrades in the shape of a green glaze bottle and 7 continuous arches on the upper and lower front corridors. The inner atrium is decorated according to Sun Yat-sen's living situation in around 1895. The wooden bed, desks, and chairs that sun yat-sen used in the bedroom and study are kept.
In modern times, Zhongshan has considerable development of a highway network linked with the maritime transportation on the delta. And except getting there by train which will arrive at Zhongshan Railway Station and Zhongshan North Railway Station, you can also reach travel destinations by taking the convenient urban city-bus or taxi.
Weather
-
Cantonese cuisine
is to be found there as well as some good quality restaurants serving western food if that is your choice.
- Last updated on May. 31, 2022 -
Questions & Answers on Zhongshan Travel
Asked by Bryan from GB | Nov. 08, 2018 03:09

Reply
Fishing Lakes in Zhongshan
What are the addresses of any fishing lakes?
Answers (4)
Answered by December from USA | Nov. 08, 2018 19:39

0

0

Reply
Xiaoyin Reservoir, about 1.5 kilometers from the Xiaoyin Market, Huoju development area

Answered by Bryan from GB | Nov. 09, 2018 07:14

0

0

Reply
Thanks for the reply, are there any others?
Answered by December | Nov. 11, 2018 17:47

0

0

Reply
Jiya Shuidao, located at Nantou Town.
Answered by Bryan from GB | Nov. 12, 2018 04:01

0

0

Reply
Thanks
Asked by Roman from RUSSIA | Oct. 01, 2017 12:47

Reply
Where I can fix my laptop in Zhongshan ?
Do you have any recommendations ?
Answers (1)
Answered by Chris from ICELAND | Oct. 09, 2017 01:57

0

0

Reply
Generally speaking, all the Computer cities provide the service. I happen to know Haitian Computer City in 2 South Daxin Rd.
Asked by gerard from GERMANY | Dec. 06, 2016 01:01

Reply
How can I find table lamp with loops in Zhongshan?
Do you know the shopping for wholesale for LED table lamp?

Thank you for answering me.
Answers (1)
Answered by Edward from USA | Dec. 06, 2016 03:50

1

1

Reply
You may go to World Trade Lighting Center on 1F to 3F, Yitinghaoyuan, Zhongxing Avenue, Guzhen Town. You can find what you need there!
Asked by Vassia from CYPRUS | Nov. 21, 2016 02:28

Reply
Which is the name of the airport for I want to come to xiaolan town, zhongshan?
Answers (1)
Answered by Jordan from DENMARK | Nov. 21, 2016 21:28

1

0

Reply
You are advised to take a flight to Guangzhou Baiyun Airport. Upon arrival, there are several long-distance buses that can take you Xiaolan Town. The schedules are from 08:40 to 21:00. The trip takes around 110 mins. And the ticket fare is CNY 67 per person.