Jiangmen Travel Guide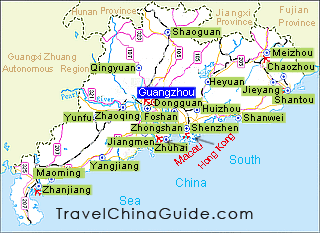 Jiangmen Facts:
Chinese Name: 江门 (jiāng mén)
Population: 3,960,000
Area: 9,541 square kilometers (3,684 square miles)
Nationalities: Han
Administrative Division: 3 districts (Jianghai, Pengjiang, Xinhui); 4 county-level cities (Enping, Taishan, Kaiping, Heshan)
Useful Telephone Numbers:
Tourist Complaints: 0750-3515566
Weather Forecast: 121
Zip Code Inquiries: 184
Bank of China: 0750-3163333, 3163380
Location: Jiangmen City is located in south-central of Guangdong Province, west of the Pearl River Delta. Adjacent to Zhongshan in the east and Foshan in the north, the city faces southward to the South Sea and neighboring Hong Kong and Macau.
History: In the early Ming Dynasty (1368-1644), bazaars began to be gathered in this area. In early years of the 17th Century, it gradually became a trade center in the Pearl River Delta, being a busy place of distribution in the middle and lower reaches of the Xijiang River. This place used to be a dependency of the Xinhui County, but since 1925, it became independent city. It is a well-known town of oversea compatriots. As early as the Tang Dynasty (618-907), the local people began to leave home and settle abroad.
Physical Features: Vast area of hills and mountains is disbursed over the north and the northwest, while the river valleys, fluvial plains and delta plains, mainly scattered in eastern, central and southern part of the city, are interweaved with sporadic hills and terraces. It has a coastline of 330 kilometers (205 miles) with 268 islands of all sizes dotted along the shores.
Climatic Features: Standing at low latitude, subtropical zone, Jiangmen enjoys a maritime monsoon climate featuring warm and humid weather. Its temperature during a year varies slightly, at an average value of 22

C (72

F). April to September is the flood season collecting eighty percent of the rainfall of the whole year. Typhoon may frequently affect that area during July to September.
When to Go: Visitors should avoid going there during the flood season and the period typhoon frequently occurs.
Local Highlights: It has three rivers running through. Around the Dragon Boat Festival (in the fifth day of the fifth lunar month), people would like to participate in the dragon boat races. During the activity, exhibition games and friendly games and formal competitions are held to satisfy the folks' passion and enthusiasm.
Special Local Products: palm fans of Xinhui District, sun-cured tobacco of Heshan City, preserved kohlrabi of Hetang Town

Attractions:
Chuan Island: Situated in the Chuandao Town, Taishan City, the Chuan Island has a coastline of 222.3 kilometers (138 miles) with a multitude of beautiful islets. The most famous islets are the Shangchuan Island and the Xiachuan Island, on which there are enchanting beaches and primeval second forest, strange rocks and hills.
Guifeng Mountain: The mountain is situated in Xinhui District and this famous scenic spot has elevated to a national forest park and ranks as one of the famous tourist zones in Guangdong. The lofty mountains, emerald forest and lakes give the mountain endless vigor. There are regular buses passing by the mountain in Jiangmen General Bus Station and Xinhui General Bus Station in Xinhui District.
Liyuan Garden: This private garden was built by an oversea compatriot in 1936. Located in Tangkou Town, Kaiping City, the garden can be regarded as a first-rate one combining with the lingering charms of China and the occident. The layout of the garden can be delimited into Villa Zone, Grand Garden and Little Garden.
In addition, Kaiping Diaolou and Villages is another local must-see attraction for the city.


Jiangmen Travel Tips:
1.
Guangzhou Baiyun International Airport
has opened the
Airport Express
which greatly shortens the trip to the airport to circa 110 minutes. Visitors can check in ahead of time in the airport terminal established by the Baiyun Airport in the city.
2. It is easy to travel to Guangzhou, Foshan, Zhongshan, and Zhuhai by the bullet trains from Jiangmen with the operation of
Guangzhou-Zhuhai Intercity Mass Rapid Transit
. Along this rail line, there are 4 stations in the city, including Jiangmen and Xinhui in use, and Waihai and Liyue unused. Everyday, there are 20 bullet trains running from Guangzhou South Railway Station to Jiangmen, and vice versa. Those trains leave Guangzhou South from 06:45 to 21:25, and return from 07:08 to 22:48. It generally takes about 40 to 50 minutes. The ticket fare is CNY 50 for a first class seat and CNY 40 for a second class seat.
3. In addition, the completion of the Expressway to Zhuhai reduces the journey to Zhuhai Airport from previous two hours to one hour.
4. Jiangmen to Hong Kong and Macau ferry terminal lies in the Hi-tech Development Zone of the city. Every day there are three ships to Hong Kong and one to Macau. On public holidays, ships between the ferry terminals of Jiangmen and Hong Kong will rearrange their schedule.
-