Jiangmen Travel Guide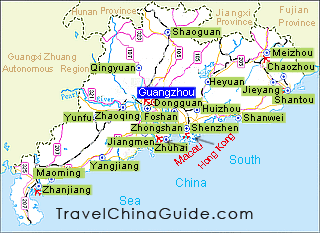 Jiangmen Facts
Chinese Name: 江门 (jiāng mén)
Population: 4,830,000
Area: Land Area: 11,347 square kilometers (4,381 square miles), Sea Area: 4,519 (1,745 square miles)
Location: in the south-central of Guangdong Province, southern China
Administrative Division: 3 districts (Jianghai, Pengjiang, Xinhui); 4 county-level cities (Enping, Taishan, Kaiping, Heshan)
Area Code: 0752
Zip Code: 516000
GDP (2018): CNY 410.3 billion (USD 62.0 billion)

Famous for Kaiping Diaolou & Enping Spring
Jiangmen, a part of Guangdong-Hong Kong-Macao Greater Bay Area and an important transportation hub connecting the cities in the Pearl River Delta, Hong Kong and Macao with the west of Guangdong. It is adjacent to Zhongshan and Zhuhai on the east, Yangjiang on the west and Foshan and Yunfu on the north. It is also the location of Diaolou which is a multi-storey building featuring Chinese and Western architectural art and integrating defense and residential functions. The abundant hot spring scenic spots in Enping are also very popular. As a famous capital of overseas Chinese, Jiangmen has more than 4 million overseas Chinese living all over the world.

Chuan Island: Situated in the Chuandao Town, Taishan City, the Chuan Island has a coastline of 222.3 kilometers (138 miles) with a multitude of beautiful islets. The most famous islets are the Shangchuan Island and the Xiachuan Island, on which there are enchanting beaches and primeval second forest, strange rocks and hills.

Guifeng Mountain
: The mountain is situated in Xinhui District and this famous scenic spot has elevated to a national forest park and ranks as one of the famous tourist zones in Guangdong. The lofty mountains, emerald forest and lakes give the mountain endless vigor. There are regular buses passing by the mountain in Jiangmen General Bus Station and Xinhui General Bus Station in Xinhui District.

Liyuan Garden
: This private garden was built by an oversea compatriot in 1936. Located in Tangkou Town, Kaiping City, the garden can be regarded as a first-rate one combining with the lingering charms of China and the occident. The layout of the garden can be delimited into Villa Zone, Grand Garden and Little Garden.
In addition,
Kaiping Diaolou and Villages
is another local must-see attraction in Jiangmen.
How to get to/around Jiangmen
1.
Guangzhou Baiyun International Airport
has opened the
Airport Intercity Bus
which greatly shortens the trip Jiangmen and Baiyun Airport to circa 110 minutes. Visitors can check in ahead of time in the airport terminal in Jiangmen established by the Baiyun Airport.
2. It is easy to travel to Guangzhou, Foshan, Zhongshan, and Zhuhai by the bullet trains from Jiangmen with the operation of
Guangzhou-Zhuhai Intercity Mass Rapid Transit
. Along this rail line, there are 4 stations in the city, including Jiangmen and Xinhui in use, and Waihai and Liyue unused. Everyday, there are 20 bullet trains running from Guangzhou South Railway Station to Jiangmen, and vice versa. Those trains leave Guangzhou South from 06:45 to 21:25, and return from 07:08 to 22:48. It generally takes about 40 to 50 minutes. The ticket fare is CNY 50 for a first class seat and CNY 40 for a second class seat.
3. In addition, the completion of the Expressway to Zhuhai reduces the journey to Zhuhai Airport from previous two hours to one hour.
4. Jiangmen to
Hong Kong China Ferry Terminal
lies in the Hi-tech Development Zone of the city. Every day there is one ship to Hong Kong. On public holidays, ships between the ferry terminals of Jiangmen and Hong Kong will rearrange their schedule.
5. Long-distance buses run along
Hong Kong-Zhuhai-Macau Bridge
from Hong Kong Shatin New Town Plaza, Shatin Hilton Plaza, Tai Wai Station Public Transport Interchange, Tsuen Wan Plaza and others to Jiangmen Yucca Hotel . The buses depart from 07:30 to 14:00 with the ticket fare of HKD 150 / 260 for a single / round trip respectively.
Weather
-
Standing at low latitude, subtropical zone, Jiangmen enjoys a maritime monsoon climate featuring warm and humid weather. Its temperature during a year varies slightly, at an average value of 22

C (72

F). April to September is the flood season collecting eighty percent of the rainfall of the whole year. Typhoon may frequently affect that area during July to September.

When to Go: Visitors should avoid going there during the flood season and the period typhoon frequently occurs.
Jiangmen Travel Tips

History: In the early Ming Dynasty (1368-1644), bazaars began to be gathered in this area. In early years of the 17th Century, it gradually became a trade center in the Pearl River Delta, being a busy place of distribution in the middle and lower reaches of the Xijiang River. This place used to be a dependency of the Xinhui County, but since 1925, it became independent city. It is a well-known town of oversea compatriots. As early as the Tang Dynasty (618-907), the local people began to leave home and settle abroad.



Physical Features: Vast area of hills and mountains is disbursed over the north and the northwest, while the river valleys, fluvial plains and delta plains, mainly scattered in eastern, central and southern part of the city, are interweaved with sporadic hills and terraces. It has a coastline of 330 kilometers (205 miles) with 268 islands of all sizes dotted along the shores.



Local Highlights: It has three rivers running through. Around the Dragon Boat Festival (in the fifth day of the fifth lunar month), people would like to participate in the dragon boat races. During the activity, exhibition games and friendly games and formal competitions are held to satisfy the folks' passion and enthusiasm.



Special Local Products: palm fans of Xinhui District, sun-cured tobacco of Heshan City, preserved kohlrabi of Hetang Town
- Last updated on May. 30, 2022 -
Questions & Answers on Jiangmen Travel
Asked by Tasso from SINGAPORE | Dec. 25, 2019 23:13

Reply
How I can travel from Guangzhou new airport to Jiangmen?
Answers (1)
Answered by Sam from NEW ZEALAND | Dec. 26, 2019 18:01

0

0

Reply
There is direct shuttle bus line of Jiangmen you can take from the airport to Yucca Hotel in Jiangmen. It runs from 8:40 to 22:50 with CNY76.
Asked by Wong Pik Kuan from MALAYSIA | Sep. 29, 2018 02:11

Reply
How can I travel from Shaping to Kaiping? any bus or train service?
Answers (1)
Answered by Ken from USA | Sep. 29, 2018 21:59

0

0

Reply
Dear, you can take the direct bus at Shaping Bus Station to Shuikou Bus Station in Kaiping. There are many buses operated between the two places. They depart from 06:30 to 20:15 and leave every 15 - 25 minutes. The ticket fare is CNY12.

Asked by Dreena Wong from MALAYSIA | Apr. 27, 2018 21:18

Reply
I went to CKS website but could not find ferry service from HK to Jiangmen.
Is the service still available?
What is the actual transit time by ferry?
Answers (4)
Answered by Haylee from ENGLAND | Apr. 27, 2018 22:35

0

0

Reply
I was told there are two ferries from China Ferry Terminal in HK to JM at 8:00 and 14:00, which takes about 3h. You may go and have a check.
Answered by Dreena Wong from MALAYSIA | May. 02, 2018 02:31

0

0

Reply
Hi Haylee,

Thank you for your reply.

I checked the ferry available on CKS website but however, there is no ferry schedule available.

As such, I need further assistance please.
Answered by Haylee from ENGLAND | May. 02, 2018 04:27

0

0

Reply
You are suggested to check the ferry on some Chinese travel websites and they can help you to book the tickets. Oh, ask for help from your Chinese friends, since there is only Chinese version.
Answered by Ken from CHINA/USA | Aug. 20, 2018 19:18

0

0

Reply
OK, right now there is only one option per day I believe at 8 am from Hong Kong. HOWEVER this ferry goes to Zhongshan and a shuttle bus take you to Yucca Hotel area.

It is my understanding that they have purchased a new ferry and are training and the Hong Kong to Doumen to Jiangmen route will be resumed this fall.

Until then your nest return option is to take the shuttle bus from Yucca Hotel back to Zhongshan ferry terminal. There is one shuttle departing at 7:20 and one at 12:20.
Asked by Deborah Anderson from USA | Mar. 07, 2018 15:28

Reply
Which is closer, the ferry from Jiangmen to Hong Kong or
the ferry to Macao?
Our family will be staying for three days in Hong Kong after visiting China.
While we are in Hong Kong visiting sites and relatives for the first time, we'd
also like to visit Macao where my great great grandfather had property at one time.
Is it better to take a boat to Macao after we are already in Hong Kong or is it better
to take the ferry to Macao and go to Hong Kong after Macao?
Answers (1)
Answered by Lily from DENMARK | Mar. 07, 2018 21:22

0

0

Reply
Macao is closer, but I'm not sure if the ferry is still running. Since I was told the ferry to Hongkong has been canceled.
You are suggested to take a bus from JM General Bus Station to Gongbei Port and then pass through it to Macau.
After that, you can take a ferry from Macau to HK.
Hope it helps!
Asked by DEBORAHANDERSON | Mar. 02, 2018 00:04

Reply
Is there a ferry from Zhongshan or Jiangmen Kaiping to Hong Kong
Our family of 8 people, 6 adults and 2 children ages 5 & 8 years old will be going to Kaiping to visit our maternal ancestral village. After our visit to Kaiping we will go to Hong Kong. Is their a boat or ferry that can transport us to Hong Kong? If so, where do we take it and what is the cost? Do they offer senior and Child's discounted prices? How long is the ride? Is their a bus and/or train or private driver? Which option is best for our family.

Answers (9)
Answered by Lily from CANADA | Mar. 02, 2018 01:27

0

0

Reply
Hi, ferries to HK from Zhongshan are available. You can take a bus from Kaiping to Zhongshan first. Then go to Zhongshan Passenger Port to take a ferry. Seven ferries are available daily between 08:00 and 20:00. It takes 90min and the fare is 23HKD for an economy class cabin and 310HKD for a first class cabin.

Children under 5 years old can enjoy 50% off. So your kids need to pay the same as adults.
Answered by Deborah Anderson from USA | Mar. 02, 2018 03:59

0

0

Reply
Thank you for this information. Do we book online or do we buy the ferry tickets at the port?
Do the tickets sell out quickly for the month of September or are there plenty of tickets available?
Answered by Deborah Anderson from USA | Mar. 02, 2018 04:10

0

0

Reply
If the ferry cost 23HKD the US price comes to just under . Are you sure the cost is 23HKD and not more. 310HKD comes to just under $40. US. Just want to make sure. Thank you again.
Answered by Iris from POLAND | Mar. 04, 2018 19:18

0

0

Reply
Hello, you can either buy ticket on the spot or book in advance through CKS. Generally, Sep. is during the peak season. And I just checked that the fare should be 230HKD. I think it was a typo.
Answered by Deborah Anderson from USA | Mar. 05, 2018 00:51

0

0

Reply
Hello again,
I heard that you can also take a ferry from JM. Do you know if this is correct?
You mentioned that I can book tickets through CKS.
Please explain what CKS is and provide a website. Thank you
Answered by Manny from SINGAPORE | Mar. 05, 2018 01:08

0

0

Reply
Yes, it's correct!
CNK refers to Chu Kong Passenger Transport, where you can book the ferry.
Answered by Deborah Anderson from USA | Mar. 05, 2018 01:40

0

0

Reply
Do you have an email address, phone # and website for Chu Kong Passenger Transport?
Also, is JM closer to Kaiping than Zhongshan is from Kaiping?
Answered by Manny | Mar. 05, 2018 03:00

0

0

Reply
Search Chu Kong Passenger Transport, you will find the official website, where you can book the tickets.
And yes, JM is much closer to Kaiping than Zhongshan.
Answered by Deborah Anderson from USA | Mar. 05, 2018 03:08

0

0

Reply
Thank you, I will look tomorrow.