Dongguan Travel Guide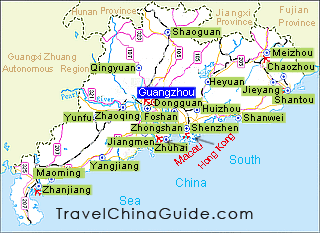 Dongguan, being located in the mid-south of Guangdong Province and in the east of the Pearl River Delta, is 50 kilometers (about 31 miles) south of Guangzhou, and 90 kilometers (about 56 miles) north of Shenzhen. It is 47 nautical miles from Hong Kong as well as 48 nautical miles from Macau. Currently, the city also plays a vital role in the communication between Guangzhou and Hong Kong.

In the year of 331 Dongguan was first built as a county but the history of this area can be traced back to the Neolithic Age. About 150 years ago, the famous Incineration of Opium during the Opium War took place in Humen Town of this city, opening a new chapter of Chinese modern history. Now, visitors have opportunities to visit the most complete ancient battlefield remains in the world. During the current era of reform and opening-up in China, Dongguan's economy maintains a substantial and rapid development, making the city an important international industrial city. By 1988, it was upgraded to be a prefecture-level city of Guanggong Province.

At present, covering an area of 2,465 square kilometers (about 952 square miles), the city administers 28 towns and 4 subdistricts. In the year 2005, the population of this region reached 7,506,300, including 5,849,800 temporary residents. Additionally, Dongguan is the hometown of 280,000 overseas Chinese and more than 70,000 compatriots in Hong Kong. All of them have made lots of contributions to the development of their hometown.
A number of historical sites are left in the city which has experienced a long and splendid history. The destinations related to the Opium War tell the early modern history to every visitor. Apart from those, Keyuan Garden and Hermit Villa should not be missed on your trip. They are ideal places for people to relax in the bustling industrial city. While developing the economy, the local government has also paid great attention to the city's tourism industry. In recent years, a number of natural tourism destinations have been built in Dongguan, such as Humen Bridge, Humen Naval Battle Museum, Opium War Museum, Keyuan Garden and Yinxian Resort, adding more color to your trip.
Catering for the needs of the city's further development, the pubic facilities in this city are being improved step by step. By now, visitors from both home and abroad can get here easily by air, ship or coach. At the same time, subway, public bus and taxi make the transportation inside the city easier. A large number of star-rated hotels are situated everywhere in this city.
Weather
-
When to Go: September and October are the best time to visit Dongguan.
The advantageous geographical position brings to Dongguan a pleasant climate and rich resources. When you come here in the harvest season, you must sample some local agricultural products such as bananas, litchi, longan, pineapples, etc. And the 115.98 kilometers (about 72 miles) long coastline supplies the locals with abundant seafood which is the main ingredient of local dishes. Don't forget to try it in your travels.
- Last modified on Mar. 26, 2019 -
Questions & Answers on Dongguan Travel
Asked by Ruth from GERMANY | May. 23, 2019 15:02

Reply
How long is the travel time from Guangzhou to Dongguan with the high speed train?
Answers (1)
Answered by Andy from MALAYSIA | May. 23, 2019 18:20

0

0

Reply
It takes about 30 to 45 mins due to different trains.
Asked by Ruth from PHILIPPINES | May. 14, 2019 15:28

Reply
What is the easiest trip to Dongguan City from Manila Philippines?
Answers (1)
Answered by Alice from USA | May. 14, 2019 22:50

0

0

Reply
You can take a flight to Guangzhou and then take high speed train from GZ East to Dongguan.
Asked by Paras from INDIA | Mar. 21, 2019 07:46

Reply
Could you please inform best way to travel from Dongguan Dalang Town to houjie city?
Answers (1)
Answered by Chloe from DENMARK | Mar. 26, 2019 00:23

0

0

Reply
You can take bus no.876 to Convention and Exhibition Center first. Then walk east around 500 meters to get to Hongfu Road Metro Station. Take metro line 2 to Liaoxia Station, Exit C. After arriving, walk southwest around 850 meters to get to Houjie Town.
Asked by Y B from PULAU | Mar. 19, 2019 21:17

Reply
Is there a faster way to Dongguan Dalang from Baiyun Airport than the Bus(2hrs)?
Answers (1)
Answered by Megan from FINLAND | Mar. 25, 2019 01:28

0

0

Reply
I am afraid that taking the direct shuttle bus from the airport is the fast and the most convenient way for you.
Asked by Graeme from AUSTRALIA | Mar. 19, 2019 01:31

Reply
How to get from Dongguan Railway Station to Donnguan Basketball Centre?
Answers (2)
Answered by Hudson from FRANCE | Mar. 21, 2019 23:12

0

0

Reply
Take metro line 2 from railway station to Hongfu Road Station, Exit B1. Then change to public bus no.328 to Changkeng Bus Stop. Afterwards, walk northwest around 700 meters to find the basketball center.
Answered by Graemr from AUSTRALIA | Mar. 22, 2019 04:35

0

0

Reply
Thankyou :)