Dongguan Travel Guide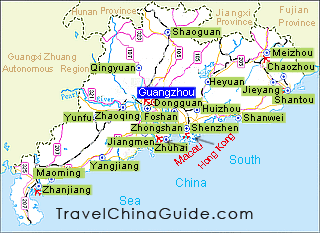 Dongguan, being located in the mid-south of Guangdong Province and in the east of the Pearl River Delta, is 50 kilometers (about 31 miles) south of Guangzhou, and 90 kilometers (about 56 miles) north of Shenzhen. It is 47 nautical miles from Hong Kong as well as 48 nautical miles from Macau. Currently, the city also plays a vital role in the communication between Guangzhou and Hong Kong.

In the year of 331 Dongguan was first built as a county but the history of this area can be traced back to the Neolithic Age. About 150 years ago, the famous Incineration of Opium during the Opium War took place in Humen Town of this city, opening a new chapter of Chinese modern history. Now, visitors have opportunities to visit the most complete ancient battlefield remains in the world. During the current era of reform and opening-up in China, Dongguan's economy maintains a substantial and rapid development, making the city an important international industrial city. By 1988, it was upgraded to be a prefecture-level city of Guanggong Province.

At present, covering an area of 2,465 square kilometers (about 952 square miles), the city administers 28 towns and 4 subdistricts. In the year 2005, the population of this region reached 7,506,300, including 5,849,800 temporary residents. Additionally, Dongguan is the hometown of 280,000 overseas Chinese and more than 70,000 compatriots in Hong Kong. All of them have made lots of contributions to the development of their hometown.
A number of historical sites are left in the city which has experienced a long and splendid history. The destinations related to the Opium War tell the early modern history to every visitor. Apart from those, Keyuan Garden and Hermit Villa should not be missed on your trip. They are ideal places for people to relax in the bustling industrial city. While developing the economy, the local government has also paid great attention to the city's tourism industry. In recent years, a number of natural tourism destinations have been built in Dongguan, such as Humen Bridge, Humen Naval Battle Museum, Opium War Museum, Keyuan Garden and Yinxian Resort, adding more color to your trip.
Catering for the needs of the city's further development, the pubic facilities in this city are being improved step by step. By now, visitors from both home and abroad can get here easily by air, ship or coach. At the same time, subway, public bus and taxi make the transportation inside the city easier. A large number of star-rated hotels are situated everywhere in this city.
Weather
-
When to Go: September and October are the best time to visit Dongguan.
The advantageous geographical position brings to Dongguan a pleasant climate and rich resources. When you come here in the harvest season, you must sample some local agricultural products such as bananas, litchi, longan, pineapples, etc. And the 115.98 kilometers (about 72 miles) long coastline supplies the locals with abundant seafood which is the main ingredient of local dishes. Don't forget to try it in your travels.
- Last modified on Sep. 17, 2019 -
Questions & Answers on Dongguan Travel
Asked by C Edwards from WALES | Nov. 25, 2019 12:16

Reply
Please can you tell me the postcode for this address
Heng Tailong Warehouse Co.Ltd
West Yiheng Road
Kapok Industrial Area
Qishi Town
Dongguang City
Gucngdong Province
China

Answers (1)
Answered by Nina from CANADA | Nov. 27, 2019 18:55

0

0

Reply
523000.
Asked by Anju Gupta from NEPAL | Sep. 14, 2019 08:52

Reply
I am visiting Dongguan on 15th September 2019. Please help me to find vegetarian restaurant near by.
Answers (1)
Answered by Nate from CANADA | Sep. 17, 2019 02:14

0

0

Reply
Where do you live in this city? So I can find the nearby vegetarian restaurant for you.
Asked by Singh from INDIA | Sep. 13, 2019 04:21

Reply
Hello,I want to visit window of the world park now i m Shenzhen metro station
could you suggest how to go window of the world from metro station
Answers (1)
Answered by Rich from USA | Sep. 16, 2019 19:06

0

0

Reply
You can take metro line 1/2 and get off at Window of the world station, then walk south of 200m to it.
Asked by Sam from BENJAMIN | Sep. 01, 2019 11:27

Reply
At Guangzhou Baiyun airport, can you get a train (bullet or high speed train) to Dongguan station?
Hi there

1) I wanted to know whether it was possible a direct train from baiyun airport to Dongguan station or would I need to go to GZ east railway before getting a fast train to Dongguan?

2) Is it possible to get a transportation smart card from the baiyun airport? Can I top this up and use it on high speed trains?

Many Thanks
Answers (1)
Answered by Reece from USA | Sep. 04, 2019 18:05

0

0

Reply
1. Do you mean train station of Dongguan? Sorry, there isn't. You need to go to Guangzhou East Railway station to take high speed train.
2. Yes, you can buy it in 7-11 store. You can top it up but it can't be used on high speed train.
Asked by Langit from INDONESIA | Aug. 19, 2019 00:01

Reply
I will visit Dongguan at 25-31 August 2019.
Please provide information of Halal Restaurants nearby Chinflux Mandarin Hotel in DG City.
Answers (4)
Answered by Ella from CANADA | Aug. 21, 2019 02:42

0

0

Reply
You can find Halal Beef Noodles Restaurant nearby the hotel, which is located at the intersection of Xinglong Street and East Zhenxing Road. You can go and see.
Answered by Langit from INDONESIA | Aug. 21, 2019 03:17

0

0

Reply
What is the name of the restaurant?
Answered by Ella from CANADA | Aug. 21, 2019 20:39

0

0

Reply
It doesn't has English translation about the restaurant name, just Halal Beef Noodles Restaurant. I think you will know from the outside of restaurant.
Answered by Langit from INDONESIA | Aug. 22, 2019 03:07

0

0

Reply
Thank you so much for your answers.