Shaoguan Travel Guide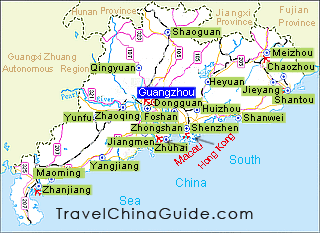 Shaoguan Facts
Chinese Name: 韶关 (sháo guān)
Population: 2,997,600
Area: 18,400 square kilometers (7,104 square miles)
Location: in the north of Guangdong Province, southern China
Administrative Division: 3 districts (Zhenjiang, Wujiang, Qujiang); 4 counties (Shixing, Renhua, Wengyuan, Xinfeng); 1 autonomous county (Ruyuan Yao Autonomous County); 2 county-level cities (Lechang, Nanxiong)
Area Code: 0751
Zip Code: 512000
GDP (2018): CNY 134.39 billion (USD 20.31 billion)

Birthplace of the Southern Chan School of Buddhism & Guangdong's Largest Spring Resort
Shaoguan is regarded as the north gate of Guangdong Province, neighboring Hunan to the north, Jiangxi to the east and Guangzhou to the south. It is rich in land and water transportation resources, functioning as a vital pass to the coastal area of South China. Nanhua Temple in Shaoguan is the place where the Sixth Patriarch Hui Neng of the Tang Dynasty (618-907) carried forward the Southern Chan School of Buddhism. The temple is dedicated to the real body of Hui Neng. It is also very enjoyable to visit Shaoguan spring resorts where the temperature of springs is constant and the infrastructures are perfect. The Caoxi Spring Holiday Resort located at Maba Town is the largest spring resort in Guangdong, which is 1.5 kilometers (0.9 miles) north of Nanhua Temple and only 2.5 hours bus ride from Guangzhou. As the gateway for the residents of central China to move south into Guangdong, Shaoguan has accommodated a great number of Hakka people, forming splendid Hakka culture and becoming one of the four major Hakka gathering places in mainland China.
Shaoguan Attractions - Things to Do

Danxia Mountain
: The mountain boasts of the largest tourist attraction and the most beautiful scenery of Guangdong. It is also a world famous geopark. The Danxia Landform is nominated for this mountain. It contains nearly 700 pieces of large red glutenite and many grotto temples.

Nan Hua Temple
: 22 kilometers (14 miles) from the city downtown Shaoguan, the Nan Hua Temple is a famous Buddhist site, where the sixth founder of the Buddhism generation in Tang Dynasty (618-907), Hui Neng, established the southern sect of Zen. With a history of 1,500 years, the temple keeps many national treasures, including the Da Zang Sutra, decree and cassock of thousand years ago.
How to get to/around Shaoguan
Visitors can get on trains making stops in Shaoguan to Guangzhou, Kowloon for about three and four hours. Road transportation of the city is also convenient. Two main bus stations existed in the city, the west bus station and the east bus station. Several buses to Guangzhou, Zhuhai and Shenzhen will depart in the stations. In addition, there are regular buses in the east bus station departing to the Danxia Mountain every 15 minutes.

See more Hong Kong - Shaoguan Train, Shenzhen - Shaoguan Train, Shaoguan - Guangzhou Train, Xi'an to Shaoguan Train, Beijing to Shaoguan Train, Shanghai - Shaoguan Train
Weather
-
Enjoying a subtropical humid monsoon climate, Shaoguan is affected by the seasonal winds all the year round. Spring is overcast and rainy, while precipitation in autumn is fewer. March to August is the rainy season and September to February the next year is the dry season.

When to Go: Shaoguan has abundant rainfall and moderate weather, so visitors can get there at anytime, especially in spring and autumn.
Shaoguan Travel Tips

History: Shaoguan area belonged to Chu Kingdom in the Warring States Period (476BC-221BC). The place was named with 'Shao' since the Sui Dynasty (581-618), and in Ming (1368-1644) and Qing (1644-1911) dynasties it gained the name 'Shaoguan' for the government established passes here to collect taxes.



Physical Features: Lying in the south part of the Nanling Mountains, this region has vast area of karst landform. Hilly area constitutes the main land of the city. The Danxia Landform is nominated for the red sandstone in the Mt. Danxia of Renhua County. The terrain is higher in the north and lower in the south.



Local Highlights: Folk costumes of the Yao ethnic minority is interesting, especially the marriage customs.



Special Local Products: Lechang Baimaojian (raw white tea), mushroom, plum
- Last updated on May. 31, 2022 -
Questions & Answers on Shaoguan Travel
Asked by Andrew from NEW ZEALAND | May. 26, 2021 08:10

Reply
Is there a subway system in Shaoguan?
Answers (1)
Answered by Landon | May. 30, 2021 20:08

0

0

Reply
There is no subway system in the city currently.
Asked by Patrick Hoe from SINGAPORE | May. 04, 2019 00:44

Reply
I plan to stay overnight 1 day to visit Shaoguan
planning to travel from Guangzhou, is there a bullet train from Guangzhou to Shaoguan?
Answers (1)
Answered by Alan from UNITED KINGDOM | May. 06, 2019 23:10

0

0

Reply
Yes, there are more than 70 bullet trains departing from Guangzhou South Station to Shaoguan from 6:28 to 21:00. It takes about 1 hour for a single journey and the ticket price for a second class seat is CNY 105.
Asked by Devi from INDONESIA | Dec. 01, 2018 22:56

Reply
Hi, is it possible travel to nan hua temple & danxia mountain by ourselves?
And how is it from shaoguan city?
Answers (1)
Answered by Charles from UNITED KINGDOM | Dec. 03, 2018 18:21

0

0

Reply
Yes, it is possible. From Shaoguan to Nanhua Temple, you can take the bus to Tielong at East Railway Station and get off at Nanhua Temple. Or you can first take the bus across from East Railway Station to Mabei and then take the bus No.3 at Mabei to Shaxi. And get off at Nanhua Temple.

To Danxia Mountain, you need first go back to East Railway Station where you can take the bus to Danxia Mountain.
Asked by Shaheen from INDIA | Sep. 13, 2018 23:26

Reply
How long from Shaoguan glass bridge to Nanhua temple and how to go?
Hello,
I am visiting glass bridge from Guangzhou. May I know how long is the Nanhua temple from the bridge and how to get there?
Also is there any other spot worth visit near by?
I have planned for only one day there. Returning by 8PM train.
Thanks,
SR
Answers (1)
Answered by Jessica from BELGIUM | Sep. 14, 2018 19:23

0

0

Reply
It's about 60km. I haven't found any direct public bus available yet. You can take a bus from Ruyuan Bus Station to Shaoguan West Bus Station and then take Bus Line 4 to Linjiaba and transfer to Bus Line 23 to the temple. I think you may don't have time to visit other places since you have to spend a lot of time on the way.
Asked by Jennifer Yap from MALAYSIA | Apr. 11, 2018 17:30

Reply
Is the Hakka Village in Shaoguan? If not how far is it from this place?
Where should I stay to visit Hakka village? What are the other places of attaction around the hakka village?
Answers (1)
Answered by Gloria from SINGAPORE | Apr. 11, 2018 20:48

1

0

Reply
Yes, there is and the most famous is Shitang Village in Renhua County. It's a little far from downtown SG, about 45km. You can take a regular bus from SG South Bus Station to Renhua first, and then take a taxi to the village.
You are suggested to stay near the South Bus Station, and there are many reasonable hotels available.
Around the village you can also enjoy an ancient fort named Shuangfengzhai.
Enjoy your time!