Shaoguan Travel Guide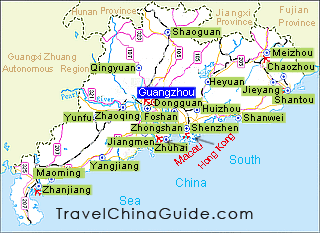 Shaoguan Facts
Chinese Name: 韶关 (sháo guān)
Population: 3,203,200
Area: 18,385 square kilometers (7,098 square miles)
Nationalities: Han
Location: Shaoguan is regarded as the north gate of
Guangdong Province
, neighboring
Hunan
in the north and
Guangzhou
in the south. It is a vital pass to the coastal area of South China.
Administrative Division: 3 districts (Zhenjiang, Wujiang, Qujiang); 4 counties (Shixing, Renhua, Wengyuan, Xinfeng); 1 autonomous county (Ruyuan Yao Autonomous County); 2 county-level cities (Lechang, Nanxiong)
Useful Telephone Numbers:
Tourist Complaints: 0751-8916131
Weather Forecast: 121
Zip Code Inquiries: 184
Bank of China: 0751-8888338
Shaoguan Attractions - Things to Do

Danxia Mountain
: The mountain boasts of the largest tourist attraction and the most beautiful scenery of Guangdong. It is also a world famous geopark. The Danxia Landform is nominated for this mountain. It contains nearly 700 pieces of large red glutenite and many grotto temples.

Nan Hua Temple
: 22 kilometers (14 miles) from the city downtown Shaoguan, the Nan Hua Temple is a famous Buddhist site, where the sixth founder of the Buddhism generation in Tang Dynasty (618-907), Hui Neng, established the southern sect of Zen. With a history of 1,500 years, the temple keeps many national treasures, including the Da Zang Sutra, decree and cassock of thousand years ago.
How to get to/around Shaoguan
Visitors can get on trains making stops in Shaoguan to Guangzhou, Kowloon for about three and four hours. Road transportation of the city is also convenient. Two main bus stations existed in the city, the west bus station and the east bus station. Several buses to Guangzhou,
Zhuhai
and
Shenzhen
will depart in the stations. In addition, there are regular buses in the east bus station departing to the Danxia Mountain every 15 minutes.
Weather
-
Enjoying a subtropical humid monsoon climate, Shaoguan is affected by the seasonal winds all the year round. Spring is overcast and rainy, while precipitation in autumn is fewer. March to August is the rainy season and September to February the next year is the dry season.

When to Go: Shaoguan has abundant rainfall and moderate weather, so visitors can get there at anytime, especially in spring and autumn.
Shaoguan Travel Tips

History: Shaoguan area belonged to Chu Kingdom in the Warring States Period (476BC-221BC). The place was named with 'Shao' since the Sui Dynasty (581-618), and in Ming (1368-1644) and Qing (1644-1911) dynasties it gained the name 'Shaoguan' for the government established passes here to collect taxes.



Physical Features: Lying in the south part of the Nanling Mountains, this region has vast area of karst landform. Hilly area constitutes the main land of the city. The Danxia Landform is nominated for the red sandstone in the Mt. Danxia of Renhua County. The terrain is higher in the north and lower in the south.



Local Highlights: Folk costumes of the Yao ethnic minority is interesting, especially the marriage customs.



Special Local Products: Lechang Baimaojian (raw white tea), mushroom, plum