Zhaoqing Travel Guide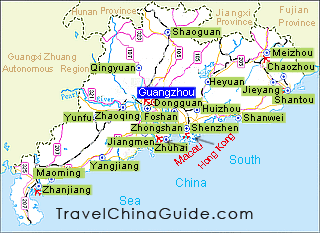 Zhaoqing Facts
Chinese Name: 肇庆 (zhào qìng)
Population: 4,151,700
Area: 15,000 square kilometers (5,791 square miles)
Location: in the west-central region of Guangdong Province, southern China
Administrative Division: 2 districts (Duanzhou, Dinghu, Gaoyao); 4 counties (Guangning, Huaiji, Fengkai, Deqing); 1 county-level city (Sihui)
Area Code: 0758
Zip Code: 526000
GDP (2018): CNY 220.18 billion (USD 33.27 billion)

Famous for Producing Top Inkstone – Duan Inkstone
Zhaoqing is located in the west-central region of Guangdong Province, at the middle and lower reaches of Xijiang River. Adjacent to the Pearl River Delta, the city borders Guangxi Zhuang Autonomous Region to the northwest, Foshan to the southeast and Yunfu to the southwest. It lies about 90 kilometers (56 miles) from Guangzhou. Known as the capital of inkstone in China, Zhangqing produces first-rate Duan Inkstand, one of China's Four Famous Inkstones, which boasts for its solid, smooth and delicate quality. The speed of producing ink by using Duan Inkstone is fast and the ink is fine and smooth. And the color of the handwriting is constant for a long time. Zhaoqing also features breathtaking natural scenery and city walls built in the Northern Song Dynasty (960-1127).
Zhaoqing Attractions - Things to Do

Xinghu Lake (Star Lake) Scenic Area: This scenic area consists of Qixingyan (Seven Star Crags) and Dinghu Mountain scenic spots. It is the most famous tourist zone in Guangdong Province. The Xiannv Lake (Fairy Lake), Butterfly Valley and Qingyun Temple are the highlights of the scenic area. It provides the most beautiful lake, mountain and forest landscape of the city.

Ancient City Wall: This is a part of the city wall from the Song Dynasty and is well preserved. Today, it is the symbol of Zhaoping City as a famous historical and cultural city.
Other Scenic Spots: Panlong Gorge Touring Region in Deqing County, Longshan in Fengkai County, Yanyan Crag (Swallow Crag) in Huaiji County, Bamboo Forest in Guangning County
How to get to/around Zhaoqing
Visitors can get to Foshan and Guangzhou within two hours from the Zhaoqing passenger transport terminus. There are also many buses running to
Shenzhen
and
Zhuhai
taking about 3.5 and 4.5 hours. In addition, a water route from the port of this city to Guangzhou, Foshan and
Hong Kong
provides more options for visitors. It will take four hours to reach Hong Kong from there by train or by ship.
Weather
-
Zhaoqing enjoys a subtropical monsoon climate with an annual average temperature of 22.1

C (71.8

F). The rainfall is concentrated in the period from April to September. In early winter, the weather is sloppy and it may be affected slightly by typhoons in summer and autumn. The northern mountain area experiences frost and snow in winter.

When to Go: Zhaoqing is an all-year-round tourist destination without summer heat and winter chilliness.
Zhaoqing Travel Tips
The commercial area centered on Tianning Road (North) and 3rd Jianshe Road is the busiest section of the city, with many marketplaces, stores and cinemas. It is an excellent shopping destination.

Physical Features: The terrain of the city is higher in the northwest and lower in the southeast. Mountains and hills occupy about eighty percent of the city area, mainly in the north, northeast and central part of the city. A valley plain comprises most of the southeast portion of the city. A karst landscape in this area is also outstanding.

History: In the Qin Dynasty (221BC-206BC), this area belonged partly to the Nanhai Shire. In the Sui Dynasty (581-618), it was called Duanzhou and changed into its present name, Zhaoqing, in the Song Dynasty (960-1279).

Local Highlights:
Folk custom: The local lion dance and the dragon dance are the most popular performances in various ceremonies and festivals.
Festivals: Dragon Boat Race (the fifth day of the fifth lunar month)
Special Local Products: Handicrafts: Duanxi Inkstone, Nine Dragons Treasure Tripod, jade articles
Foods: Zhaoqing Gorgon Fruit, oranges, Ba Ji (Morinda Root)
- Last updated on May. 31, 2022 -
Questions & Answers on Zhaoqing Travel
Asked by zakuan from INDONESIA | Sep. 29, 2019 01:43

Reply
is there near by zhaoqing east raiway station with east bus station? tq
Answers (1)
Answered by Luke from UNITED KINGDOM | Oct. 07, 2019 20:47

0

0

Reply
Do you mean the transportation between them? You can take bus K01 to East bus station directly. It takes around 1 hour with CNY9.
Asked by Catherine from CHINA | Jun. 15, 2019 04:59

Reply
Qishi Glass Bridge in Zhaoqing - Where is it?
I can't find it on Google Maps (I know it's not the best for China), can someone send the coordinates? The closest village name? The road that leads there? How far from Zhaoqing? Is it worth it? Comparison with Dan Lu Shan Guangxi China 丹炉山景区 ?
Thanks,
Catherine
Answers (1)
Answered by George from AUSTRALIA | Jun. 16, 2019 23:48

0

0

Reply
1. It is located at Qishi Scenic Area, Weizheng Town, Sihui City, Zhaoqing.
2. Take bus from Zhaoqing East Bus Station to Sihui Yueyun Bus Station and then take Bus Line Sihui - Weizheng. After that, take taxi to there.
3. The scenery is good.
Asked by Chong Wie from MALAYSIA | Apr. 04, 2019 10:49

Reply
Glass bridge Zhaoqing
is there any bus from Zhaoqing downtown (tianming north road) to Zhaoqing qishi boli qiao glass bridge?
Answers (1)
Answered by Jerry from SINGAPORE | Apr. 11, 2019 02:53

0

0

Reply
Is it Tianning North Road? The public transportation is not very convenient and it takes more than 4 hours on the way. It is recommended to contact a local agency and the tourist bus will be faster.
Asked by Jason from INDONESIA | Mar. 18, 2019 03:17

Reply
Hi, i would like to go Zhaoqing this june from zhuhai and visit the Qishi Glass Bridge
Can you inform me how to go there? also i plan to see Musical Fountain, how the best way to go there? also the recommend hotel near the Qixingyan Memorial Square, please advise :)
Answers (2)
Answered by Elizabeth from SINGAPORE | Mar. 24, 2019 22:40

0

0

Reply
You are suggested to take a coach from Xiangzhou Coach Station to Sihui first.
The bus schedules are 07:15, 08:30, 13:00, 13:20 and 15:00. After arriving, take a taxi or hire a private car to the destination directly.
About the accommodation, Huade Yuanlin Hotel is recommended. The price is around CNY200 per night. The surrounding transportation is convenient. Hope helpful!
Answered by Jason from INDONESIA | Mar. 30, 2019 02:58

0

0

Reply
I also plan to go to the newly open Qishi Glass Bridge in Zhaoqing, where exactly is the place are? and also how to go there? please advice
Asked by Birthe Zimmermann from DENMARK | Nov. 16, 2017 08:08

Reply
We plan to go from Shenzhen to Zhaoqing in Feb. 2018.

Are there special dragon parades or other activities that celebrate the New Year around 16-19 February?

Answers (1)
Answered by Rachel from GERMANY | Nov. 16, 2017 20:59

1

0

Reply
Yes, as I know, there are many celebrations during New Year, like parade in the center of Duanzhou District, Lion Dance and circus show in Songlong Town, Jinguang Avenue.