Yunfu Travel Guide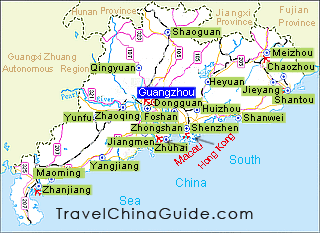 Yunfu Facts
Chinese Name: 云浮 (yún fú)
Population: 3,009,100
Area: 7,785.11 square kilometers (3,006 square miles)
Location: in the west-central of Guangdong Province, southern China
Administrative Division: 2 districts (Yuncheng, Yun'an); 2 counties (Xinxing, Yunan); 1 county-level city (Luoding)
Area Code: 0766
Zip Code: 527300
GDP (2018): CNY 84.91 billion (USD 12.83 billion)

The Capital of Pyrite and Stone
Lying in the west-central of Guangdong Province, Yunfu is bounded to the west with the Guangxi Zhuang Autonomous Region. It is adjacent to Zhaoqing on the northeast, Jiangmen on the southeast, Yangjiang on the south and Maoming on the southwest. It is 160 kilometers (99 miles) away from Guangzhou. With excellent pyrite reserves and quality, Yunfu is the largest sulfur chemical production base in China and the largest stainless steel tableware production base in Guangdong Province. Yunfu is also China's stone base center and artificial stone capital. The Yunfu New Port is the largest inland river port in Guangdong.
Yunfu Attractions - Things to Do

Panlong Cave: Located in the Shizishan Mountain, north part of the Yunfu City, the Panlong Cave is one of the few karst caves that having stone flowers. Stone flower is listed among the ten wonders in karst caves, and the Panlong Cave ranks as one of the top three karst caves that have the most grand stone flower landscape. The cave has three layers. Mammal fossils are also discovered in it.

Longshan Thermal Spring: This province-level holiday resort is situated in the Longshan Mountain, Xinxing County. It is 120 minutes drive from Guangzhou. Apart from the hot spring with curative power, the Guoen Temple, former residence of the sixth Patriarch of the Zen Hui Neng, is also an attraction worthwhile visiting.
How to get to/around Yunfu
In Yunfu Bus Terminal and the North Station, there are regular buses leaving for
Foshan
, Guangzhou,
Zhuhai
and
Zhongshan
, as well as many other cities and counties around. Basically, visitors don't need to be worried about if it is difficult to get in and out the city. The Yunfu Bus Terminal is in No.246, Xingyun Road (East), Yuncheng District.
Weather
-
Yunfu is situated in subtropical zone, having abundant sunshine and rich rainfall. The weather is temperate all the year round with an average temperature of 22

C (72

F). Overcast and wet days mainly concentrate in spring and autumn, while summer is hot, rainy and often suffers from thunderstorms. Winter is dry and seldom rainy, but sunshine is adequate.

When to Go: the whole year at any seasons
Yunfu Travel Tips

History: As early as the Tang Dynasty (618-907), Yunfu Shire was established to administrate this area. It was altered to Dong'an County in the Ming Dynasty (1368-1644) and regained its name Yunfu as a county in 1914.



Physical Features: The terrain of the city descents from the southwest to the northeast. Mountainous and hilly areas, altogether with the karst landform, constitute the most distinctive Yunfu.



Special Local Products: greengage

Chengzhong Road is the busiest area of the city, gathering hospital, cinema, children's palace, and gym.
- Last updated on May. 31, 2022 -
Questions & Answers on Yunfu Travel
Asked by Milin Shah from INDIA | Oct. 17, 2018 23:08

Reply
From Yunfu east station I want to reach Chucheng can you tell the fastest route to reach ?
There are buses to reach too from Yunfu
Station please tell me
Answers (1)
Answered by Jason from USA | Oct. 18, 2018 20:01

0

0

Reply
There is no buses to Chucheng and you are advised to take a taxi, taking about 20 minutes.
Asked by cora from HONG KONG | Feb. 29, 2016 18:38

Reply
Could I get taxi to Shenzhen North Railway station?
I want to take the train from Shenzhen North Railway station to Yunfu East and how often of the train? Could you please tell me how far it needs to walk from Futian Port and follow the subway Longhua Line and get to Shenzhen North Railway station? It is because I go with elderly, I cannot walk so far. Could I get a taxi to go to the Shenzhen north station instead and roughly how much is the taxi fare? I worry I may be cheated by the taxi driver.

Answers (2)
Answered by Cora | Feb. 29, 2016 18:55

1

0

Reply
Could you tell me roughly how much is the taxi fare from YF East railway station to Luoding?

Also, if I go to YF, can I get a train from Shenzhen North railway station?
Answered by Ava from USA | Feb. 29, 2016 19:16

0

0

Reply
Dear Cora, the trains are scheduled at 13:00 and 16:45, and the trip takes about 1.5 hours. The distance is about 200 yards, and you can walk to Futian Checkpoint Metro Station within 5 minutes. Then, take metro Longhua line to North Railway Station. The taxi fare from Futian Port to North Railway Station may be around CNY 40-50. The distance from YF East Railway Station to Luoding is about 52 miles (84km), and the taxi fare may be about CNY 200-300.
Well, there are only two departures each day from Shenzhen North Station. You are advised to book the train ticket through TravelChinaGuide in advance in case that the tickets might be sold out. You can contact them through booking

travelchinaguide.com.
Asked by cora from HONG KONG | Feb. 28, 2016 15:11

Reply
Do I need to go through Custom if I take Shenzhen train to Guangzhou South?
If the train from Shenzhen railway station to Yunfu is full, I would like go for Shenzhen North station to Guangzhou South and then change bullet train to YF. Would you please tell me, do I need to go through Custom if I take the Shenzhen train to Guangzhou South in Shenzhen?
Could you also please tell me how to go Shenzhen North Railway Station from Hong Kong.
Furthermore, does the coach has toilet if I go by coach.

Answers (1)
Answered by Alan from NEW ZEALAND | Feb. 29, 2016 03:44

0

0

Reply
No, the three cities you mentioned for train transfer all belong to mainland China, so there is absolutely no need to go through the customs. Don't worry! If going by coach, as I know, the long-distance buses are not equiped with toilets, but the bus shall stop at the Service Area on highway to let passengers to go to bathroom.

From Hongkong, you can take East Rail Line to Lok Ma Chau. Then cross the border to Futian Checkpoint. Then take Shenzhen subway Longhua Line to the North Rail Station.
Asked by cora from HONG KONG | Feb. 27, 2016 06:29

Reply
How can I get tickets from Shenzhen station to Yunfu?
According to your information, there are still tickets available. I will go to Luoding city on 14 March and return on 17 and want to buy 4 return tickets to YF. However, I try to buy tickets on-line but no tickets available on 14 March. I phone them up, the line never get through. Would you please suggest me what can I do? I cannot go by bus because I go with elderly.

Cora
Answers (1)
Answered by Harry from UNITED KINGDOM | Feb. 27, 2016 21:18

0

0

Reply
Yes, you are right. The bullet train ticket of that day is sold out. Therefore, I'm afraid you need to take a bus. At Futian Bus Station, there are direct buses to Yunfu, available at 08:30, 10:00, 13:30, 14:30, 15:15 and 19:20. The bus fare is CNY139, and the duration is about 3 hours.