Yunfu Travel Guide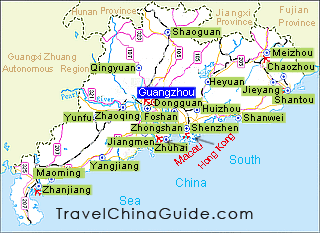 Yunfu Facts
Chinese Name: 云浮 (yún fú)
Population: 2,612,800
Area: 7,779 square kilometers (3,003 square miles)
Nationalities: Han
Location: Lying in the west-central of
Guangdong Province
, south bank of the Xijiang River, Yunfu City is bounded on the west by the
Guangxi Zhuang Autonomous Region
. It is adjacent to
Zhaoqing
,
Jiangmen
,
Yangjiang
and
Maoming
, and 160 kilometers (99 miles) away from
Guangzhou
, 177 sea miles from
Hong Kong
.
Administrative Division: 1 district (Yuncheng); 3 counties (Yun'an, Xinxing, Yunan); 1 county-level cities (Luoding)
Useful Telephone Numbers:
Tourist Complaints: 0766-8822360
Weather Forecast: 121
Zip Code Inquiries: 184
Bank of China: 0766-8822100, 8828308
Yunfu Attractions - Things to Do

Panlong Cave: Located in the Shizishan Mountain, north part of the Yunfu City, the Panlong Cave is one of the few karst caves that having stone flowers. Stone flower is listed among the ten wonders in karst caves, and the Panlong Cave ranks as one of the top three karst caves that have the most grand stone flower landscape. The cave has three layers. Mammal fossils are also discovered in it.

Longshan Thermal Spring: This province-level holiday resort is situated in the Longshan Mountain, Xinxing County. It is 120 minutes drive from Guangzhou. Apart from the hot spring with curative power, the Guoen Temple, former residence of the sixth Patriarch of the Zen Hui Neng, is also an attraction worthwhile visiting.
How to get to/around Yunfu
In Yunfu Bus Terminal and the North Station, there are regular buses leaving for
Foshan
, Guangzhou,
Zhuhai
and
Zhongshan
, as well as many other cities and counties around. Basically, visitors don't need to be worried about if it is difficult to get in and out the city. The Yunfu Bus Terminal is in No.246, Xingyun Road (East), Yuncheng District.
Weather
-
Yunfu is situated in subtropical zone, having abundant sunshine and rich rainfall. The weather is temperate all the year round with an average temperature of 22

C (72

F). Overcast and wet days mainly concentrate in spring and autumn, while summer is hot, rainy and often suffers from thunderstorms. Winter is dry and seldom rainy, but sunshine is adequate.

When to Go: the whole year at any seasons
Yunfu Travel Tips

History: As early as the Tang Dynasty (618-907), Yunfu Shire was established to administrate this area. It was altered to Dong'an County in the Ming Dynasty (1368-1644) and regained its name Yunfu as a county in 1914.



Physical Features: The terrain of the city descents from the southwest to the northeast. Mountainous and hilly areas, altogether with the karst landform, constitute the most distinctive Yunfu.



Special Local Products: greengage

Chengzhong Road is the busiest area of the city, gathering hospital, cinema, children's palace, and gym.