Zhanjiang Travel Guide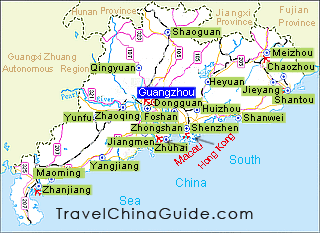 Zhanjiang Facts
Chinese Name: 湛江 (zhàn jiāng)
Population: 7,130,000
Area: 12,490 square kilometers (4,822 square miles)
Nationalities: Han
Location: Zhanjiang lies in the southwest of
Guangdong Province
. It is situated in Leizhou Peninsular, neighboring the South Sea in the east and Beibu Gulf in the west. The city is separated from
Hainan Province
by Qiongzhou Strait.
Administrative Division: 4 districts (Chikan, Xiashan, Potou, Mazhang); 3 county-level cities (Wuchuan, Lianjiang, Laizhou); 2 counties (Suixi, Xuwen)
Useful Numbers:
Tourist Complaint: 0759-2262444
Weather Forecast: 121
Zip Code Inquiry: 184
Bank of China: 0759-3380233
Zhanjiang Attractions - Things to Do

Huguangyan National Scenic Area: This scenic area is also a national geological park famous for its natural volcano relic. It has the most typical and largest maar (volcanic) lake in the world.

Donghai Island: It ranks as the fifth largest island in China. A popular holiday resort has been built on the east side of the island. In addition to the forest and beautiful sea, it also has a 28-kilomter-long beach.

Naozhou Island: This is a beautiful island that is favorable for a visit at any season. The Naozhou Beacon with over a hundred years' history is the highlight of the island.
How to get to/around Zhanjiang
Zhanjiang Airport is the only airport in western Guangdong Province. It is only about 4 kilometers (2.5 miles) from the downtown area of the city.
Zhanjiang Port, in the southeast part of the city proper, once had passenger transport station operating liner to reach Haikou. However, there are no longer passenger liners directly from the city proper to Haikou. Visitors should go to the Hai'an Dock in Xuwen County for this connection.
Zhanjiang Railway Station
and
Zhanjiang West Railway Station
have operated trains to Beijing, Shanghai, Guangzhou, Shenzhen, Foshan, Kunming and more cities.
Weather
-
Zhanjiang enjoys a tropical and subtropical monsoon climate with low altitudes, north of the tropic of cancer. Influenced by the ocean climate, Zhanjiang escapes the heat of the summer and chilliness of the winter.

When to Go: Zhanjiang is favorable for visiting at any season because of its comfortable weather.
Zhanjiang Travel Tips

History: During the Qin Dynasty (221BC-206BC), the area of today's Zhanjiang belonged to Xiang Shire and the central government of the Han Dynasty (206BC-220AD) set Xuwen County administering the whole Leizhou Peninsular. It was one of the earliest departure points on the Marine Silk Road. After the Tang (618-907) and Song (960-1279) dynasties, this area began moving forward with big strides.



Physical Features: Most of the land of the city is peninsular or islands. The terrain slopes downward from the north to the south. A plain forms the major area of the city. Its mountainous area is in the northern part of the city.



Local Products: sea food, pearl, sugarcane, blood orange, litchi, sweet potato
- Last modified on Sep. 23, 2019 -