Zhanjiang Travel Guide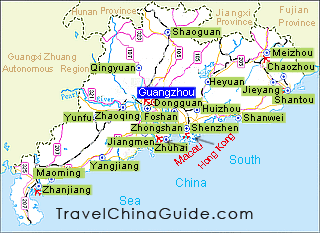 Zhanjiang Facts
Chinese Name: 湛江 (zhàn jiāng)
Population: 8,480,000
Area: 13,263 square kilometers (5,121 square miles)
Location: in the southwest of Guangdong Province, southern China
Administrative Division: 4 districts (Chikan, Xiashan, Potou, Mazhang); 3 county-level cities (Wuchuan, Lianjiang, Laizhou); 2 counties (Suixi, Xuwen)
Area Code: 0759
Zip Code: 524000
GDP (2018): CNY 300.84 billion (USD 45.46 billion)

Southernmost Seaside Resort with China's Longest Beach
Lying in the southernmost of Guangdong Province, Zhanjiang consists of the Leizhou Peninsular and more than 30 small islands, neighboring the South Sea to the east, Beibu Gulf to the west, Guangxi Zhuang Autonomous Region to the northwest and Maoming to the northeast. The city is separated from Hainan Province by Qiongzhou Strait. It is the main sea port of southwestern China to foreign countries, and also the shortest sea voyage port of mainland China to Southeast Asia, Africa, Europe and Oceania. Zhanjiang is a fantastic travel city where the five counties and four districts are ocean-oriented. You can enjoy the charming sea view, eat fresh sea food, relax at the bathing beaches and explore the magic volcanic lake. Besides, there is the longest beach in China – Longhaitian Beach.
Zhanjiang Attractions - Things to Do

Huguangyan National Scenic Area: This scenic area is also a national geological park famous for its natural volcano relic. It has the most typical and largest maar (volcanic) lake in the world.

Donghai Island: It ranks as the fifth largest island in China. A popular holiday resort has been built on the east side of the island. In addition to the forest and beautiful sea, it also has a 28-kilomter-long beach.

Naozhou Island: This is a beautiful island that is favorable for a visit at any season. The Naozhou Beacon with over a hundred years' history is the highlight of the island.
How to get to/around Zhanjiang
Zhanjiang Airport is the only airport in western Guangdong Province. It is only about 4 kilometers (2.5 miles) from the downtown area of the city.
Zhanjiang Port, in the southeast part of the city proper, once had passenger transport station operating liner to reach Haikou. However, there are no longer passenger liners directly from the city proper to Haikou. Visitors should go to the Hai'an Dock in Xuwen County for this connection.
Zhanjiang Railway Station
and
Zhanjiang West Railway Station
have operated trains to Beijing, Shanghai, Guangzhou, Shenzhen, Foshan, Kunming and more cities.
Weather
-
Zhanjiang enjoys a tropical and subtropical monsoon climate with low altitudes, north of the tropic of cancer. Influenced by the ocean climate, Zhanjiang escapes the heat of the summer and chilliness of the winter.

When to Go: Zhanjiang is favorable for visiting at any season because of its comfortable weather.
Zhanjiang Travel Tips

History: During the Qin Dynasty (221BC-206BC), the area of today's Zhanjiang belonged to Xiang Shire and the central government of the Han Dynasty (206BC-220AD) set Xuwen County administering the whole Leizhou Peninsular. It was one of the earliest departure points on the Marine Silk Road. After the Tang (618-907) and Song (960-1279) dynasties, this area began moving forward with big strides.



Physical Features: Most of the land of the city is peninsular or islands. The terrain slopes downward from the north to the south. A plain forms the major area of the city. Its mountainous area is in the northern part of the city.



Local Products: sea food, pearl, sugarcane, blood orange, litchi, sweet potato
- Last updated on May. 31, 2022 -
Questions & Answers on Zhanjiang Travel
Asked by Rick Darling from AUSTRIA | Aug. 11, 2019 13:24

Reply
Is there any bus from Zhanjiang West Train station to Zhanjiang bay bridge?
How much time does it take ? What is the time of last bus from Bay bridge to West railway station?
How much the taxi fare should I expect?
Thanks
Answers (1)
Answered by Jayce from USA | Aug. 13, 2019 00:18

0

0

Reply
Take bus no.65K to Zhongguocheng Hotel first. Then transfer to bus no.911 to Pingle Village. After that, you can see the bridge. The whole way takes around an hour.
If you take the cab, the fare is CNY 50 to 60 in the day time.

Besides, the last schedule of bus no.911 is 22:00.
Asked by Dusan from SERBIA | Jun. 25, 2016 17:25

Reply
About Zhanjiang cost of living
I might be coming to the city to work, so I am interested in cost of living there. Average prices on food, transportation, rental and monthly costs for apartment etc. Thank you.
Answers (2)
Answered by Lisa from USA | Jun. 25, 2016 20:00

1

1

Reply
On general, the living cost in that city is average, and the expense for one month may be CNY4000-5000, including the apartment rent, food and transportation. CNY1500-2000 can afford for a ordinary decent apartment, and a general meal may cost you CNY30-40.
Answered by JB | Jan. 26, 2022 10:51

0

0

Reply
Comments from Lisa are still correct. Possible to live with ~5KRmb per month additional is pocket money.
Asked by Peter from HONG KONG | Oct. 22, 2015 21:42

Reply
Hello, is there a boat or ship going from Hong Kong to Zhanjiang ?
Thanks for the info :)
Answers (2)
Answered by Edie from AUSTRALIA | Oct. 23, 2015 01:00

0

0

Reply
Well, there is no boat or ferry that operates between these two places.
So from Hong Kong, you can pass the custom and arrive at Futian Port. Then take a taxi to go to Futian Bus Station and take direct long-distance bus to the destination. As I know, the bus schedules are from 07:00 to 21:30.
Answered by Pat Conroy from CHINA | Feb. 13, 2016 23:53

0

0

Reply
If your at HK Airport take a ferry to Macau or Zhuhai, that gets you straight across the Pearl River Delta Delta (PRD) and takes 200km off your trip.
Asked by Janice Walsh from IRELAND | Oct. 15, 2015 11:18

Reply
Zansuwan Hotel, Leizhou
Hello
I would like to book 3 rooms in this hotel from 22nd March for 3 Nights

Zansuwan Hotel
No.8 Wenhua Road, Leizhou, China

Room 1 - 1 adult and 1 child - 11 years
Room 2 - 2 adults and 1 child - 11 years
Room 3 - 2 adults and 2 children - 11 years and 14 years

Could you send me a rate please?

Kind Regards

Janice Walsh

Answers (4)
Answered by Evelynn from DENMARK | Oct. 16, 2015 03:02

0

0

Reply
Maybe the 2 adults and 2 children have to book two rooms. As I know, the hotel provides kinds of suites for you to choose. Generally speaking, the price of one room is CNY 500 to 750 per night.For suite, it costs CNY 1,400 to 1,600 per night.

About the exact price, you can look through the official website of this hotel.
Answered by Janice Walsh from IRELAND | Oct. 16, 2015 04:52

0

0

Reply
Thank you very much Evelynn for your reply.
The problem is I can't find the website on line
Did you stay at this hotel and do you have a link to the website that you could send me?
Many thanks for your help.
Answered by Evelynn from DENMARK | Oct. 16, 2015 04:58

0

0

Reply
Well, as I know, TravelChinaGuide does not allow to add links. So you can just input Leizhou Zansuwan Hotel on the Internet. The official website doesn't have English version. If you have Chinese friends, you can ask help for them.
Answered by Janice Walsh from IRELAND | Oct. 16, 2015 06:09

0

0

Reply
Thank you Evelynn