Maoming Travel Guide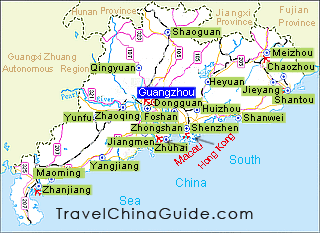 Maoming Facts
Chinese Name: 茂名 (mào míng)
Population: 6,313,200
Area: 11,458 square kilometers (4,424 square miles)
Location: in the southwest of Guangdong Province, southern China
Administrative Division: 2 districts (Maonan, Dianbai); 3 county-level cities (Huazhou, Xinyi, Gaozhou)
Area Code: 0668
Zip Code: 525000
GDP (2018): CNY 309.22 billion (USD 46.73 billion)

Petroleum City in South China
Maoming is located in the southwest of Guangdong Province and adjacent to Yangjiang to the east, South Sea to the north, Zhanjiang on the west, Yunfu to the north and east and Guangxi Zhuang Autonomous Region to the north and west. This city is an important petrochemical and energy base in China. The Maoming Petrochemical Company headquartered in Maoming has become one of the largest and most efficient refining and chemical enterprises in China. At present, the refining capacity reaches 20 million tons/ year, and the ethylene production capacity 1.1 million tons/ year. Maoming is also a major agricultural city and fruit production base in Guangdong Province. Tourists can taste all kinds of aquatic products produced in three famous fishing ports: Bohe, Shuidong and Dongshan. Also, there are primeval forests in the north, vast sea views and silver beaches in the south, making the city more attractive.
Maoming Attractions - Things to Do

The 1st Shoal of China Vacation Area: The 'first shoal of China' is 25 kilometers (16 miles) from the downtown area of Maoming, in the Maogang District. The resort has miles of fine and smooth beach outside the shelter belt, and it is definitely an ideal place for swimming and sunbathing. In addition, the resort has many sports to enjoy, including parachute gliding and sailboarding. It is also a national training center for beach volleyball, and often hosts national and international competitions.



Chicken (Fang Ji) Island: The island is the largest in Maoming covering an area of 1.9 square kilometers (0.7 square miles). This tourist resort is a fascinating diving center boasting clear and unruffled sea waters, famous for its coral reefs and recreational scuba diving. Skin and deep diving, diving of exploration are all available here.



Tianmashan Eco-Tourist Area: The scenic area is situated in Xinyi City. On the 1,080 meters (3,543 feet) tall Tianma Mountain, emerald forest, clear springs, deep and serene valleys, waterfalls of all shapes and size, strange rocks and lingering prairies, can all be found in this nature-gifted landscape.
How to get to/around Maoming
Thanks to the construction of the expressways around, Maoming is a one-hour drive from Zhanjiang Airport and three-hour drive from
Guangzhou Baiyun International Airport
. Road transportation between Maoming and other surrounding cities is also convenient. From the passenger transportation terminals of the city, there are dozens of buses daily running to Guangzhou, Zhuhai and Shenzhen with ticket price no more than CNY100. In addition, every 25 minutes, one bus will leave for Zhanjiang from the city.
Weather
-
Enjoying a subtropical monsoon season, the local weather of Maoming is moderate with an annual average temperature of no less than 22°C (72°F). It is a green city all the year round. The rainfall of a year lies between 1530-1770 millimeters (60-70 inches).

When to Go: During the whole year
Maoming Travel Tips

History: In remote ages, aboriginal people were living in this region, and those aboriginal ethnics in Xia (21st - 16th century BC) and Shang (16th - 11th century BC) dynasties were called Baiyue ethnic group, an integration of the ancient Yue minority and many other minorities. According to historical records, Maoming belonged to two shires in the Qin
Dynasty (221BC-206BC). The Maoming County was established in the Sui Dynasty (581-618).

Physical Features: Mountains and hills constitute the general landform of the city, concurrently including plains and coastal beach. It also has a coastline of more than 220 kilometers (137 miles). On the whole, the local terrain is higher in the north and lower in the south.

Special Local Products: In late 2005, Maoming earned the title of largest fruit producing base in China. Lichee (litchi), banana and longan are the most famous and high-yield fruits. In addition, the fruit pit (of Afzelia xylocarpa) carvings are special souvenirs in local markets.
- Last updated on Jan. 13, 2020 -
Questions & Answers on Maoming Travel
Asked by Janez from SLOVENIA | Nov. 04, 2019 05:35

Reply
Maoming Railway Station to Dianbai center by bus
Hello, is it possible to take a bus from Maoming Railway Station to Dianbai. I understand that Dianbai has its own railway station, but unfortunately, I arrive from Guangzhou in the evening hours and at that time none of the trains stop in Dianbai railway station. My accommodation (Encore hotel) in Dianbai will be in Renmin Road, so very close to the central bus station in Dianbai. At least I suppose that Dianbai central bus station is close. Thanks all.
Answers (1)
Answered by Emma from SINGAPORE | Nov. 06, 2019 17:54

0

0

Reply
As I know, you can take bus from Maoming Passenger Transport Center station to Dianbai Bus station, It departs from 6:00 to 20:30 with interval of 8 minutes.

Asked by Yee San Tham from MALAYSIA | Jun. 23, 2019 19:39

Reply
Sir, After arriving at maoming from guangzhou by fast train, how do I go to gaozhou by bus.TQ
Answers (1)
Answered by Henry from UNITED KINGDOM | Jun. 25, 2019 01:26

0

0

Reply
In fact, you can take train from Maoming Railway Station to Gaozhou directly, which is more convenient. It takes only 30 minutes to arrive and costs CNY17.5.

However, you can also take bus from Maoming Bus Terminal. It operates from 7:20 to 17:45 with an interval about 1 hours and it takes CNY12.
Asked by Cyprian from CAMEROON | Aug. 10, 2017 01:20

Reply
Hello, how do I take a bus from maoming to xinyi and how many hours and how much?
Answers (1)
Answered by Gloria from FRANCE | Aug. 10, 2017 02:29

0

0

Reply
At local Central Bus Station, many buses are scheduled to Xinyi from 06:30 tro 21:00. You can easily take one. It shall take around 2h and cost CNY30/35/person.
Asked by Veronika from SLOVAKIA | Apr. 25, 2016 20:16

Reply
Hello, how to get from maoming train station to fangji island?
Answers (1)
Answered by Amy from UNITED KINGDOM | Apr. 26, 2016 04:49

0

0

Reply
You may take bus line 1 to East Railway Station (about 40 minutes). Then, take a bus to Hebo Town (about 1 hour). Afterwards, take a ferry to the island. May you have a great time!
Asked by HOIKITFAI | Oct. 13, 2015 00:20

Reply
can i get the bus/ train from maoming to Zangjing? how long and how much, what is the time schdule?
Answers (1)
Answered by Ellen from UNITED KINGDOM | Oct. 13, 2015 03:22

1

0

Reply
Do you refer to Zhanjiang?
If yes, you can take direct coach from General Bus Station.
The schedules are from 06:45 to 20:05 with the interval of 25 mins. The ticket fare is CNY 28 per person. The duraion is 1.5 to 2 hours.

Or you can take direct trains from East Railway Station and arrive at Zhanjiang West Railway Station. The schedules are 00:39, 03:31, 11:11, 20:29 and 23:33. The duration is about 1.5 hours. Soft sleeper costs CNY122.5 and hard sleeper costs CNY89.5.