Weizhou Island
Weizhou Island is located in Beibu Bay, 36 nautical miles from downtown Beihai in Guangxi province. It is the youngest and largest volcanic island in China. Seen from above, it is a bow-shaped piece of green jade floating in the sea. Covered by luxuriant vegetation, this island also houses special sea erosion landscapes, volcanic lava, colorful coral and wide beaches. We suggest you spend 1-2 days visiting this beautiful island.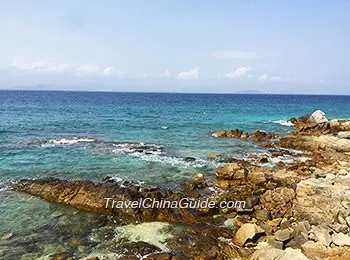 Weizhou Island
Top Attractions on Weizhou Island China
Crocodile Crater Park
The most popular attraction on the island is Crocodile Crater Park, which is located in the south of the island. In this scenic area, you can view volcanic rocks of different shapes, the largest of which is a well-preserved black rock. You can enjoy the clear seawater, snow-white beach and the other scenery in the park. In addition, you can visit the Crocodile Crater Park Museum. This museum houses many specimens of volcanic rocks, coral and other sea creatures. Every specimen is accompanied by an explanation and picture to help you learn about it. Besides that, the 4D Theater projects scientific advertising videos. The suggested visit time in this park is 3-4 hours.
Shiluokou Beach
Shiluokou Beach is located on the west coast of the island. The shape of the surrounding village is like a stone snail, hence the name, meaning stone snail beach in Chinese. In the coastal area, there are many unusually-shaped volcanic rocks plus rocks shaped by marine erosion. In the northwest part of the beach, there is a stone shaped like a beautiful woman looking forward to her husband's return. Besides the beautiful natural sea scenery, Shiluokou Beach is an integrated area of amusement projects, such as sea yachting and submarine diving.
Colorful Beach
The Colorful Beach Scenic Area has a 20-50 meters (66-165 feet) high sea cliff on a coastline of 1.5 kilometers (0.9 mile). This beach was named "Sesame Beach" before because of the small black stones like sesame seeds on the beach. When the tide ebbs, you can see a wonderful sea erosion landscape and lots of different sea caves on the cliff. You can not only view a beautiful sunrise here but also enjoy delicious food in the stalls in the scenic zone. We suggest you visit on sunny days and at ebb tide.
Drippy Rock
Drippy Rock is located in Drippy Village, the formation of which is a miracle among Chinese volcano landscapes. The rock stratum has a mixed color and a very clear vein. Twining vines, wild flowers and plants grow at the top of the cliff. Drops of water accumulate on the surface of the rock hence the name "Drippy Rock". This is the best place on the island to enjoy the sunset.
Great Church Tourism Zone
Located in northeast of the island, the Great Church Tourism Zone is a Gothic complex consisting of churches, monasteries, hospitals, priests' buildings and nursery rooms. The church was built from coral, rock and bamboo in 1853. It is well preserved despite a history of more than 100 years. The Catholic Church has recently become a popular site for couples to take their wedding pictures.
Mazu Temple
This Mazu Temple is painted red and features an old banyan tree. The people of Weizhou Island and other fishing communities worship "Mazu" to protect them when venturing out on the sea.
Where to Stay
We suggest you stay at the Shipan River Ecological Fishing Village in the Colorful Beach scenic area because it is the best site to enjoy the sunrise.
You can also stay in Drippy Village because there are more hotels to choose from. You can also rent a tent for CNY 50-60/night to stay overnight on the beach.
Where to Eat
Weizhou Island offers many different kinds of tasty seafood, such as fresh oysters, scallops, and the most famous one - weizhou shrimp. Seafood here is much cheaper than in Beihai City. We suggest you visit the Nanwan Seafood Market to pick up fresh seafood and find a restaurant to cook it according to your taste. Besides that, you can experience delicious foods in roadside stalls.
Best Time to Visit Weizhou Island
The best time to visit the island is April to November when Weizhou Island weather is mostly sunny and it is warm enough to swim in the sea. July and August have the best scenery. However, it is also typhoon season so keep an eye on the weather forecast if traveling to the island at that time.
How to Get to Weizhou Island China
The only way to reach the island is by boat from Beihai International Passenger Port Station. The boat to the island departs at 08:30, 11:30 and 15:45 and returns at 10:00, 14:30, and 17:00. The schedule may change in peak seasons and rough weather. The one published in Beihai International Passenger Port shall prevail. Cabin B is CNY120/person one way, Cabin A is CNY180/person one way and the Stateroom is CNY240/person one way.
After getting off at the port on the island, charter a private vehicle to the scenic spots or your hotels. It usually costs CNY30/ person or CNY50 per/car.
To get to Beihai International Passenger Port from downtown Beihai, take bus no.3 or hail a taxi for CNY50-60.
How to Tour around on Weizhou Island China
There is no public transport available on the island, but there are several ways you can use to travel around.
Bicycle: CNY 20-30/vehicle/day;
Scooter or electric motorcar: CNY 60-80/vehicle/day;
Battery-powered sightseeing convertible: CNY 300-320/vehicle/day;
MPV: CNY 260-300/vehicle/day.
Ticket Price
CNY 98, including Crocodile Crater Park, Great Church Tourism Zone, Colorful Beach, Drippy Rock, Shiluokou Beach.
CNY 50/person is applicable to children between 1.2-1.4 meters (3.9-4.6 feet);
Free of charge for children under 1.2 meters (3.9 feet).
Open time
May – October: 8:00-18:00;
November – Next April: 8:00-17:30.
- Last updated on Jul. 19, 2021 -
Questions & Answers on Weizhou Island
Asked by Karla from MEXICO | Jul. 12, 2021 03:29

Reply
Weizhou in August
Hello! Would there be a lot of people if I go in the first week of August? And where can I get the tickets online for the ferry/boat? Thanks in advance!
Answers (1)
Answered by Kate | Jul. 19, 2021 00:58

0

0

Reply
As August belongs to the peak travel season, I think there be a lot of people. You can book a ferry ticket on laiu8 website.
Asked by EDER from BRAZIL - LIVING IN CHINA FOR 3 YEARS | Nov. 16, 2020 19:38

Reply
Weizhou island New Years Eve 2020/2021
Is Weizhou island open to foreigners living in China this new years eve? Boat and hotels are working normally? I plan going to Weizhou departing from Shanghai Pudong Airport to Beihai and then catching the boat to Weizhou.
Answers (1)
Answered by Collins | Nov. 19, 2020 17:34

0

0

Reply
Well, as I know, it will open to foreigners living in China as long as you show the green healthy code. But in order to be sure, you are suggested to pay attention to the latest news.
Asked by Mike from INDIA | Sep. 29, 2018 18:48

Reply
Should I book entrance ticket of Weizhou Island online?
I've booked the boat tickets already but I'm unable to book the entrance ticket to the island online using Qunar. They don't let me fill in the Passport number. I'd be able to buy an entrance ticket upon arrival, right?

TIA.
Answers (1)
Answered by Sansaui from USA | Sep. 30, 2018 01:22

0

0

Reply
Hi Mike, you can book the tickets on its official website but there is only Chinese language website. You can ask the hotel you live in to help you to book in advance or only get the tickets on your arrival.