Beihai Underwater World
Beihai Underwater World, the largest underwater world in Southwestern China, is located in the Beihai Haibin Park. With a total area of 3,333 square meters (35,876 square feet), the Beihai Underwater World has a storage capability of more than 5,700 tons water. It houses the largest and highest acrylic cylindrical fish pond in China. Besides, there is the first omni-directional undersea tunnel in China. Visiting through the tunnel, you may feel surrounded by various sea creatures.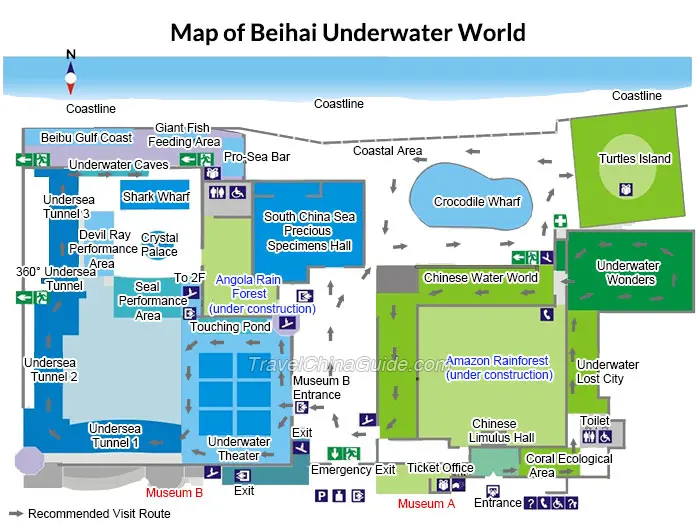 Map of Beihai Underwater World
The Beihai Underwater World is composed of Museums A and B. As the original Beihai Aquarium, the Museum A is one of the oldest aquariums in China. It mainly exhibits freshwater fish now. You can also see corals and turtles in Museum A. The Museum B is Sea Creature Zone.
Museum A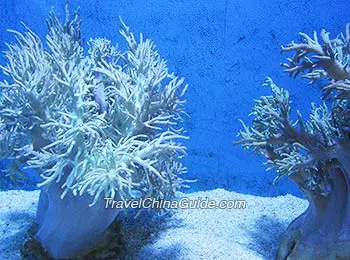 Beautiful Coral in Beihai Underwater World
The major exhibition halls include Coral Ecological Area, Underwater Lost City, Chinese Water World, and Turtles Island.
Coral Ecological Area: It houses the largest and most comprehensive exhibition container of living coral in the world. This cylindrical container is 28 meters (92 feet) long and 3 meters (9.8 feet) high. With the advanced planting technology, this hall displays 2,600 live corals of 156 kinds, and 300 tropical fishes.
Underwater Lost City: It consists of three major landscapes: the first part is a group of natural sea landscapes; the second part of the landscape was modeled on "the Lost City" Atlantis, which sunk in the Mediterranean Sea; the third part is a set of scenes of human ravaging the sound marine environment.
Chinese Water World: Chinese Water World in Beihai Underwater World shows Chinese ancient culture of 5,000 years, for example, Chinese ancient textile, Qin Terracotta Army, Sanxingdui, Buddhist culture, astronomy, diversified weapons, as well as the world wonders. Besides that, you can view marine ornamental fishes from all over the world in over 30 tanks.
Turtles Island: It models on the natural environment of subtropical island, and creates an ecological breeding environment for turtles. It is the first turtle breeding and protection base in Chinese underwater museums. You can closely contact with cute turtles in this zone.
Museum B
The Museum B in Beihai Underwater World mainly houses South China Sea Precious Specimens Hall, Undersea Theater and Undersea Tunnel.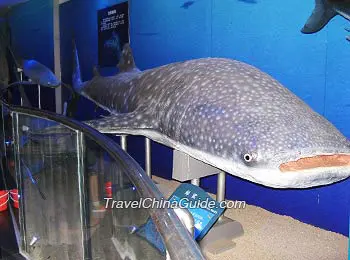 Specimen
South China Sea Precious Specimens Hall: According to the evolution of sea creatures, this hall displays 754 specimens and over 3000 exhibitions mainly on marine animals and plants of the South China Sea. These specimens include the algae, invertebrates and other sea fishes.

Undersea Theater: In this theater, you will enjoy a variety of animals' performances like people-shark war and underwater wedding by mermaid, devil fishes and seals, etc. These exciting shows are performed in the largest fish tank in China. There are 6 shows every day.

Undersea Tunnel: This is the first Omni-directional undersea tunnel in China. This undersea tunnel is totally 100 meters (109 yards) long, built with acrylic super pressure glass. Because of the glass's radian, the sea creatures and scenery you see are 1/3 smaller than they actually are. Visiting along the undersea tunnel, you can enjoy the panoramic sea scenery clearly.

Besides these halls in Beihai Underwater World, the Ocean Elves' Kingdom and Amphibious Reptile Tribe have been built. Both halls cover an area of 4,000 square meters (43055 square feet). In addition, Beihai Underwater World is equipped with a 4D Theater. During the projection, the audiences can experience many kinds of special movements, which make them experience the scene at the moment.

How to Get to Beihai Underwater World
1. Take bus no. 3 and get off at Haibin Park Station;
2. Take bus no.1/15 and get off at Shenzhen Road Crossing Station and walk northward along Shenzhen Road for 540 meters (588 yards) to get there.
Ticket Price
CNY 138;
CNY 88 for children between 1.1-1.4 meters (3.6-4.6 feet);
Free for children under 1.1 meters (3.6 feet).
Open Time
8:00-18:00.
- Last updated on Apr. 12, 2021 -