Qinzhou Travel Guide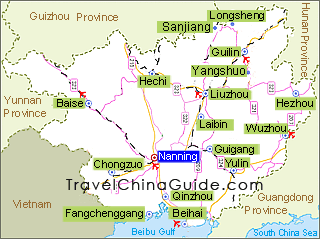 Qinzhou Facts:
Chinese Name: 钦州 (qīn zhōu)
Population
: 3,485,600
Area
: 10,728 square kilometers (4,142 square miles)
Nationalities
: Han
Administrative Division: 2 districts (Qinnan, Qinbei); 2 counties (Lingshan, Pubei)
Seat of the city government: No.10, Yongfu Dajie (East), Qinnan District
Useful Telephone Numbers:
Tourist Complaints: 0777-3688759
Weather Forecast: 121
Zip Code Inquiry: 184
Bank of China Qinzhou Branch: No.10, Dongfeng Road, Qinnan District
China Post Qinzhou Branch: No.50, Yongfu Dajie (West), Qinnan District
Location: Qinzhou is seating in the south of Guangxi Province, facing the Beibu Gulf (or Gulf of Tonkin). It is bordered by the capital city of the province, Nanning, in the north, in the neighborhood of Yulin, Fangchenggang and Beihai. It can be the most convenient coastal channel from the sea in vast Southwest China.
History: During the early years of the Southern Dynasties (420-589), Songshou Shire was established, and it was changed into Anzhou few years later. In the Sui Dynasty (581-618), the name of Qinzhou was fixed instead of Anzhou. Since then, the name has been called for over 1,400 years.
Physical Features: The city lies between the northern mountains and southern sea with the terrain declining north-south. Mountainous area is mainly distributed in the northeast and northwest of the city. In the south end of city is its biggest alluvial plain, Qinjiang River Delta. The rest land is occupied by medium and low hills.
Climatic Features: Enjoying a subtropical oceanic monsoon climate, the local weather is characterized by long summer, relatively warm winter. There are six months (late April to late October) during a year with its monthly average temperature above 22 degree centigrade (72 degree Fahrenheit). Summer and autumn are damp and hot. June and August are the peak periods of rainfall.
When to Go: It is an all-year-round tourist destination. Notable is that flocks of white dolphins will gathered at the Sanniang Bay from October to November.
Special Local Products: Nixing Pottery, sea product, wax apple (or wax jambo, bell fruit), litchi, yam

Attractions:
Saniang Bay
Location: 5 kilometers (3 miles) east of Xiniujiao Town, about 40 kilometers (25 miles) from city downtown area
Description: top attraction of the city; hometown of Chinese white dolphins; 2,000 meters (2,187 yards) fine natural bathing beach, catching legends about the Sanning Stone (Three-lady Stone); wonderful site for watching sunrise
Longmen Islands
Location: northwest of Qinzhou Economic Development Zone, about 25 kilometers (16 miles) from the city downtown area
Description: over a hundred of islands in different sizes and shapes winded by interleaving streams
Dalu Village
Location: 8 kilometers east of Longshan county seat
Description: being the largest ancient building complex of Ming (1368-1644) and Qing (1644-1911) dynasties; couplets hung on the columns of a hall created in old days
Other Scenic Spots: Liufeng Mountain, Bazhai Valley, Malan Island
Qinzhou Travel Tips:
Qinzhou is 110 kilometers (68 miles) from both Nanning Wuxu International Airport and Beihai Fucheng Airport for about one and a half hours. The local long-distance bus station is situated in Nanzhu Dadao, Qinnan District.
Weather
-