Guigang Travel Guide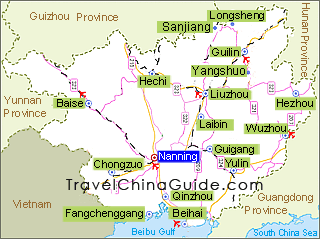 Guigang Facts:
Chinese Name: 贵港 (guì gǎng)
Population: 4,740,000
Area: 10,596 square kilometers (4,091 square miles)
Nationalities: Han
Administrative Division: 3 districts (Gangbei, Gangnan, Tantang); 1county (Pingnan); 1 county-level city (Guiping)
Seat of the city government: Zhongshan Road (North), Gangbei District
Useful Telephone Numbers:
Tourist Complaints: 0775-4249110
Weather Forecast: 121
Zip Code Inquiry: 184
Bank of China Guigang Branch: Shisantang (commercial and trading community), Jianshe Road (East), Gangbei District
China Post Guigang Branch: Zhongshan Road (North), Gangbei District
Location: Guigang is located in the southeastern Guangxi Province, on the upper reaches of the Xijiang River, the Pearl River Basin. It occupies an advantageous location at the geometric center of big cities in guangxi, including Nanning, Liuzhou, Wuzhou and Beihai.
History: Since the Qin Dynasty (221BC-206BC) conquered south regions of the Five Ridges, this city had been administrated by Guilin Shire, Yulin Shire in the following year. It was changes into Guixian County during the Ming Dynasties (1368-1644) until many years later. In 1988, Guigang was promoted to be a city.
Physical Features: Along the Yujiang River (the largest tributary river of Xijiang River) from Gangbei District northwards and northeastwards to Guiping City and Pingnan County, is the largest plain in Guangxi, the Xunyu Plain. On the whole, the terrain of the city slopes downwards from northwest to southeast.
Climatic Features: Guigang bears a subtropical monsoon climate. January is the coldest month with an average temperature of 12

C (54

F). While in the hottest July, the average temperature remains around 29

C (84

F).
When to Go: Every March to October is the high season to travel there.
Special Local Products: lotus root, Tantang Maojian tea, litchi, Xishan tea, mangosteen, chufa, cassia

Attractions:
Tropic of Cancer Sign Park
is in the Shiju Town, 8 kilometers (5 miles) east of Guiping city proper. The 5 centimeters (2 inches) wide and 20 meters (66 feet) long sign is also the indicator line of tropic and temperate zone. Standing in the center of the line, voices will sounds extraordinarily sonorous. This is the only landmark tower of tropic of cancer having strong echoes among the nine globally.
Xishan Scenic Area is located 1 kilometer (0.6 miles) from city proper of Guiping City famous for its strange stones, elegant woods, sweet springs and fragrant tea. It was a Buddhist site formerly, and Buddhist buildings are still well preserved nowadays.
Other Scenic Spots: Nanshan Temple, Dateng Gorge
Guigang Travel Tips:
Guigang is about two hours' drive from Nanning. For visitors who prefer to travel by air,
Nanning Wuxu International Airport
is the best choice. The local central bus station is opposite to the railway station in Heping Road. From the bus station, there are buses to the Nanning Bus Terminal in No.80, Chaoyang Road. Then the airport buses to Nanning airport can be found in the air ticket office of CAAC in Chaoyang Road.
-