Wuzhou Travel Guide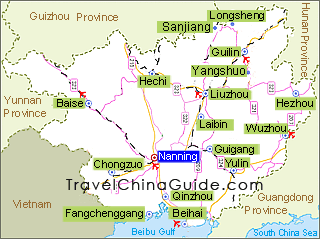 Wuzhou Facts
Chinese Name: 梧州 (wú zhōu)
Population: 3,500,000
Area: 12,600 square kilometers (4,865 square miles)
Location: in the east of Guangxi Zhuang Autonomous Region, southwestern China
Administrative Division: 3 districts (Wanxiu, Dieshan, Changzhou); 3 counties (Mengshan, Cangwu, Tengxian); 1 county-level city (Cenxi)
Area Code: 0774
Zip Code: 543000
GDP (2019): CNY 9.914 billion (USD 1.437 billion)
World's Capital of Artificial Gems with Numerous Religious Buildings
Located in the east of Guangxi and adjacent to Guangdong-Hong Kong-Macao Greater Bay Area, Wuzhou is a century-old commercial port, known as "Little Hong Kong". It is the world's largest artificial gem processing distribution and trading center, where many jewelry industry purchasers and international fashion brands set up offices. At present, Wuzhou's artificial gem production accounts for 80% of China and 70% of the world every year, becoming the world's capital of artificial gems. Since 2014, Wuzhou holds the Gem Festival every year, which has become an important platform for local cooperation and economic and cultural exchanges. With a long history of more than 4,000 years, Wuzhou has left numerous historical and cultural heritages with distinctive national and local characteristics. There are many religious buildings of Taoism, Buddhism, Confucianism, Christianity and Catholic such as the Long Mu Temple and the largest scale of Qilou City. Qilou is a kind of modern commercial and residential building. The ground floor of the building set back halfway into the building for public pedestrian space.
Wuzhou Attractions - Things to Do

Natural Resorts: White Cloud Mountain, Taiping Shishan National Forest Park, Yuanyang River, Jitai Cruise, Hudiegu Cruise, Shuangdao Waterfalls Group Holiday Resort



Historical and Cultural Sites: Qilou City (Terraced Building combining Chinese and Western architecture styles together), Long Mu Temple, Si'en Temple, Baiyun Temple, Xizhu Garden, Zhongshan Park
How to get to/around Wuzhou
Wuzhou is among the ten most important inland ports in China. Wuzhou Port has routes to most places of Guangxi and Guangdong as well as Hong Kong and Macau. National and provincial highways connect this city with Nanning, Guilin, Liuzhou and other cities. There are two bus stations. Hedong Bus Station operates buses to cities in Guangdong while Hexi Bus Station operates those to the nearby counties and cities. Wuzhou Xijiang Airport (WUZ) now has scheduled flights to Beijing, Chongqing, Changsha, Fuzhou, Guiyang and Shanghai. More are expected to be carried out in the future.
Weather
-
Wuzhou belongs to the subtropical monsoon climate zone. It's warm and humid with the annual average temperature of 21

C (70

F). The hottest month is July and the coldest is January.

When to Go
: Spring and autumn are best time to visit this place. May 8th is the birthday of Long Mu (Dragons' Mother) who is regarded as the guardian of Xijiang River. On that day, many celebration activities will be held. If you're interested in local culture, this would be a good choice.
Wuzhou Travel Tips

History: Wuzhou has more than 2,000 years' history. It was called Cangwu Shire in the Han Dynasty (206BC-220). Later in 621 of the Tang Dynasty (618-907), it firstly appeared in the history with the name of Wuzhou. In the Ming Dynasty (1368-1644), it became the political and military center of Guangdong and Guangxi. In 1927, it turned into a prefecture-level city, which was the first one in Guangxi.



Physical Features: This area is encircled in more than 20 mountains. Hills occupy 80% of the whole area. In the central area, there are so many rivers that it is called 'Water City'.



Local Highlights: The city is the world's largest man-made gem production base, Asia's largest Francois' Leaf Monkey breeding base, Southeast Asia's largest pet breeding base, China's largest turpentine production base and football training field. As one of the 'China Top Tourist Cities', this city attracts visitors with its beautiful subtropical scenery and profound local culture such as many kinds of folk dances and Long Mu culture.



Special Local Products: Wuzhou has three treasures 'Soybean Milk Crystal, Tortoise Herb Jelly and Candied Dates'. Others include man-made gems and crystal.
- Last updated on Apr. 02, 2020 -
Questions & Answers on Wuzhou Travel
Asked by Riz from PAKISTAN | May. 08, 2019 07:40

Reply
Can someone guide me how to get to Gems Building from Wuzhou Train Station?
I want to visit Gems Building in Wuzhou.

Thanks
Answers (1)
Answered by Chris from CANADA | May. 09, 2019 01:12

0

0

Reply
You can take Bus No. 31 from the railway station to Maria Maternity Hospital (玛丽娅妇产医院) and then walk northwest about 500m to the building.
Asked by Lasse Sandelin from SWEDEN | Aug. 26, 2017 17:45

Reply
Hi, can we go by boat from Yangshuo to Wuzhou and/or Guangzhou?
Answers (1)
Answered by Fenny from CANADA | Aug. 29, 2017 21:02

0

0

Reply
No boat is available. Then here is my suggestion for the transportation:
To WZ: I heard there is a bus leaving from Yangshuo South Bus Station at 15:30. If you cannot catch it, go to Guilin General Bus Station, where buses are scheduled from 10:00 to 16:20.

To Guangzhou: Take a shuttle bus from Western Street to Yangshuo Railway Station. Then take a high speed train to reach in 2.5h. It costs CNY 117 for a second class seat, and CNY 140.5 for a first one.
Asked by carlos bustelo from PUERTO RICO | Jul. 11, 2017 10:26

Reply
Can i travel by train from Wenzhou to Wuzhou?
Answers (1)
Answered by Michelle from USA | Jul. 11, 2017 23:05

0

0

Reply
There is no direct train, so you need to transfer for once.
Take a train at WZ South Railway Station to Changsha South Railway Station. Then take metro line 2 to Changsha Railway Station, take a train to Wuzhou. It takes you about 16 hours and 30 minutes.
Asked by Klaus from GERMANY | Jan. 17, 2017 05:55

Reply
What is the easiest way to go (fly) from Germany (I prefer Frankfurt) to Wuzhou?
I searched in the internet, but I can`t find the right. No Problem to drive an part of the way by train or bus.
Do anyone knows an not so expensive Hotel in the near of the Gems Building?
Answers (1)
Answered by Nancy from CANADA | Jan. 18, 2017 03:29

1

0

Reply
Klaus, you can take a flight to Shanghai first and then transfer to another flight to Guilin Airport. Upon arrival, take a taxi to Guilin Railway Station at a cost of CNY80 to take a bullet train to WZ.
You are suggested to check in Huatian Hotel or Lantian Hotel. Both of them are located along Xinxing Er Lu and is within 10 minutes' drive away from the Gems Building.