Wuzhou Travel Guide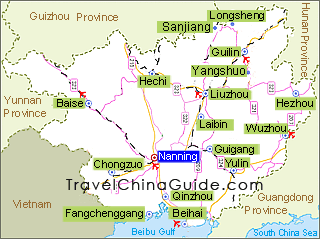 Wuzhou Facts
Chinese Name: 梧州 (wú zhōu)
Population : 3,030,000
Area
: 12,538 square kilometers (4,840 square miles)
Location: Situated in the east of Guangxi Zhuang Autonomous Region, it joints up Guangxi and Guangdong provinces.
Administrative Division
: 3 districts (Wanxiu, Dieshan, Changzhou); 3 counties (Mengshan, Cangwu, Tengxian); 1 county-level city (Cenxi)
Useful Telephone Numbers
:
Tourist Complaints: 0774-3856362
Wuzhou People's Hospital: 0774-2827120
Wuzhou Attractions - Things to Do

Natural Resorts: White Cloud Mountain, Taiping Shishan National Forest Park, Yuanyang River, Jitai Cruise, Hudiegu Cruise, Shuangdao Waterfalls Group Holiday Resort



Historical and Cultural Sites: Qilou City (Terraced Building combining Chinese and Western architecture styles together), Long Mu Temple, Si'en Temple, Baiyun Temple, Xizhu Garden, Zhongshan Park
How to get to/around Wuzhou
Wuzhou is among the ten most important inland ports in China. Wuzhou Port has routes to most places of Guangxi and Guangdong as well as Hong Kong and Macau. National and provincial highways connect this city with Nanning, Guilin, Liuzhou and other cities. There are two bus stations. Hedong Bus Station operates buses to cities in Guangdong while Hexi Bus Station operates those to the nearby counties and cities. Wuzhou Airport (WUZ) now has scheduled flights to Nanning and Chongqing. More are expected to be carried out in the future.
Weather
-
Wuzhou belongs to the subtropical monsoon climate zone. It's warm and humid with the annual average temperature of 21

C (70

F). The hottest month is July and the coldest is January.

When to Go
: Spring and autumn are best time to visit this place. May 8th is the birthday of Long Mu (Dragons' Mother) who is regarded as the guardian of Xijiang River. On that day, many celebration activities will be held. If you're interested in local culture, this would be a good choice.
Wuzhou Travel Tips

History: Wuzhou has more than 2,000 years' history. It was called Cangwu Shire in the Han Dynasty (206BC-220). Later in 621 of the Tang Dynasty (618-907), it firstly appeared in the history with the name of Wuzhou. In the Ming Dynasty (1368-1644), it became the political and military center of Guangdong and Guangxi. In 1927, it turned into a prefecture-level city, which was the first one in Guangxi.



Physical Features: This area is encircled in more than 20 mountains. Hills occupy 80% of the whole area. In the central area, there are so many rivers that it is called 'Water City'.



Local Highlights: The city is the world's largest man-made gem production base, Asia's largest Francois' Leaf Monkey breeding base, Southeast Asia's largest pet breeding base, China's largest turpentine production base and football training field. As one of the 'China Top Tourist Cities', this city attracts visitors with its beautiful subtropical scenery and profound local culture such as many kinds of folk dances and Long Mu culture.



Special Local Products: Wuzhou has three treasures 'Soybean Milk Crystal, Tortoise Herb Jelly and Candied Dates'. Others include man-made gems and crystal.
- Last modified on May. 09, 2019 -