Sanjiang Travel Guide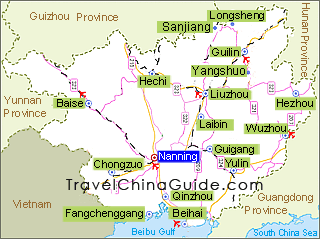 Sanjiang Facts
Chinese Name: 三江侗族自治县 (sān jiāng dòng zú zì zhì xiàn)
Population: 406,000
Area: 2,545 square kilometers (983 square miles)
Location: in the north of Liuzhou, Guangxi Zhuang Autonomous Region, southwestern China
Administrative Division: 3 districts (Wanxiu, Dieshan, Changzhou); 3 counties (Mengshan, Cangwu, Tengxian); 1 county-level city (Cenxi)
Area Code: 0772
Zip Code: 545500
GDP (2018): CNY 5.992 billion (USD 0.906 billion)
Nationalities: Dong, Han, Miao, Yao, Zhuang
Famous for Wooden Buildings of Dong Ethnic Style
Located in the north of Liuzhou, Sanjiang Dong Autonomous County is named for the confluence of three rivers: Xunjiang, Rongjiang and Rongjiang. It is close to Longsheng Autonomous County of Guilin to the east, Guizhou Province to the east and north and Hunan Province to the north. Home to more than 200,000 Dong people, Sanjiang is full of the wooden buildings with typical Dong ethnic style. The main buildings are Drum Towers and Wind and Rain Bridges.The drum tower is a pagoda-shaped structure and does not need to be nailed and riveted. There is a long drum hanging on the top floor. It is generally more than ten meters (33 feet) high. The wind and rain bridge is usually composed of huge stone piers, wooden bridge body, and pavilions. The bridge body is actually a long corridor for passers-by to rest. Visitors can also watch Dong folk performances in local villages, as well as enjoy the beautiful countryside scenery. The national festivals mainly include the Bullfighting Festival on the 15th day of the first lunar month, the Huapao Festival on the 3rd day of March in the lunar calendar and Tuwang Festival (local Valentine's Day) held on two or three days before the Grain Rain.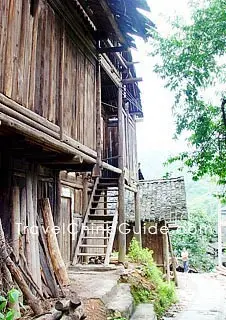 Residence of Dong People

Chengyang Wind and Rain Bridge



Mapang Drum Tower
The Dong minority group, one of the 55 Chinese ethnic minorities, mostly live around the borderlands between Guizhou, Guangxi and Hunan Provinces. The numerous drum towers which are built in the center of the Dong villages are the keys to understand the culture of the Dong group. Usually, the drum tower-constructed of wood and built without nails-is the largest multi-story pagoda-like building in the village.

Of the approximately 160 drum towers which still exist in the region around Sanjiang County of Guangxi Province, the Mapang Drum Tower is the most famous. It is located in Mapang Village, 28 kilometers (over 17 miles) away from Sanjiang County. The original Mapang Drum Tower was constructed during the Qing Dynasty (1644-1911) and over the years has been damaged by fire several times. It was rebuilt in 1943.

The Mapang Drum Tower, whose base is 169 square meters (about 0.04 acres), possesses all the typical architectural features of Dong drum towers. The tower has nine upturned eaves, and each eave is carved with flowers, grass, fish, birds, and characters.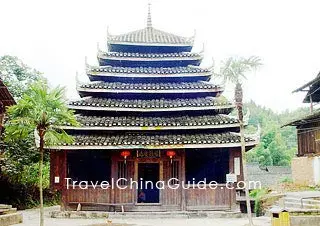 Mapang Drum Tower, Sanjiang
As soon as you enter the Mapang Drum Tower, you will see four indoor pillars made of fir that extend all the way to the top floor. Surrounding the four pillars are a group of twelve mid-sized pillars symbolizing prosperity for the village during the twelve months of the year. Upstairs on the second floor, you will see the most important and precious object in the Drum Tower- a large skin drum that gives Drum Towers their name. The drum is used to summon the villagers if something urgent happens in the village.

Ordinarily, the tower is a place for the villagers to relax, hold ceremonies, greet guests, and do some recreation activities. But it is also used as a meeting room to discuss the important issues of the village. During festivals, the villagers will gather together in front of the Mapang Drum Tower, singing, dancing and performing on the lusheng, which is a reed pipe wind instrument used by the Miao, Yao, and Dong Nationalities.
Weather
-

Sanjiang Climatic Features: subtropical humid monsoon climate; with enough sunshine of more than 1600 hours annually; mild; with long frost-free period of more than 300 days



Average Temperature: annual average temperature of 17-19

C



Rainfall: plenty of rain, concentrated in summers; annual precipitation of 1493 mm
Sanjiang Travel Tips

Physical Features: surrounded by mountains with average elevation of 80 meters-100 meters



Rivers: the Rongjiang River, Xunjiang River



Local Highlights: the building of the Dong nationality, March the third Festival, Fireworks and Firecrackers Festival



Transport: Running high speed trains to/from Guiyang, Guilin, Nanning, Guangzhou and other cities, Sanjiang South Railway Station is the only railway station in the county.

See Guilin - Sanjiang Train, Guangzhou to Sanjiang Train
- Last updated on Jan. 06, 2022 -
Questions & Answers on Sanjiang Travel
Asked by Piotr from EUROPE | Dec. 28, 2021 06:51

Reply
Is this city Sanjiang from Three Kingdoms Zhuge Liang Southern Campaign?
Is this Sanjiang from Three Kingdoms Zhuge Liang Southern Campaign?
With Gannan river, Xicheng river, and Lu river?

Answers (1)
Answered by Sybel | Jan. 06, 2022 11:24

0

0

Reply
No, this is a place in Guangxi, but the Sanjiang City in Three Kingdoms is a place in today's Sichuan Province or Southern Shaanxi. They are thousands miles away!
Asked by Lydia from NETHERLANDS | Jun. 26, 2019 05:38

Reply
How how long should I stay?
I was wondering if it is possible to do a day trip from Guilin to visit the Chéngyáng Wind & Rain bridge en the Scenic area. I know that taking a train there takes about 1h but what about the time of getting to the sights and exploring? Would there be enough time to travel there, look around, and travel back?
Answers (1)
Answered by Moria from USA | Jun. 27, 2019 01:40

0

0

Reply
It takes about 1-1.5 hours. There is no direct bus to the bridge. You should take bus from the railway station to Sanjiang county and then take bus or hire a car to the bridge. The last bus back to Sanjia is about 17:00.
Asked by Eka from INDONESIA | Jun. 21, 2019 05:21

Reply
Hi! Is there any direct bus or train from longsheng to sanjiang? How long it takes?

After visiting sanjiang we want to go to chengdu. Is there any train? Or we must back to guilin?

Thanks
Answers (2)
Answered by Mosa from USA | Jun. 24, 2019 01:12

0

0

Reply
1. You can take direct bus at Longsheng Coach Station and it takes around 2 hours.
2. You can take high speed train from Sanjiang South Railway Station to Chengdu East Railway Station. It departs from 12:47, 13:56, 14:10 till 14:22 and takes around 6.5 hours on the way.
Answered by Eka from INDONESIA | Jun. 25, 2019 00:13

0

0

Reply
Hi! Thanks for your reply. Its so helpful
Asked by Gaetan from CANADA | Dec. 16, 2018 15:43

Reply
Is there an office for leaving luggage in the Sanding train station ?
We want to visit the Dong village without carrying our luggage. By the evening we will take a train for Huaihua.
Answers (1)
Answered by Cooper from FINLAND | Dec. 17, 2018 19:29

0

0

Reply
Do you refer to Sanjiang Railway Station?
If yes, I cannot find any information about the luggage service on the internet. Maybe you can find a hotel nearby and consult the staff whether if they can storage the luggage.
Asked by Karin from SWITZERLAND | Oct. 26, 2018 02:33

Reply
What's the fastest way to get from Kaili to Sanjiang by train or bus?
Thank you!
Answers (1)
Answered by Wilson from USA | Oct. 28, 2018 19:50

0

0

Reply
You are advised to first take the bullet train at Kaili South Railway Station and get off at Guiyang North Railway Station where to transfer to the bullet train to Sanjing South Railway Station. The whole duration is about 4 hours and the total ticket fare is about CNY150.