Sanjiang Travel Guide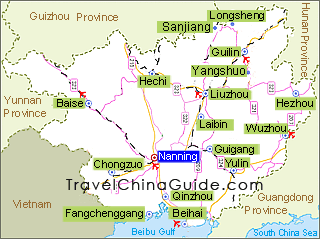 Sanjiang Facts
Chinese Name: 三江 (sān jiāng)
Population: 3,677,000
Area: 2,454 square kilometers (947 square miles)
Nationalities: Dong, Han, Zhuang, Miao, Yao, Manchu, Hui, Maonan, Gelao and Yi
Location: situated between north latitude 254

- 260

and east longitude 108

14' - 109

45', in the north area of the Guangxi Zhuang Automomous Region; at the middle beaches of the Xunjiang River; in the joint area of the three provinces: Hunan, Guizhou province and Guangxi Zhuang Autonomous Region
Neighboring Areas: Yunnan, Guizhou, Hunan and Guangdong provinces
Administrative Division: 3 towns (Guyi, Danzhou, Doujiang), 12 villages (Heping, Dudong, Bajiang, Linxi, Chengcun, Laobao, Liangkou, Yangxi, Meilin, Tongle, Fulu, Gaoji)
Useful Telephone Numbers:
Tourist Complaints: 0772-2821364
Weather Forecast: 121
Zip Code Inquiry: 184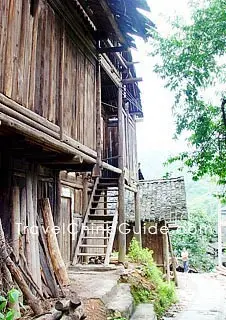 Residence of Dong People

Chengyang Wind and Rain Bridge



Mapang Drum Tower
The Dong minority group, one of the 55 Chinese ethnic minorities, mostly live around the borderlands between Guizhou, Guangxi and Hunan Provinces. The numerous drum towers which are built in the center of the Dong villages are the keys to understand the culture of the Dong group. Usually, the drum tower-constructed of wood and built without nails-is the largest multi-story pagoda-like building in the village.

Of the approximately 160 drum towers which still exist in the region around Sanjiang County of Guangxi Province, the Mapang Drum Tower is the most famous. It is located in Mapang Village, 28 kilometers (over 17 miles) away from Sanjiang County. The original Mapang Drum Tower was constructed during the Qing Dynasty (1644-1911) and over the years has been damaged by fire several times. It was rebuilt in 1943.

The Mapang Drum Tower, whose base is 169 square meters (about 0.04 acres), possesses all the typical architectural features of Dong drum towers. The tower has nine upturned eaves, and each eave is carved with flowers, grass, fish, birds, and characters.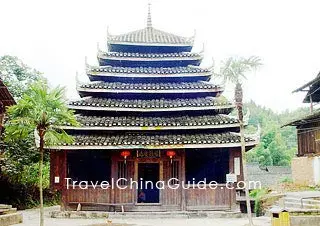 Mapang Drum Tower, Sanjiang
As soon as you enter the Mapang Drum Tower, you will see four indoor pillars made of fir that extend all the way to the top floor. Surrounding the four pillars are a group of twelve mid-sized pillars symbolizing prosperity for the village during the twelve months of the year. Upstairs on the second floor, you will see the most important and precious object in the Drum Tower- a large skin drum that gives Drum Towers their name. The drum is used to summon the villagers if something urgent happens in the village.

Ordinarily, the tower is a place for the villagers to relax, hold ceremonies, greet guests, and do some recreation activities. But it is also used as a meeting room to discuss the important issues of the village. During festivals, the villagers will gather together in front of the Mapang Drum Tower, singing, dancing and performing on the lusheng, which is a reed pipe wind instrument used by the Miao, Yao, and Dong Nationalities.
Weather
-

Sanjiang Climatic Features: subtropical humid monsoon climate; with enough sunshine of more than 1600 hours annually; mild; with long frost-free period of more than 300 days



Average Temperature: annual average temperature of 17-19

C



Rainfall: plenty of rain, concentrated in summers; annual precipitation of 1493 mm
Sanjiang Travel Tips

Physical Features: surrounded by mountains with average elevation of 80 meters-100 meters



Rivers: the Rongjiang River, Xunjiang River



Local Highlights: the building of the Dong nationality, March the third Festival, Fireworks and Firecrackers Festival



Transport: Running high speed trains to/from Guiyang, Guilin, Nanning, Guangzhou and other cities, Sanjiang South Railway Station is the only railway station in the county.

See Guilin - Sanjiang Train, Guangzhou to Sanjiang Train
- Last modified on Oct. 08, 2019 -