Chengyang Wind and Rain Bridge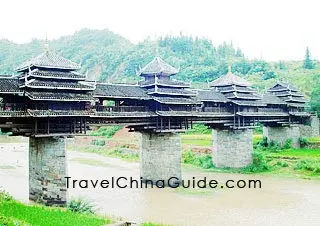 Chengyang Wind and Rain Bridge
In Guangxi Province, there are several different ethnic minorities, including the Miao, Zhuang, Dong and Yao. Each lives in a different area of Guangxi. Sanjiang County in particular is famous for the stockade villages built by the Dong ethnic minority. The Dong people also erect covered bridges with porches and pavilions which provide shelter even when it rains. The local people call these types of bridges by a beautiful name - 'Wind and Rain' bridges. Of them, the Chengyang Wind and Rain Bridge is the most famous.

Chengyang Wind and Rain Bridge, also called Yongji Bridge or Panlong Bridge, spans the Linxi River of Sanjiang County. Built in 1916, it is 64.4 meters (73.43 yards) long, 3.4 metes (3.72 yards) wide and 10.6 meters (34.78 feet) high. Constructed with wood and stones, its surface is paved with wooden boards and both sides are inlayed with railings. On the bridge itself, there are five tower-like kiosks with 'horns' and eaves which resemble the flapping wings of birds.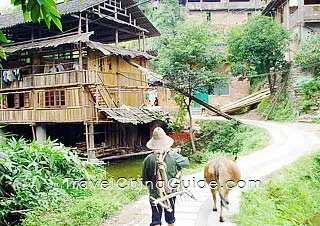 Dong Village by the Bridge
To one's surprise, the builders of this bridge did not use any nails or rivets. Instead, talented Dong people dove-tailed many pieces of wood. Though several decades old, it is still very sturdy. In a word, it is grand and looks like a brilliant rainbow crossing over the river.

Walking out onto the bridge, you can sit on the bench and appreciate the picturesque scenery. Looking far ahead, you will be intoxicated with what you see: the Linxi River meandering from the horizon; tea trees growing on the hills; local peasants working hard in the fields; and waterwheels turning, sending water cascading down the river.

Many visitors like to spend time here enjoying the perfect pastoral life and to experience the customs of the Dong people. There are eight famous stockade villages here that offer a peek into the Dong's life and customs. They are Ma'an, Pingzhai, Yanzhai, Chengyang-Dazhai, Pingpu, Pingtan, Jichang and Guandong.

Accommodation: Near the bridge, there are several hostels. If you want to have a spectacular view of the charming scenery, you may want to stay in the Drum Tower Folk Hostel built on the hill.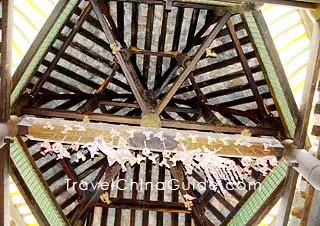 The ceiling of the bridge
Food: You will have a chance to taste the local snacks, such as rice noodles and the fish with sour taste.

Getting there: Take the 'Sanjiang to Chengyang' bus and get off at the Chengyang.

Tips: In front of the Drum Tower of Ma'an, you can watch performances by the Dong people. If you want to take photos there, you should pay for them. In Pingpu, there are two new Drum Towers. If you enter them, please take along money, for there is a small entry fee.
Fee:
CNY 30
CNY 80 (for watching the performance of the local Dong ethnic minority)
- Last updated on Jun. 06, 2022 -
Questions & Answers on Chengyang Wind and Rain Bridge
Asked by Kamila from POLAND | Jan. 27, 2020 12:01

Reply
Getting from Chengyang to Sanjiang Railway Station
Is there any chance to get from Chengyang to Sanjiang Railway Station by bus?
Answers (1)
Answered by Lee from DENMARK | Feb. 01, 2020 20:12

0

0

Reply
As I know, there is no public bus. For your convenience, you are suggested to take a taxi directly. The cab fare is CNY 40 to CNY 50.
Asked by P. LOW from SINGAPORE | Oct. 14, 2017 09:50

Reply
How to get to Chengyang Bridge from Sanjiang South Railway Station?
Where to store the luggage as we will be departing from Sanjiangxian Station in the night?
Answers (5)
Answered by Helen from GERMANY | Oct. 16, 2017 03:28

0

0

Reply
After getting there, go to local Hexi or Hedong Bus Station and take the bus bound for Linxi and get off at Chengyang Bridge on the way. Then you can spot the bridge. In case, do ask the driver to drop you off before leaving.
Answered by P. Low from SINGAPORE | Oct. 16, 2017 09:45

0

0

Reply
Thanks for the advice. Any idea where luggage can be kept for a few hours? We do not plan to stay overnight due to time constraint.
Answered by Julian from AUSTRALIA | Oct. 16, 2017 20:39

0

0

Reply
I've seen such a place for storing luggage in the station, but it's about 3 years ago. Generally speaking, all railway stations provide the service, and it won't be hard to find it. Or you can pay to store your bags in the hotels nearby.
Answered by DB from SWITZERLAND | Aug. 20, 2018 13:22

0

0

Reply
Hi Helen, are local Hexi or Hedong Bus Station close to Sanjiang South Railway Station? I struggle to find the right station on google. Big thanks and greetings from Switzerland.
Answered by Olivi from ITALY | Aug. 20, 2018 19:06

0

0

Reply
No, the bus station is not nearby the railway station, and I suggest you to take a taxi or find a local car from the railway station to the bridge and the fare is 80-100yuan. You may share the fare with other visitors.
Asked by Uli from SPAIN | Jun. 07, 2017 15:24

Reply
I'm planning to go to Chengyang on March 2018.
And I would like to know how's the weather like at that time of year and if the landscape will be Green.
Thanks
Answers (2)
Answered by Helen from GERMANY | Jun. 08, 2017 02:47

0

0

Reply
The temperature may range from 65F to 80F at that time, and there may have some rainy days. But the climate will be comfortable. You are advised to wear long-sleeved coats, T-shirts and jeans, pants. The landscape may be green. Have fun!

Answered by Uli from SPAIN | Jun. 08, 2017 07:41

0

0

Reply
Thank you for your answer. It's has been very helpful
Asked by Nancy Aki from U.S. | Dec. 11, 2016 00:04

Reply
How can I get from Longji to Sanjiang or from Sanjiang to Zhaoxing?
Was going to go from Yangshuo to Longji by car, but also want to go to SJ and Zhaoxing and then back to Yangshuo. Hiring a guide costs too much money. Any suggestions?
Answers (2)
Answered by Cheryl from USA | Dec. 12, 2016 23:53

1

0

Reply
To Sanjiang, you may take a bus to Longsheng from the rice terraces (about 1 hour). Then, change to a bus to Sanjiang (about 1.5 hours).

To Zhaoxing, take a bullet train from Sanjiang to Congjiang (about 20 to 25 minutes). Upon arrival, take a bus to Zhaoxing Dong Village.

To Yangshuo, take a bus back to Congjiang. Then, take a bullet train to Yangshuo (about 1.5 hours). Have a good time! :)
Answered by Nancy Aki from USA | Dec. 13, 2016 11:56

0

0

Reply
Thanks so much for your reply Abbey. I really appreciate it.
I have a client traveling alone. He wants a guide and doesn't want to go by train at all, so he will have to pay for a driver and car, etc.Too bad. If I was going, I would do it on my own as I almost always have done when traveling in China. It's more of an adventure that way. I went to Longji in 2014, but never have to Sanjiang and Zhaoxing. Thank you again for your reply. Nancy