Sanjiang Pictures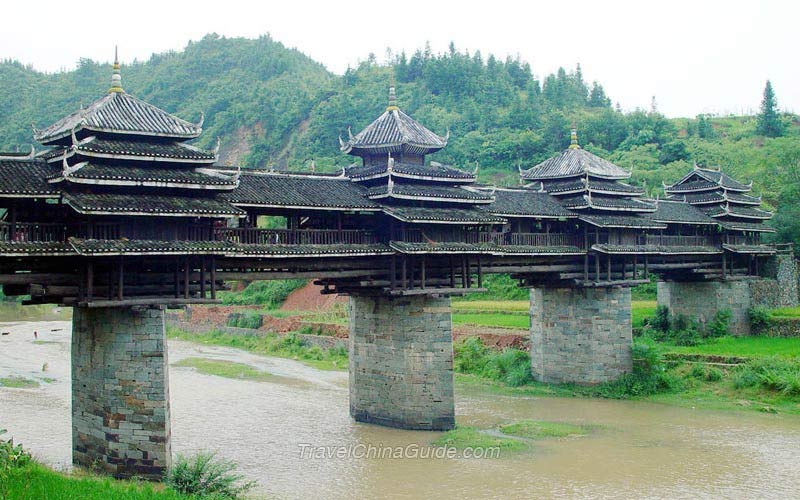 Sanjiang is an autonomous county of the Dong people in Guilin, Guangxi. It is renowned for the unique wind and rain bridges and the Dong-style drum towers. The most notable bridge there is the Chengyang Wind and Rain Bridge and the most attractive drum tower is the Mapang Drum Tower. Additionally, the Dong people's Diaojiaolou (the local residential house) is well worth seeing. City Intro:
Sanjiang

Related Tour:
Ethnic Minorities Tour
- Last modified on Jul. 09, 2017 -
Questions & Answers on Sanjiang Pictures
Asked by Mrs.Woolcott | Mar. 16, 2011 21:31

Reply
I am planning to travel to Guilin end January/beginning February. Will it be too cold do you think?
Answers (1)
Answered by Mr.Sam | Mar. 17, 2011 01:48

17

0

Reply
Although the temperature could keep around 5~10C during these two months, you will feel a littel cold due to the wet climate. So, please wear warm sweater or overcoat and trousers.
Asked by Ms.Shining from USA | Mar. 09, 2010 14:37

Reply
OH, MY GOSH, SO BEAUTIFUL,

HOW FAR SANJIANG AND LONGSHENG FROM KUNMING? CAN WE GO BY BUS OR CAR?

I am going to Beijing and Kunming in may 1, 2010
Answers (1)
Answered by Ms.Sandy | Mar. 09, 2010 20:27

13

0

Reply
Ms.Shining,

Kunming is a city in Yunnan Province.You can take train or plane to Guilin. From Guilin Main Bus Station(桂林汽车总站), there is long distance bus to Longsheng. It takes around 2 hours. After visiting Longsheng Rice Terraces, you can take bus to Sanjiang. It takes around 3 hours.
Asked by Mr.Ng from MALAYSIA | Oct. 28, 2009 23:43

Reply
Hi all Guilin Expert,

i am planning a trip to Guilin mid of May 2010 and may need some advice on the below:
(1) Hows the weather at that time and what will be the forecast temperature?
(2) Beside Guilin and Yangshou, any other place that you may suggest for a 7 days trip??
(3) Any holiday during mid of May as dont wish to pack?
(4) Which hotel do u suggest for the price abt 200RMB??
Appreciate your advice.
Answers (1)
Answered by Mr.Jamie | Nov. 01, 2009 20:55

3

0

Reply
Hi, Mr Ng. It is too early to know the forecast temperature for someday in Mid-May next year. Usually, the temperature of May in Guilin is about 25C. The weather is changeable, maybe rainy.
Is the 7-day trip including all Guilin Yangshuo? Mu suggestion you can get to Longsheng and to stay one night there. If you still have time, you can get to Southeast Guizhou from Longsheng, to Sanjiang and then Kaili. There are some traditional festival at some Zhuang Villages in Guilin and Longsheng.
place to stay in Guilin?
If you stay in Yangshuo and Longsheng, you can find some hotels and inns or even local residence to stay.