Guizhou Travel Guide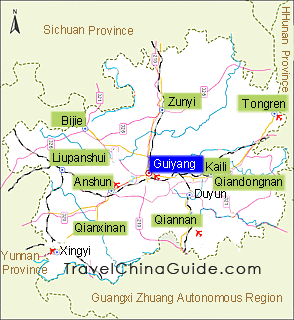 Click to enlarge the above map
Guizhou Facts:
English Name: Guizhou
Chinese Name: 贵州 (guì zhōu)
Abbreviation: Gui or Qian
Administration Type: Province
Capital: Guiyang
Location: 24°37' to 29°13' N, 103°36' to 109°35' E
Climate: subtropical humid monsoon climate
Temperature: 15°C(annual average); 3-6°C(average of the coldest January); 22-25°C(average of the hottest July)
Perennial Relative Humidity: ≥70%
Area: 176,167 km² (68,018 mi²)
Population (2018): 36,000,000
Major Ethnic Groups: Miao, Dong, Yi, Tujia, Buyi

Area Code & Zip Code

Weather
Best Time to Visit Guizhou

Pictures
Cities in Guizhou
Recommended Guizhou Itineraries
Famous Attractions
Beipanjiang Bridge
Fanjing Mountain
Guizhou Introduction
Located in southwest China, this province adjoins Sichuan and Chongqing to the north, Yunnan to the west, Guangxi to the south and Hunan to the east. It is a picturesque place with abundant natural and cultural scenic spots. Many Chinese ethnic minorities have been living on this land for centuries. Visitors to that area can not only appreciate various attractions, but also discover the rich and distinctive folk customs and cultures of the different ethnic groups.



Landscape & Climate
Landscapes in this province are broadly divided in to four types: plateaus, mountains, hills and basins. Among them, mountains and hills predominate. In addition, karst landforms are distributed widely on this land, which accounts for 61.9% of the province's whole territory and forms a special Karst ecosystem. Due to these rugged landscapes, its development level is low, especially in the rural areas. However, it is these varied landscapes that hide an abundance of amazing and unique natural scenery, like Huangguoshu Waterfall, Dragon Palace Cave, Zhijin Cave and Danxia Landform. The Danxia Landform is listed as a UNESCO World Cultural & Natural Heritage. Guizhou has a subtropical humid monsoon climate, which is frequently cloudy and rainy. There are few seasonal changes here with the result that it is neither too cold in the winter nor too hot in the summer. As a whole, people here enjoy a pleasant climate. Its capital city, Guiyang, is considered a 'world's summer resort' because of the moderate temperature.


Ethnic Groups
This province is home to 48 China's ethnic groups, second only to Yunnan Province, each of which has developed their own unique customs and cultures. When traveling there, visitors should not miss the chance to experience their simple and original living habits, appreciate the unique architectural styles and try their exotic and colorful costumes, etc. For example, one can go to Langdeshang Miao Village or Xijiangqianhu Miao Village to admire their stilt-houses and colorful traditional clothes; to China's last gunmen's tribe, Basha Miao Village, to experience their unique life styles; to Buyi Stone Village to explore how this stone village was made without any other construction materials; to Dong villages to see Dong-style drum towers and wind-rain bridges, etc. What's more, over 1,000 festivals are celebrated by ethnic groups each year in Guizhou, providing the best opportunities for visitors to experience these ethnic traditions. The most famous festivals include Sanyuesan Festival and Sister's Meal Festival in the spring, Liuyueliu Festival in summer, and the Shui New Year Festival in autumn.



Delicacies & Specialties
Food there mainly consists of Qian cuisine and local snacks. Hot, spicy and sour are the three most featured flavors of Qian cuisine. The most famous dishes include Suan Tang Yu (Sour Soup Fish) and griddle cooked dishes. Well-known snacks include Chang Wang Noodle, Lian'ai Doufu Guo and Si Wa Wa. Another Guizhou specialty is Maotai Liquor, which is considered the national liquor of China national liquor and one of the world's three best distilled liquors along with whisky from the United Kingdom and French brandy. Rice wine made by local farmers is also a famous specialty. The area is also famous for its batik fabrics, silver decorations of the ethnic groups, bacon and Chinese medicine.

See more about Guizhou Food – Cuisine of Guizhou in Southwest China
- Last updated on Jun. 21, 2023 by Brenda Lian -
Questions & Answers on Guizhou Travel
Asked by yakxi from ITALY | Sep. 12, 2019 21:13

Reply
Any bus from Sanduxian station to Kaili city ?
my friend plan to travel from Guilin to Sanduxian, then to Kaili. this is the nearest route, but how to get to Kaili by bus ?
Answers (1)
Answered by Jayne from USA | Sep. 16, 2019 18:09

0

0

Reply
Take bus from Sandu Coach station. It departs from 7:40 to 17:15 with interval of 1-1.5 hours with CNY44.
Asked by YJ from KOREA | Jun. 17, 2019 18:58

Reply
Bus from Anshun west railway station to Huangguoshu Waterfalls
I will get off a high speed train at Anshun west railway station 08:22 AM.
Is there a public direct bus from Anshun west railway station to Huangguoshu Waterfalls Scenic Area ?
Or do I have to go to Anshun east bus terminal first ?
Answers (1)
Answered by Rita from USA | Jun. 18, 2019 18:33

0

0

Reply
Yes, there is Coach Station near Anshun west railway station. You can take direct bus from there. The ticket fare is CNY22/person.
Asked by dhimas from INDONESIA | May. 14, 2019 12:06

Reply
is there a bus from Guiyang Airport Longdongbao to Suiyang?
Answers (1)
Answered by Emilie from AUSTRALIA | May. 14, 2019 22:37

0

0

Reply
No, there is no direct bus or train from Guiyang to Suiyang. You can take bullet train from Guiyang North Station to Zunyi and then take bus from Zunyi High-speed Railway Passenger Station to Suiyang. The bus departs from 8:00 to 20:20 with an interval about 1 hour.
Asked by Jasmine chow from MALAYSIA | Mar. 08, 2019 19:49

Reply
Any bus from Xingyi to Huangguoshu waterfall.
How much is the fare n travel time? If possible bus nos
Answers (1)
Answered by Julian from FRANCE | Mar. 12, 2019 00:05

0

0

Reply
You can take the coach from Xingyi to Anshun and get off in the half way. Then hire a private car to Huangguoshu Waterfall. The duration is around 4 hours. The ticket fare is around CNY75/person.