Qiannan Travel Guide
Qiannan Facts
Chinese Name: 黔南布依族苗族自治州 (qián nán bù yī zú miáo zú zì zhì zhōu)
Population: 4,200,000
Area: 26,200 square kilometers (10,116 square miles)
Location: in the south-central of Guizhou Province, southwestern China
Administrative Division: 9 counties (Libo, Guiding, Weng'an, Dushan, Pingtang, Luodian, Changshun, Longli, Huishui); 1 autonomous county (Sandu Shui); 2 county-level cities (Duyun, Fuquan)
Area Code: 0854
Zip Code: 558000
GDP (2019): CNY 151.804 billion (USD 22.004 billion)
Nationalities: Han, Buyi, Miao, Shui, Maonan, Yao
The Location of China's Eye in the Sky - Five-Hundred-Meter Aperture Spherical Telescope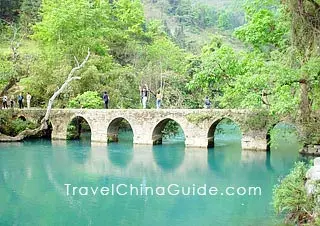 Ancient Bridge, Xiaoqikong Scenic Area
Qiannan is located in the south-central region of the Guizhou Province, neighboring Anshun and Qianxinan Buyi and Miao Autonomous Prefecture to the west, Qiandongnan Miao and Dong Autonomous Prefecture to the east, Guangxi Zhuang Autonomous Region to the south and Guiyang to the north. As a multi-ethnic settlement, Qiannan has rich ethnic customs and colorful ethnic cultures. Tourists can see wonderful ethnic dances, traditional sports such as horse racing, martial arts, and experience different traditional festivals. Unique karst landform in Libo, Shui culture in Sandu and secret of longevity in Luodian are other features of Qiannan tourism. Qiannan is also the location of five-hundred-meter Aperture Spherical Telescope, the largest single aperture and the most sensitive radio telescope in the world with independent intellectual property rights of China. Duyun Maojian tea named by Mao Zedong in 1956 is one of the top ten famous teas in China, becoming another highlight of Qiannan.
Libo: Located in southern Qiannan in the Guangxi neighborhood, Libo is a rich tourist county of the prefecture, with scenic areas occupying nearly a quarter of its territory. Libo Zhangjiang Scenic Area and Maolan Karst Forest Natural Conservation are the key attractions of the county. The former is well known for its typical and rich karst landform, water and plantation, mainly consisted of Shuichunhe Valley, Xiaoqikong and Daqikong scenic spots. Forests, caves and the stone forest in Maolan Karst Forest Natural Conservation make it a famous Guizhou resort. The Buyi, Shui, Miao and Yao are the four principal minorities of the county. Traditional festivals and customs as well as characteristic residential buildings add yet more charm to this beautiful tourist destination.

Other Scenic Spots: Doupengshan-Jianjiang National Park, Yaorenshan National Forest Park
| | |
| --- | --- |
| Waterfall, Xiaoqikong Scenic Area | Mandarin Duck Lake (Yuanyang Lake) |
How to get to Qiannan
Duyun City is one hour's drive from Guiyang Longdongbao International Airport.
Libo Airport
is 13 kilometers (8 miles) away from center of Libo County, operating direct flights from/ to Chongqing, Guiyang, Guangzhou, Xi'an and Nanning. Airport shuttle bus is priority for visitors travelling between airport and downtown.
Main bus stations in Duyun City, the capital of Qiannan prefecture:
Qiannan fast passenger transport bus station: No138, Jianjiang Zhong Lu, Duyun City
Duyun long-distance bus station: Longshan Da Dao, Development Zone, Duyun City
Weather
-
Qiannan enjoys a subtropical monsoon climate, and the weather is temperate and humid with an annual average temperature of 13.6-19.6°C (56.5-67.3°F). Generally, it has neither a chilly winter nor a torrid summer. The rainy season and highest temperatures occur in summer.

When to Go: June to August is the best season to visit that place. The maximum temperature of this period may reach 34°C (93.2°F). However, the weather varies greatly between day and night due to its location, and the sun is strong at midday.
Qiannan Travel Tips

History: From the Shang Dynasty (16th - 11th century BC) to the Zhou Dynasty (11th century BC-221BC), several kingdoms established by local ethnic groups shared the prefecture. During the Qing Dynasty (1644-1911), it partly belonged to Guiyang. Qiannan Buyi and Miao Autonomous Prefecture was authorized in 1956 with Duyun as its capital.



Physical Features: Located on the slopes of the southeastern Yunnan-Guizhou Plateau to the hilly regions of Guangxi, Qiannan declines from northwest to southeast. Mountains and hills constitute most of the terrain with an average altitude of 997 meters (3,271 feet).



Local Highlights: The thirty ethnic minorities living there make up more than fifty-six percent of the total population. Between these Buyi and Miao are the principal minority groups. In the Miao Region, one can experience the most attractive scenery and customs of the minority. In addition, the prefecture also gathers together ninety percent of the Shui ethnic minority's total population in China. Sandu is China's only Shui minority autonomous county.



Special Local Products: Shui Mawei (Horse Tail) embroidery, garments and ornaments of the Shui ethnic minority in Sandu Shui Autonomous County, presents painting of Longli County, silver ornaments in Libo County, and Maojian tea
- Last updated on Jun. 07, 2022 -
Questions & Answers on Qiannan Travel
Asked by GAPALINA from RU | Jan. 18, 2018 03:41

Reply
I want to visit Libo Zhangjiang Scenic Ареa in the middle of May.
Is it possible to see Xiaoqikong and Daqikong for one full day? Or it is better to stay in Libo for two days? Advise, please, the best route. Thank you in advance.
Answers (1)
Answered by Blair from ITALY | Jan. 18, 2018 21:07

1

0

Reply
As I know, they are not far from each other, about 3km. You can visit them within a day. Have a nice trip!
Asked by Yordan from INDONESIA | Aug. 12, 2017 08:50

Reply
Libo via Sanduxian or Duyun
Hello, I was planning to reach Libo from Mawei but later I think could be better from Sanduxian or Duyun. Which would all of you recommend: Libo via Sandu or Duyun? Which has the most frequent bus to Libo and most easiest transfer between the train and bus station?
I will be starting from Guiyang and seems bot are only one station different. thank you.
Answers (2)
Answered by Helen from AUSTRALIA | Aug. 14, 2017 20:11

0

0

Reply
You are suggested to go there from Duyun.
Although there are more buses from Sandu, as I read from others, the bus doesn't work exactly according to the schedule. And there is no public transportation between the train station and bus station.
The buses from Duyun General Bus Station are available at 7:00, 7:40, 8:20, 9:00, 9:40, 10:20, 11:00, 11:40, 12:20, 13:00, 13:40, and 18:50. You can take bus 1 directly from Train Station to Bus Station.
Answered by Yordan from INDONESIA | Aug. 15, 2017 06:58

0

0

Reply
thank you for the information..
Asked by Gosia from POLAND | Jul. 10, 2017 08:18

Reply
How to get to Duyun from Qiannan?
And how shoud we continue from Duyun to Rongjiang, Basha Miao Village, Liping ang Longshan? We want to spend 2-3 days in the area, where should we look for a hostel? (After that we are going to Guilin). Thx
Answers (1)
Answered by Kelly from IRELAND | Jul. 16, 2017 22:35

0

0

Reply
1. May I know your exact start point in QN? I'll set QN State Government as the start point and Dunyun Bus Station as the destination. You need to walk about 370 meters northwards to State Hospital Back Door Bus Stop and take bus no.28 or no.12 to Pingqiao Station. Upon arrival, you may walk about 300 meters ahead to Duyun Bus Station.
2. From Duyun to Rongjiang, you can take a shuttle bus from Duyun Bus Station to Rongjiang directly. This bus departs at 11:50 and 14:45. The ticket fare is CNY65/person.
3. Do you refer to Basha Village? From Duyun to Basha Village, you may take a shuttle bus from Duyun Bus Station to Luodian first. It departs at 07:40 and 15:30. The ticket fare is CNY75/person. After that, you may charter a car to the village directly.
4. From Duyun to Liping, you may take a direct bus from Duyun Bus Station at 09:10 or 15:20. The ticket fare is CNY95/person.
5. Do you mean Longshan in Majiang county? You can take a bus from Duyun Bus Station to Majiang Bus Station at 08:00, 08:50, 09:40 and 10:00. The ticket costs CNY13/person. Then you may charter a car to Longshan directly.
6. You are advised to stay around Duyun Bus Station. Duyun Yundu Business Hotel, located at no.81, North Jianjiang Road is just on the opposite of the bus station.
Asked by Stephan from GERMANY | Jul. 12, 2016 12:32

Reply
Kindly advise is there direct bus from Kaili to Libo, what's the time schedule and fare?
Answers (1)
Answered by Mary from USA | Jul. 13, 2016 02:31

0

0

Reply
Yes, you can take a direct bus. The buses depart at 7:00 and 15:00. The trip takes about 5 hours. The fare is about CNY 72 per person.