Libo Zhangjiang Scenic Area
Located in Libo County, Qiannan City of Guizhou Province, Libo Zhangjiang Scenic Area is characterized by unique Karst landscapes, mysterious dense forests, various living species, splendid overlapping mountains, and clear rivers and lakes. Because of the well-preserved ecological environment, the area is honoured by both Chinese and overseas experts, as "an unparalleled, well-preserved green gem unmatched by any other Karst sites in the world". As a famous tourist attraction, there are altogether three main scenic areas to visit: Xiaoqikong, Daqikong, and Shuichun River.
Xiaoqikong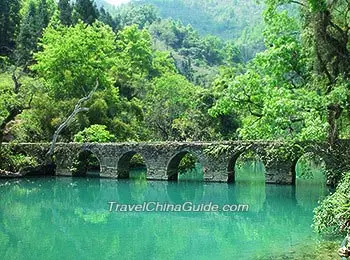 Xiaoqikong Bridge
Honoured as "Small
Jiuzhaigou
", Xiaoqikong Scenic Area is best known for the seven-arched Xiaoqikong Bridge, which is a landmark of Libo Zhangjiang Scenic Area. It was built in 1835 on a vital traffic road in ancient times between Qiannan City and Guangxi Zhuang Autonomous Region. With a length of 44 yards (40 meters), a width of 2.4 yards (2.2 meters), and a height of 6.0 yards (5.5 meters), the bridge shows delicate structures and exquisite craftsmanship.
Due to continuous erosion, Xiaoqikong Scenic Area has evolved into the deep V-shaped Xiangshui River Valley, which is home to plunging waterfalls. In the upper reaches of Xiangshui River, Laya Waterfall seems to link with the sky at the top surrounded by clouds. Near Laya Waterfall, a 68-step waterfall flows down at random along a winding river less than 1 mile (2 kilometers). Downstream of Xiangshui River, the Green Valley Waterfall is surrounded by high green mountains which colour its water with green.
To the west of Xiangshui River Valley, Mandarin Ducks River, Heaven Bell Cave, as well as Wolong Valley are nestled. Mandarin Ducks River, as a typical Karst Blind Valley river, is about 50 acres (0.2 square kilometers). It takes one hour to visit by boat. Heaven Bell Cave is a Karst cave enjoying landscapes such as stalagmites and stone curtains. Decorated by colourful lights, it is like a fairyland. Wolong Valley is a rafting resort. The rafting begins from Wolong Pool and ends upstream of the Mandarin Ducks River taking a total time of 1.5 hours.
In addition, Water Forest and Rock Forest are great Karst forest wonders of Libo zhangjiang Scenic Area. Water Forest stands in Xiangshui Riverbeds. Although submerged by rushing water, they grow well. About 100 yards (91 meters) east of Water Forest, Rock Forest displays an abundance of monstera deliciosa. Roots of these plants extend most wondrously along fissures in the rocks.
| | |
| --- | --- |
| Mandarin Duck Lake (Yuanyang Lake) | 68-Step Waterfall |
Daqikong
Daqikong Scenic Area is famous for Daqikong Bridge, Dream Pond, Natural Bridge, and Evil Wind Cave. Daqikong Bridge was built in 1877 along an important trade route between Guizhou and Guangxi in ancient China. 550 yards (502 meters) northeast of Daqikong Bridge is the lower reach of Dream Pond where many kinds of fish gather. At one time, local people earned a living by fishing, so the pond is always attached to the hope of harvest by the fishermen and to safety by their families. Nowadays, Dream Pond is an ideal place for anglers.
Natural Bridge and Evil Wind Cave are both works of art created by nature. Natural Bridge is honoured as "Oriental Arch of Triumph". It is originally the top of an underground river. In Late Quaternary Period (about 12 thousand years ago), as a result of uplift of the Earth's crust and undercutting of underground rivers, the top over the river partially collapsed. The remains finally form today's Natural Bridge. Similarly, Evil Wind Cave is a Karst cave formed by the corrosion of flowing water. At the entrance of the cave, waterfalls cause vibrating airflow, which formerly were considered as evil sounds by local people--so it is jokingly called Evil Wind Cave.
Shuichun River
Surrounded by overlapping mountains, Shuichun River is like a painted scroll. It is also a resort for rafting adventure. While rafting here, azure, clear rivers offer visitors feasts for the eyes, dense forests on both banks bring fresh air to breathe, and the alternation of rapid and slow flows gives visitors an unforgettable rafting experience. It takes 3 hours to travel all the way.
Tips
1. One of the highlights of Libo Zhangjiang Scenic Area is water, so the best time of year to visit is in the wet season from June to September.
2. The west of Xiaoqikong Scenic Area is higher than the east. In order to have a better view of the waterfalls, you are recommended to start your visit from the east gate so that you can experience the magnificent and grand sight of waterfalls from bottom to top. Although climbing up consumes more time and energy, it deserves a try. There are sightseeing buses shuttling between the West Gate and East Gate.
3. As the scenic area is quite large, it usually needs two days to cover all of it. It is recommended that you visit Xiaoqikong and Daqikong on the first day and Shuichun River on the second day.
4. There are direct buses from the East Gate of Xiaoqikong to Daqikong. The ticket price is CNY 3 for a single trip. From Daqikong there are buses heading for Libo County where you can stay overnight.
5. An aquatic live-action performance, "Water Charm of Zhangjiang", is given in the countryside of Libo County at 20:30. The performance shows the culture and customs of local four nationalities:
Bouyei
,
Shui
,
Miao
, and
Yao
. The ticket price is CNY 150.
6. You can go to Zhangjiang Tourist Center in Libo County to take the free bus to reach Shuichun River.
7. Both in Libo County and around the scenic areas, there are hotels providing accommodations and catering.
How to get to Zhangjiang Scenic Area

If you set off from Guiyang City, you can take a train and get off at Mawei Station. Then take bus to the West Gate of Xiaoqikong. The bus departs from 7:50 to 15:20 every 1 hour. The ticket price is CNY 14 and the whole journey is about 50 minutes.
Click to search for the real-time China Train Schedule



If you set off from Libo Airport, you can take airport shuttle bus and arrive at Libo Coach Station, which takes 30 minutes and costs CNY 20. There are Libo Coach Station – Xiaoqikong Scenic Spot shuttle buses whose ticket fare is costs CNY 8 – 10 and journey time is about 40 minutes.




If you set off from Libo County, you can take a bus from Libo Long-distance Bus Station and get off at East Gate of Xiaoqikong. The ticket price is CNY 8 and the whole journey is about 40 minutes.
Xiaoqikong
Daqikong
Shuichun River
Admission Fee
Combo ticket for Xiaoqikong & Daqikong (valid for 2 days):
March to November: CNY 130
December to February: CNY 110
/
Transportation Fee
Sightseeing Bus: CNY 40
Sightseeing Boat: CNY 20
/
Entertainment Fee
Wolong Valley Rafting: CNY 50
Mandarin Ducks River Boating: CNY 30
Rafting: CNY 200
Opening Hours
07:30 - 17:00
07:30 - 16:30
07:30 - 17:30

Top 8 Things to Do in Guizhou
- Last modified on Dec. 13, 2019 -
Questions & Answers on Libo Zhangjiang Scenic Area
Asked by ON from THAILAND | Nov. 18, 2019 20:08

Reply
How to get Libo Zhangjiang Scenic Area from Xingyi?
Answers (1)
Answered by Kalila from DENMARK | Nov. 20, 2019 21:50

0

0

Reply
There is no direct transportation. You are suggested to take a coach from Xingyi to Guiyang first. Then take a train from Guiyang Railway Station to Mawei Station. Take bus to Xiaoqikong West Gate.
Asked by Betty from SINGAPORE | Jun. 06, 2019 01:56

Reply
How do I get to Xiaoqikong from xijiang Miao village?
Answers (1)
Answered by Maggie from USA | Jun. 10, 2019 18:18

0

0

Reply
You can take direct bus from parking lot in north of Xijiang Miao village. It departs from 14:20 and takes around 5 hours with CNY120.
Asked by Bobby from HONG KONG | Feb. 12, 2019 23:48

Reply
Time schedule Bus: Guiyang Libo
Hi,
I read somewhere you just have 3 bus by day doing Guiyang Libo (3 in a way and 3 in the other way).
Do you know the different departure time for both of way?
Thanks
Answers (1)
Answered by Olivia from DENMARK | Feb. 19, 2019 18:50

0

0

Reply
I searched the latest news on the internet. The bus schedules from Guiyang Longdongbao Bus Station to Libo are 09:00, 11:00, 12:30, 14:10, 15:50 and 17:50. The bus ticket fare is CNY110/person.
Asked by jew from THAILAND | Nov. 05, 2018 18:14

Reply
The last bus from Libo to Guiyang
what is time the last bus from Libo to Duyun?
Answers (1)
Answered by Josh from USA | Nov. 06, 2018 23:42

0

0

Reply
The last bus from Libo to Guiyang is at about 15:35. The last bus from Libo to Duyun is at about 15:55.

Asked by Yordan from INDONESIA | Aug. 07, 2017 05:44

Reply
Mawei to Daqikong and scenic Maolan view
Hello,
I'm interest in visiting Libo in my solo china backpacking this November, planning to start from Guiyang and take the morning train to Mawei, have time for one night there. If possible I want to visit Daqikong and Maolan Karst Nature Reserve (could skip Xiaoqikong). Been reading this site and need help for more info:

1. Are there any direct transportation to the Daqikong river tracking entrance from Mawei and to/from Libo? (most site only says direct bus to Xiaoqikong. Can't find any map how these two areas connect).

2.Found some scenic photos of Maolan, a view of cluster cone karsts with a road in middle, like it was taken from a watching tower (?) at the top of a hill. Any information about this spot? Possible to reach the hike starting point with public transportation? How long to hike to the top? If I start from Mawei/Libo what transportation should I take, where to stop and where to go?

3.If the next day I'm planning to return to Guiyang to catch a night train to Kunming, when is the last bus to Guiyang from Libo?
Thank you for the help.
Answers (2)
Answered by Donna from UNITED KINGDOM | Aug. 08, 2017 20:02

1

0

Reply
From Mawei to Daqikong: take the bus from Mawei Railway Station to Libo, which passes by Xiaoqikong. Then you can charter a local bus to Daqikou.
From Libo to Daqikong: take bus from Libo Bus station to Mawei, which passes by Xiaoqikong.
As I know, there is a viewing deck in Malan Scenic Area. It's on the top of the mountain. No transportation can take you there, you need to climb there. It's about 240 meters. You can take a bus from Libo Bus station to Maolan.
The last bus from Libo to Guiyang leaves at 15:35.
Answered by Yordan from INDONESIA | Aug. 09, 2017 19:45

1

0

Reply
thank you for the information..