Top 8 Things to Do in Guizhou
In the southwest heartland of China, there is a magical land - Guizhou, where the mountains, waters, forests, karst caves are all the uncanny workmanship of nature. In addition to the picturesque natural scenery, over 48 ethnic minorities live here for generations and this has endowed Guizhou with mysterious ethnic villages and unique minority culture. What to do or what to see? Here is a list of the top things to do in Guizhou and the must-see places that you can pick.
1
Xijiang Qianhu Miao Village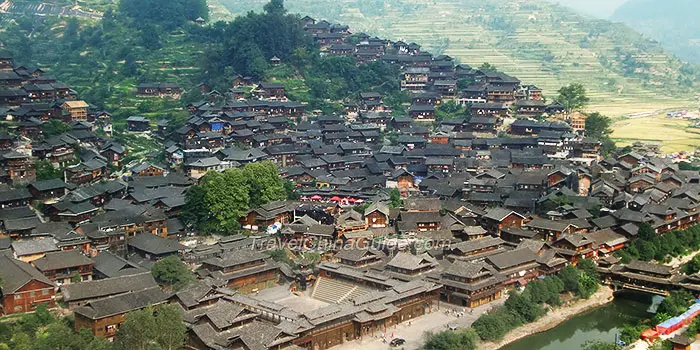 Famous as the largest Miao village in China,
Xijiang Qianhu Miao Village
contains more than ten small villages built along mountains. You must drink the local rice wine before entry, which is an ancient custom to welcome guests in Miao villages. Here you can't miss to appreciate the night piece of Xijiang Qianhu Miao Village at the viewing platform: hundreds of lights are twinkling on the eaves of wooden stilted buildings. Watching the performance of Miao songs and dances, wearing the colorful Miao costume, or taking a walk on the Wind-Rain Bridge are also fun things to do.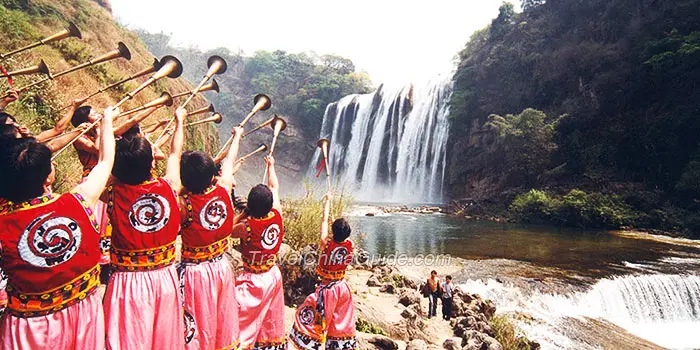 The largest waterfall in Asia -
Huangguoshu Waterfall
is sure one of the best places to visit in Guizhou. Besides a dozen of waterfalls, the overlapping peaks, dense vegetation, countless canyons, caves and stone forests can be seen around, which are in typical karst landform. Six viewing platforms are set up for tourists to appreciate the waterfall from all directions. It is also a pretty wonderful attraction for shutterbugs. One must-see place here is the widest Doupotang Waterfall. Putting on a raincoat to shuttle in the Water Curtain Cave is much interesting.

R
ecommended Tour:

10 Days Yunnan - Guizhou Tour with Huangguoshu Waterfall from

$1919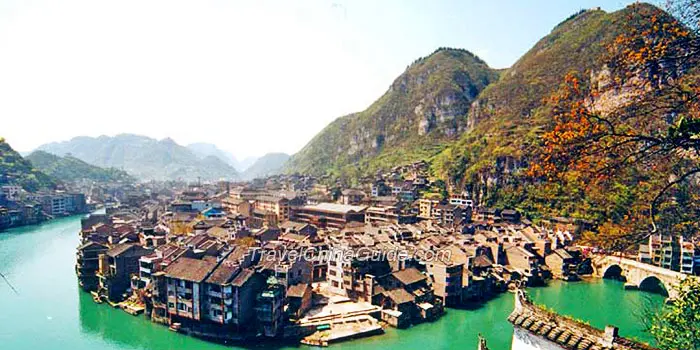 As the oldest town in Guizhou,
Zhenyuan Ancient Town
has a long history of over 2,200 years. Its Mother River, Wuyang River runs through the town in the shape of S, forming a picture of eight diagrams. The best time to visit is in summer. One of the must-see places in Zhenyuan is the Building Complex of Black Dragon Cave. More than 40 ancient buildings of Ming and Qing
(1368 - 1911)
dynasties were built on the cliffs. Climb the Yuping Mountain and you can get a panoramic view of the ancient town and the Wuyang River. When you come here, taste the three local specialties: Braised Pork, Braised Goose and Smoked Trotter.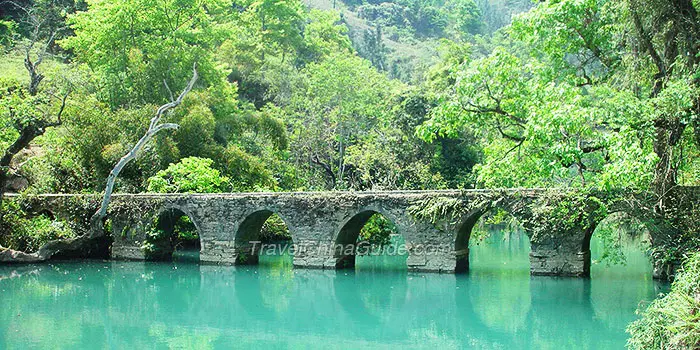 The south
Libo County
offers best things to do in Guizhou – touring the Xiaoqikong Scenic Area and the Maolan Karst Forest. In Xiaoqikong Scenic Area, there is a seven-hole arch bridge made of bluestones across the Xiangshui River. In 1988, it was listed as a national nature reserve. Taking photos of the trees growing in the water is a fun thing to do here. Another great place to visit is the Maolan Karst Forest, the best-preserved primitive forest of karst landform in mid-subtropical areas of China. There exist over 500 tree species and many ancient wild animals, such as the living fossil - ginkgo trees, tulip trees, forest musk deer, macaques, South China Tigers… There also gather many primitive villages where you can experience the pure ethnic minority customs and wonderful performances.
5
Qingyan Ancient Town, Guiyang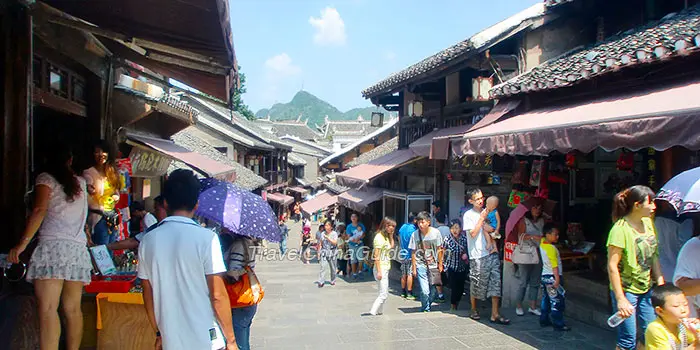 Touring
Qingyan Ancient Town
is one of the best things to do in Guizhou. As one of four most famous ancient towns in Guizhou, Qingyan Ancient Town was built beside mountains and the city wall was constructed using huge rocks on the cliffs. A large number of well-preserved ancient buildings of Ming and Qing Dynasties were remained. Excellent stone and wood carving crafts are also a highlight of the town. Here you can see Buddhism, Taoism, Catholicism and Christianity coexist, with various religious buildings. Meandering in the old Beijie Lane may make you find the original nature within you.

R
ecommended Tour:

5 Days Guiyang - Kaili - Shidong from

$649
6
Langde Miao Ethnic Minority Village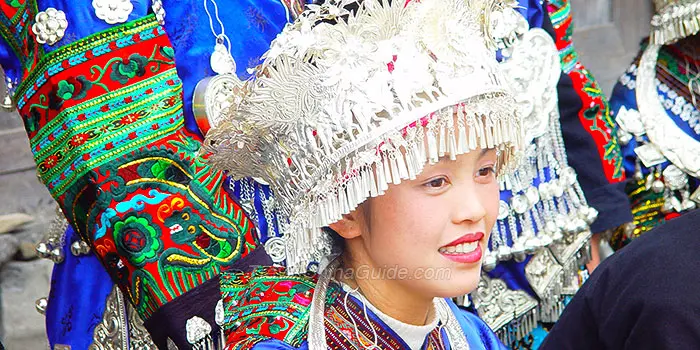 Known as the hometown of Chinese Folk Song and Dance Art,
Langde Miao Village
is surrounded by mountains and rivers; over 100 families live here. Its ancient building complex was listed as one of the major historical and cultural sites under state protection in China. Compared with Xijiang Qianhu Miao Village, it is more peaceful and quieter. One interesting thing to do in Guizhou for ladies is to wear the beautiful Miao costume - Long Skirt and take photos standing among green mountains and water. Moreover, you can join the locals' party and dance to the folk music.

R
ecommended Tour:

4 Days Guiyang Kaili Ethnic Group Tour from

$529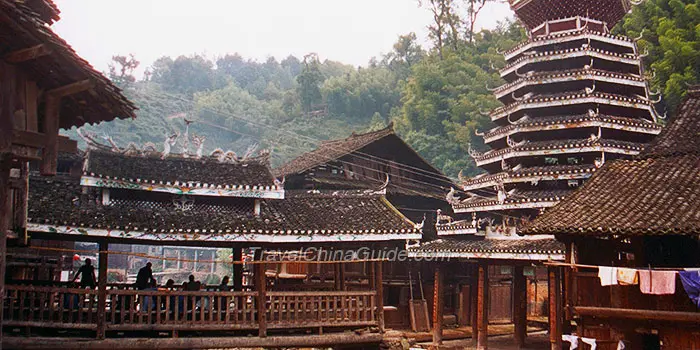 One of the must-do things in Guizhou is to visit
Zhaoxing Dong Village
, known as "the first village of Dongxiang". It is one of the largest Dong villages in China and holds more than 6,000 residents. One must-do is to visit the Drum Tower, which is the symbol of Dong village. There are five drum towers in a village with different styles in appearance, height and size. People gather here for meeting and leisure. The best place to overlook the whole village is Zhaoxing Middle School. You are recommended to spend a night in a local stilted building and feel the unique folk customs.

R
ecommended Tour:

8 Days Guiyang - Kaili - Rongjiang - Zhaoxing from

$1139
One of the top things to do in Guizhou is to have a taste of Moutai Liquor, a traditional Chinese specialty with a history of over 800 years. It looks clear and pellucid, smells sweet-scented and appealing, and tastes mellow and soft. Chairman Mao Zedong ever entertained D.P.R Korea Chair Kim IL Sung with Moutai Liquor. It's said that the proper temperature for a drink of Moutai Liquor is between 21 and 35°C. Remember to take just a sip first because it tastes totally different from the western wine.
- Last modified on Dec. 14, 2018 -