Huangguoshu Waterfall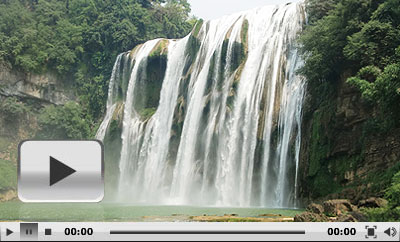 Pictures
Huangguoshu Waterfall, a milky way in miniature, is the largest waterfall in Asia. Seventy-four meters (243 feet) high and eighty-one meters (266 feet) wide, it is a scenic marvel in Anshun. Do not miss it if you are in Guizhou Province.

Known as the Huangguoshu Waterfall National Park, it is 45 kilometers (28 miles) southwest of Anshun city in Guizhou Province. Together with minor waterfalls, the charms of Huangguoshu Waterfall are a natural tourist drawing card. Hospitable ethic groups add the human touch.

There are mainly three National Parks in this waterfall national park: Waterfalls Cluster, Water-Curtain Cave and Rhinoceros Pool (Xi Niu Tan).

Waterfalls Cluster
Huangguoshu is the best known of some 18 in a cluster of waterfalls. Its flow is seasonally adjusted. A reservoir behind the waterfall holds back some of the water. Doupotang Waterfall, one kilometer (less than one mile) up the river to Huangguoshu Waterfall, at 105 meters (344 feet) across is the widest. It is 21 meters (69 feet) high. Other waterfalls like LuosiTan Waterfall, Silver-Chain Waterfall and Dishuitan Waterfall all have their distinct features.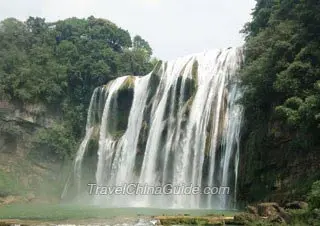 Huangguoshu Waterfall
Water-Curtain Cave
The Water-Curtain Cave dissects Huangguoshu and provides visitors view ports on the waterfall. The total length of the cave is 134 meters (440 feet), including windows and halls. A road on the mountainside leads into the Water-Curtain Cave, where the fall can be heard, watched and touched. On a sunny day, a rainbow arches over the falls.
Rhinoceros Pool (Xi Niu Tan)
Eleven meters (36 feet) deep, the pool is Rhinoceros shaped and stays submerged year round. Standing inside Water-Viewing Pavilion (Wang shui Ting) beside the Rhinoceros Pool to enjoy the flowing-down of the Huangguoshu Waterfall, you may feel bunches of pearls and silver chains are falling upon you. What a grand and peculiarly attractive scene!
View a different waterfall from vantage points. We recommend the following. The first one is Waterfall-Viewing Pavilion (Guan Pu Ting), where you could see the panorama of the whole waterfall. Then, seen from Water-Viewing Pavilion (Wang shui Ting), you could view the grand scene of surging water. The third one is the Water-Viewing Pavilion (Wang shui Ting) beside the Rhinoceros Pool. The marvelous night scene of the grand waterfall creates lasting impressions. Don't miss it, please.
The climate in the area is moderate. Average temperature is 16 degrees centigrade -- an ideal summer resort. Nearby Huangguoshu Waterfall Hotel is rated three-star.
| | |
| --- | --- |
| Buyi Minority People Play Suona | Doupotang Waterfall |
Suggestion:Take an umbrella with you to the falls. You may get very wet without one.
How to get to Huangguoshu Waterfall
1. take regular bus from Jinyang Passenger Transport Bus Station to the scenic area directly. It departs every 45 minutes from 07:40 to 12:45.
2. take regular bus from Anshun South Passenger Transport Bus Station to the scenic area. It departs every 20 minutes from 07:00 to 19:00.
Admission Fee (including Waterfall, Tianxingqiao Bridge and Doupotang Scenic Areas):
March-November: CNY 160
December-February: CNY 150
Sightseeing Bus
CNY 50; free for children under 1.4m (4.6ft) if not taking a seat.
Escalator
Round trip: CNY 50; Single trip: CNY 30
Opening Hours:
Waterfall & Doupotang Scenic Area: 07:30 to 18:00
Tianxingqiao Bridge: 07:30 to 17:30
Recommended Time for a Visit:
Two hours

Top 8 Things to Do in Guizhou
- Last modified on Jan. 17, 2019 -
Questions & Answers on Huangguoshu Waterfall
Asked by Ben from CANADA | Jan. 16, 2019 09:11

Reply
How is the waterfall in January? I'm in Guizhou province and I would like to visit the falls.
Is it worth it in January? Is there much flow over the falls at this time of year?

Thanks,

Ben
Answers (1)
Answered by Fay from FINLAND | Jan. 17, 2019 01:10

0

0

Reply
Generally speaking, June to October is the best time to tour around this scenic area. In January, the water flow is small.
Asked by ELSIE96 | Oct. 23, 2018 18:36

Reply
Is early December okay to visit the Huangguoshu waterfall ?
Answers (3)
Answered by David from USA | Oct. 24, 2018 19:54

0

0

Reply
To be honest, it is not a good time to visit the waterfall because it is right in the dry season in December and the waterfall is small. You are advised to tour there in August and September.
Answered by ELSIE96 | Oct. 26, 2018 20:37

0

0

Reply
Unfortunately I'll be in this area only in early December, should I visit it anyway? I did visit Huanglong in a dry spell and it was very disappointing but not sure how affected this attraction would be. Skip it?
Answered by David | Oct. 28, 2018 18:39

0

0

Reply
If you visit there, you may see the beautiful golden autumn scenery but the waterfall is indeed smaller so it depends on you.
Asked by Irit Avishy-Zviel from ISRAEL | Jun. 11, 2018 08:19

Reply
Is it any trasportation between the Waterfall and the Dragon Palace
Answers (1)
Answered by Vivian from NAMIBIA | Jun. 11, 2018 21:10

0

0

Reply
No direct bus is available between the two places, but you can go back to Anshun. A lot of buses depart from there to the two places respectively.
Asked by Top from THAILAND | May. 15, 2018 06:25

Reply
If my train departs from Anshun west station at 6.30 pm
what time should i leave from Huangguoshu waterfall?
And would you mind writing the way from the waterfall to Anshun west station?
Best regard
Top
Answers (3)
Answered by Aba from AFGHANISTAN | May. 17, 2018 21:15

0

0

Reply
There is no direct bus from the scenic spot to West Station but some buses available to AS city. You can take the bus at the ticketing office gate. Before getting on, you can ask the driver whether he will stop at West Station or not. Generally, the buses will pass by West Station and stop there for a while. It usually takes about 1 hour so you'd better reserve 2 hours including the security check, and leave the scenic spot for the West Station before 16:30.
Answered by Top from THAILAND | May. 17, 2018 23:51

0

0

Reply
To Aba, Thank you for your answer. I have some more questions.
1. Is there any buses to take me from Huangguoshu waterfall to Guiyang North railway station?
2. Which railway stations are easy to go from Huangguoshu waterfall between Anshun west station and Guiyang north station? Which one take shorter time?
Thank you
Top
Answered by Aba | May. 18, 2018 02:12

0

0

Reply
1. There is no direct bus from the scenic spot to Guiyang North Station. You can take the bus at the spot gate to Jinyang Bus Station and then take the bus No.219, 229, 224 directly to North Station. The whole trip will takes about 2.5 hours.
2. I think AS West Station is a better choice due to the less travel time and more convenience.

Asked by Top from THAILAND | May. 08, 2018 03:32

Reply
How to get to Huangguoshu Waterfall from Guiyang north railway station?
Please help me!
1. because the high speed trains from Kunming drops passengers on Guiyang north railway station, Is it need to take bus from Guiyang north railway station to Jinyang Bus station first? and ,then take a bus to Huangguoshu Waterfall
2. Do you have any recommend about hotel near the Waterfall?
3. How to go to Maling river canyon scenic areas from the waterfall by bus or train?
Top
Answers (1)
Answered by Zoya from RUSSIA | May. 10, 2018 22:32

0

0

Reply
Yes, it's the fastest way to get there to take bus from Jinyang Bus Staton, which tatkes about 2.5 hours.
Industrial and Commercial Hotel is available which is near the entrance of the Forest of Steles Park.

First you need to take the bus to Anshun East Bus Station. And take the bus to Xingyi West Bus Station. The departure time is from 8:30 to 17:00 with the interval about 2 hours and the ticket fare is CNY 109. After arriving Xingyi, you can take the bus line 4 to the Maling River Canyon Station.