Dragon Palace Cave Scenic Spot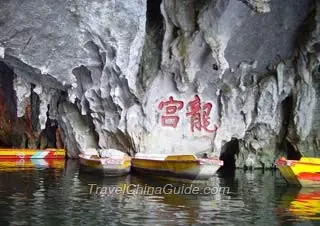 Dragon Palace Cave
In the western suburbs of Anshun in Guizhou Province, there exists a magnificent underground cave system with lakes, waterfalls and stalactites. Because the main cave looks like the crystal palace where the dragon king lives, it is known as Dragon Palace Cave.
Covering an area almost 60 square kilometers (about 23 square miles), the Dragon Palace Cave has four main areas, namely, the Rape Lake, the Whirlpool, the Leech Pass and the Dragon Palace itself. Among them, as the most famous and wonderful scenic spot, the Dragon Palace includes various Karst (Limestone) landscapes, solemn steep cliffs and jagged stone forest. The longest underground river in China, some 5,000 meters (over 5468 yards) in length flows beneath more than 30 hills connecting over 90 limestone caves within this scenic spot.
The Dragon Palace can be divided into five groups of limestone caves connected by the underground river. The depth of the river can reach to 28 meters (about 15 fathoms) and the width can expand to over 30 meters (about 32 yards). Therefore, it is a fascinating adventure for visitors to float past the magnificent and ever changing views as you journey deeper into the cave by boat.
Besides the gate of the Dragon Palace, a waterfall pours straight down along the palace from Tianchi Lake. The waterfall is 34 meters (over 37 yards) high and 25 meters (over 27 yards) wide and described as a white dragon leaving its cave by the locals, namely, the Dragon Gate Fall. This spectacular waterfall is considered one of the three natural wonders there by both geologists and tourists alike.
As a region inhabited by the
Bouyei
ethnic group in compact communities, the trip to the Dragon Palace Cave is also a good chance for visitors to experience the charming and colorful life of this Chinese ethnic minority. At the same time, it is a comfortable place for people to relax because the radiation frequency in this region is the lowest in China.
How to get to Dragon Palace Cave Scenic Area
Get to Anshun first and Anshun City Bus Station has regular buses to the Dragon Palace Cave. For it is close to the
Huangguoshu Waterfall
, they can be visited in one day. It is only half an hour by car from one to the other.
Admission Fee:
CNY 130
CNY 55 for the elevator
Opening Hours:
08:40 to 17:00
Recommended Time for a Visit:
One hour
- Last updated on Apr. 15, 2021 -
Questions & Answers on Anshun Dragon Palace Cave Scenic Spot
Asked by Top from THAILAND | May. 08, 2018 08:27

Reply
My train from Kunming arrives Anshun west railway station at 09.30 pm.
1. How can I get to Dragon Palace Cave by bus? Is it need to take a bus to the Anshun City Bus Station?
2. Can I finish visiting The Dragon Palace Cave within 12.00?
3. Are there any buses from Dragon Palace Cave to Huangguoshu waterfall?
Thank you for your answer
Top
Answers (3)
Answered by Nelson from UNITED KINGDOM | May. 09, 2018 00:38

0

0

Reply
Since you arrive at 9:30 pm, all the scenic areas have been closed. You'd better stay overnight in a hotel and start to travel the next day. Two days are available to visit the two areas because they are very large.
You need to take a bus to Anshun East Bus Station first, the bus line 19 or 20 is available and it takes about 1 hour. The departure time of the bus in Anshun East Station is from 07:30 to 18:00 with the interval about 30 minutes. It takes about 1 hour to get the destination.
Yes, there are buses running between the two places.

Answered by Top from THAILAND | May. 09, 2018 07:48

0

0

Reply
To Nelson
Thanks for your answers, but I miss my arrival time. Indeed, It is 9.30 am. Can I finish Dragon Palace cave within 13.00 and catch a bus to the waterfall? How long to go to the waterfall from Dragon Palace Cave?
My plans are first day Dragon Palace cave and waterfall and the second day visit the rest of waterfall until 03.00 pm. Is my plan ok?
Best regard
Top
Answered by Nelson from UNITED KINGDOM | May. 09, 2018 20:23

0

0

Reply
If you arrive in 9:30 am, then when you reach the Dragon Palace Cave, it may be about 12:00. Generally, it takes about 3 to 4 hours to visit the cave. So maybe you don't have enough time to go sightseeing in the waterfall. It takes about 1 hour to get from the cave to the waterfall.

However, I think you can arrange your schedule this way. After your visit in cave, take the bus to the waterfall, it may be around 17:00 then. You can find a hotel near the Huangguoshu Waterfall Scenic Area. Stay overnight there, in the second day, you can begin to visit the Huangguoshu Waterfall and other waterfalls from the early morning. Then you still can finish your trip until 15:00.

Asked by shea from USA | Mar. 31, 2014 06:26

Reply
Climbing instead of elevator for Dragon Palace Cave Scenic Spot.
Is it possible to climb instead of taking the elevator? If so what would you be climbing and how long do you think it would take?
Answers (1)
Answered by Betty from UNITED KINGDOM | Apr. 01, 2014 04:48

1

1

Reply
Yes, you can climb to the top of the mountain to board the ferry. Climbing the mountain takes about 15 minutes.
Asked by Vanessa | Jul. 02, 2013 21:41

Reply
Do tickets need to be bought in advance for the dragon palace?
Or can they be purchased once arriving to that Palace? I ask because if only one boat can pass at a time and the ride is about an hour each, seems only 8 boats could go out per day?

Also, after visiting the palace, if choosing to go on the Huongoushu Waterfall (which is 30 min away) is transport easy to arrange?

If the final destination after visiting these two sites is the Guiyang Airport, how far away is the airport from these scenic places?

How much is the bus ticket from Anshu to that palace?

Thanks so much! Just trying to figure out the best way to arrange this trip for a group of about 10 or 11 likely.
Answers (1)
Answered by Amir from USA | Jul. 03, 2013 02:15

0

1

Reply
The tickets can only be bought when you were there. One boat can pass at one time from the start, but when a boat is full, it can leave the start. You can find many boats inside the palace.
It is easy to arrange from the palace to Huangguoshu, but you need to make a transfer in Anshun.
From Huangguoshu to Guiyang, it takes about two hours and a half by bus. From Anshun to Guiyang, the bus take takes about an hour and a half.
From Anshun to the palace, it is around 7 to 8RMB per person.
Asked by Vanessa | Jul. 02, 2013 10:09

Reply
Does the admission fee include a tour by boat within the caves for the dragon palace?
How long is the boat ride? How many persons can go in each boat? How many boats are going at one time? If I will first be in Qianxi, is the best way still to go to Anshu first? If so, how far is Anshu from Qianxi?
Answers (1)
Answered by Janet from HK | Jul. 02, 2013 21:22

0

1

Reply
The admission fee include the boat fare.
The boat takes about an hour to an hour and a half.
About 8 to 10 people share one boat. At one time, only one boat can pass.
Yes, going to Anshun is the best choice and there is about 240km between the two places.